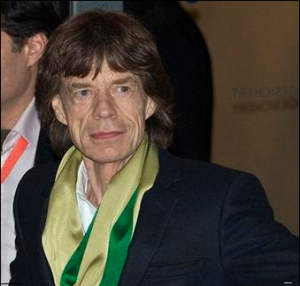 In what really doesn't sound like a flattering gesture at all, scientists have named a recently-discovered prehistoric pig after Mick Jagger because they look alike.
Researchers noticed that the 19 million-year-old "long legged pig" fossil, discovered in a remote location in Egypt, had a very distinct snout, the Guardian reports. A self-proclaimed "huge Stones fan," researcher Ellen Miller said the "highly innervated muzzle with mobile and tactile lips" reminded her of none other than Mr. Jagger. They named the creature Jaggermeryx naida.
The researchers also considered naming the pig after everyone's other favorite labially-blessed celeb, Angelina Jolie. We bet Ms. Jolie would have been honored to share a connection with a creature "likened to a lanky pig or a skinny hippo," according to the Guardian.
But wait, there's more! Apparently, this isn't the Rolling Stones' first time entering the annals of biology. There are apparently already three whole species of trilobite —Aegrotocatellus jaggeri, Perirehaedulus richardsi, and Aegrotocatellus nankerphelgeorum — that have been named after the band and its members. Who knew?
Outside of the Rolling Stones, other musicians are getting scientific street cred, too. Back in July, biologists named a new species of water mite Litarachna lopezae after Jennifer Lopez, whose music they listened to as they wrote about their discovery.