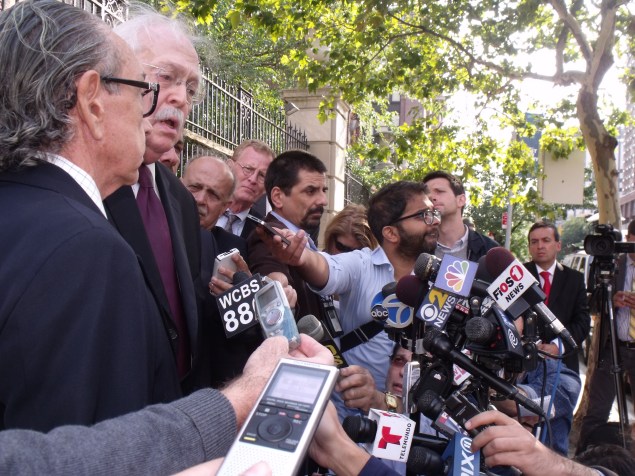 A well-known medical examiner enlisted by the family of Eric Garner told the press today that the city appears to have done an "excellent" job in its autopsy of the 43-year-old Staten Island man who died after police tried to arrest him for selling loose cigarettes.
"I'm basically saying, [the medical examiner's office] did a good autopsy, and I agree that there was compression in the neck — and I think that was the cause of death," said Dr. Michael Baden, who was once New York City's chief medical examiner and often reviews high-profile deaths, including that of Ferguson, Missouri, teen Michael Brown.
Dr. Baden spoke briefly with the press on a sidewalk outside the medical examiner's office after spending about an hour reviewing materials from the city's autopsy — which determined the Mr. Garner's death was a homicide due to "compression of neck (choke hold), compression of chest and prone positioning during physical restraint by police."
The doctor — working on behalf of the Garner family and accompanied by their lawyer Sanford Rubenstein — said he saw nothing to refute the medical examiner's findings that neck compression caused Mr. Garner's death. But he said his review was not complete and would include referencing the autopsy report with video and eyewitness statements in an attempt to determine things like when the compression to Mr. Garner's neck occurred.
"We reviewed all the findings and all the tissues and photographs and they do confirm that there's a hemorrhage in the neck indicative of neck compression," he said. "We agree with their findings — and have to study it further to see any other conclusions."
Asked whether the neck injuries were the main cause of Mr. Garner's death, Dr. Baden was blunt.
"Compression of the neck that prevents breathing, for example, trumps everything else as a cause of death," Dr. Baden said. "There was evidence of preexisting natural disease that had to be taken into account, but the most severe finding was the neck compression."
Patrolman's Benevolent Association President Patrick Lynch has assailed the autopsy's findings as political — something he reiterated again today, speaking just moments after Dr. Baden — but the forensics expert said he did not agree.
"From what I have seen as far as the medical examiner goes, I didn't see any politics involved in it as far as the medical examiner goes. What happened apart from the autopsy, I can't comment on right now. But we'll put it all together," Dr. Baden said.
But Mr. Lynch doubled down on his criticism of the city's autopsy results– and also argued that Dr. Baden's comments backed the PBA's assertion that a chokehold was not used.
"I question the political wording that was in the medical, the original preliminary report, that said 'chokehold by police.' What you look for in a medical examiner's report is scientific terminology — one of the scientific terminology would be asphyxiation. You did not hear that, which once again shows it was not a chokehold," Mr. Lynch said.
Autopsy results would have showed asphyxiation if a chokehold had been used, he said.
"I acknowledge that he is a medical examiner," Mr. Lynch said when asked if he acknowledged Dr. Baden's credentials as an expert. "I acknowledge that he did not come to these microphones and say 'asphyxiation,' which would prove chokehold. He did not say that. What he said is compression to the neck, which is consistent to what we said — this is not a chokehold, but a takedown maneuver."
Mr. Lynch also argued that the neck compression could have been caused by efforts to save Mr. Garner's life, rather than any action by police.
"We cannot forget that there was a struggle on that street. This person was resisting arrest and police officers were trying to place him under arrest, and there was a struggle, as we saw. Then, he obviously was having cardiac arrest," Mr. Lynch said. "The damage we're talking about that the medical examiner who spoke before me spook of, is consistent with what you would do doing chest compressions, CPR by the EMS, and possibly the emergency room technicians. It's also consistent if a person was intubated in the hospital." 
But Mr. Lynch could not say for certain if Mr. Garner had been intubated — meaning doctors placed a tube down his throat, which he argued could have caused the neck compressions medical examiners cited as the cause of death — in the hospital. The video taken of the incident infamously shows that EMTs did not perform CPR, but Mr. Lynch said he believed it was administered later, in an ambulance.
"We're waiting for the opportunity to have our experts, our medical examiners to review the entire release of the autopsy report. That has not yet happened," Mr. Lynch said.