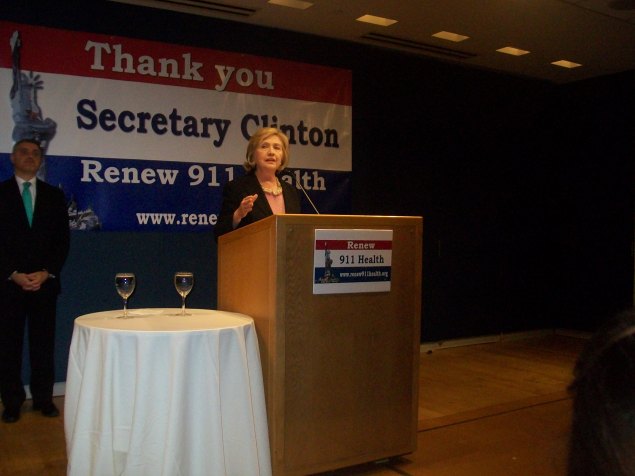 A handful of protesters crashed a speech Hillary Clinton delivered at a labor union's headquarters in Manhattan tonight, attacking the former first lady for not denouncing the president's decision to delay an executive action on immigration reform.
"Undocumented, unafraid! Undocumented, unafraid!" the protesters, a group of several women and children, cried as Ms. Clinton was finishing a speech in support of the reauthorization of the Zadroga Act, a law that granted medical compensation and health care to survivors of the September 11 attacks.
"Hillary Clinton hasn't come out in support of our families," said Mateo Taberas, a 19 year-old native of Colombia living in Queens, after he was forced out of the room.
Mr. Taberas, along with several other protesters, wore white t-shirts mocking Ms. Clinton's presidential ambitions that read "Will You Deport My Family?" with the hashtag "ready2deport."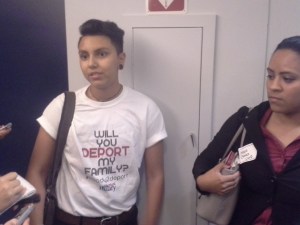 "She came out actually in support of the delay in the announcement that President Obama was gonna make to stop deportations of our families," Mr. Taberas added. "We can no longer wait."
Mr. Taberas said he was a documented immigrant but members of his family weren't. He fumed about the way security treated her as they hustled her out of the swanky ballroom at the United Federation of Teachers' headquarters.
"He just clearly pushed me. I recorded it, I had it on my phone," he said.
Attendees paid to enter the fund-raiser for the groups fighting to extend the Zadroga Act, but Mr. Taberas claimed she was invited by a friend and did not pay.
President Barack Obama recently announced he was delaying executive action on immigration until after the midterm elections, reportedly to help Democrats running for re-election in swing states. Immigration advocates denounced the decision. Ms. Clinton, grinning, ignored the protesters and didn't answer reporters' questions about their complaints
Immigration was not the topic at hand for Ms. Clinton, a presumptive candidate for the 2016 presidential election. She spoke briefly about the importance of renewing the James Zadroga 9/11 Health Care and Compensation Act and how she, as a New York senator, wrangled with the aftermath of the September 11 attacks. The law's two parts are due to expire this year and next year: labor unions representing the first responders, along with the city's congressional delegation, held a rally last week for the reauthorization of the law.
"It was just a scene out of Dante's Inferno. It was a close to hell as I can imagine any of us experiencing," Ms. Clinton said, remembering her tour of a smoldering Ground Zero.
This story has been updated to correct the spelling of Mr. Tabares' name and his gender.