China's ancient Terracotta Warriors, an army of 8,000 men, horses, chariots, and weaponry buried in soil of Xi'an, are considered the eighth wonder of the world, and one of the country's national treasures. In one of the more ambitious museum installations on view this fall, French artist Prune Nourry creates a contemporary reimagining of the army with her work Terracotta Daughters, 116 life-sized sculptures on view at the China Institute's in Lower Manhattan space through October 4.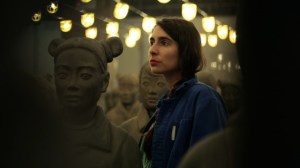 Part of the French Institute Alliance Française (FIAF)'s Crossing the Line 2014 Festival, six weeks of arts programming and events in New York that run through October 20, it includes another concurrent exhibition by Ms. Nourry called Imbalance (installed at a Chinatown massage parlor) set to open on September 13. New York is the only U.S. stop for an international tour which included exhibitions in Shanghai, Paris, and Zurich. It heads to Mexico's Museo Diego Rivera Anahuacalli after this, and eventually back to China to be buried.
The Observer met with Ms. Nourry shortly before her opening at the new China Institute at 104 Washington Street. The space was gutted and raw—still in construction itself—with caged string lights hung overhead and portable work lamps lighting the sculptures. According to Ms. Nourry, it was exactly what she wanted the atmosphere to seem like: a contemporary archaeological site.
Ms. Nourry, in each of her large-scale projects, embeds herself in a different, foreign culture and is careful to approach the work almost like an anthropologist. After all, she is an outsider. But she wanted to examine gender selection, and one of the places that made the most sense to do that included China, known for its one-child policy favoring males. "All of my projects are related to human definition or human selection in a way," she said.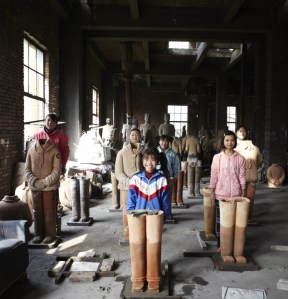 For the Daughters she consulted sociologists who specialized in gender preference from the University of Xian, and partnered with the non-profit organization The Children of Madaifu who helped her find the eight orphan girls who inspired her sculptures. The girls' education is supported by the sale of the original sculptures to collectors. The proceeds also helped fund the production of the army, and its travels are further financed by the sale of bronze replicas, which are also on view at the China Institute downtown, prices ranging from $8,500 to $60,800.
Installed, the work itself has presence. The artist's proofs for the first eight Daughters she produced lead at the front of the army, lined shoulder-to-shoulder, followed by row after row of their sisters. Each is a slightly different permutation of the next thanks to the hands of Xi'an master craftsman Wen Xian Feng, who was tasked by Ms. Nourry with adding unique details to each sculpture. Like the Terracotta Warriors, no sculpture is alike; in fact all 8,000 of the original Xi'an Soldiers are slightly different, with unique facial and body features. Ms. Nourry's Daughters were created in three parts: the head, bust, and legs all completed in sections, and combined in 108 different ways—a significant number in China, originating from a popular children's story about 108 soldiers.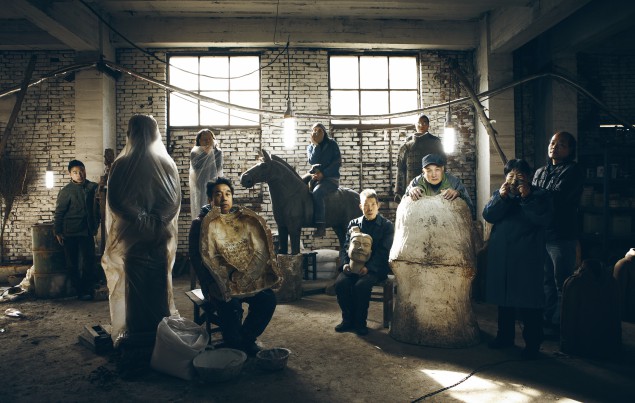 Some of girls sport pigtails, others headbands and heart and star shaped barrettes. Even their shoes vary; one girl wears a pair laced with braided ribbons, her neighbor in thong sandals. You'll even find Wen Xian Feng's daughter among them, the craftsman created one of the sculptures in her likeness. They were made by a combined process of factory line production and the painstaking handicraft of Ms. Nourry and the workers in Xi'an.
In China, an army of girls would never exist, so making sense of Ms. Nourry's vision for creating one took time for Wen Xian Fang and others who helped her. "They were maybe intrigued, and also a bit against the project at the beginning," she said, adding, "They really had to appropriate it, and now it's their own project, which is exactly the place I wanted it to go."
The artwork will have a final resting place in the ground in China when it returns in 2015. When it's finally unearthed in 2030, the year that China's gender imbalance is predicted to peak, it won't be the same artwork it is today. Like the 8 girls the first sculptures were modeled after, it will show signs of age, it will no longer really be an army of girls, hypothetically it should be an army of women except, as Ms. Nourry's project so aptly demonstrates, those women won't exist at all.