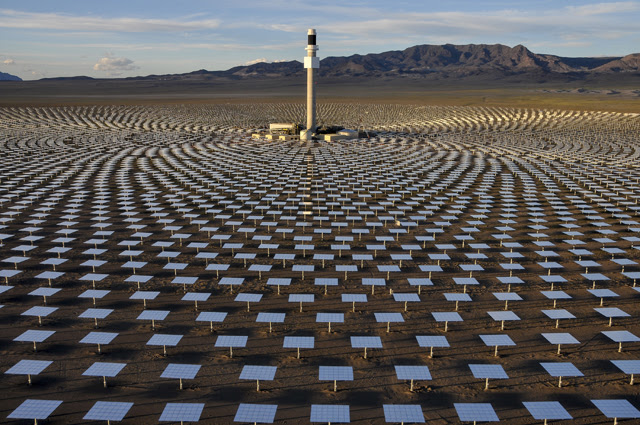 Irish artist John Gerrard's first public art installation in the U.S. is set to debut in Lincoln Center on October 3. Lincoln Center, in association with Public Art Fund, will show the large-scale digital work Solar Reserve, (Tonopah, Nevada) on a 28-by-24-foot LED screen at Josie Robertson Plaza through December 1.
The monumental artwork digitally renders—as realistically as possible—an existing solar thermal power plant in the Nevada desert, the image changing in real time to reflect the time of day over the duration of a complete 365-day year. To make the work the artist used a video game engine and enlisted the help of modelers and programmers.
"The piece cannot be consumed as a film might—it is much longer and akin perhaps to a durational performance. The work exists over a 365-day period, and visitors to this installation at Lincoln Center will get to experience two months of it," said Gerrard in a statement.
The artist, who splits his time between Dublin and Vienna, showed a similar digital work at the 53rd Venice Biennale which featured documentation of the American Great Plains. Previously, his work has exhibited at the Scottish National Gallery of Modern Art, the Hirschhorn Museum and Sculpture Garden, and his commission with Wayne McGregor Live Fire Exercise for the Royal Ballet was shown at the Royal Opera House in London.
Lincoln Center's last public art exhibition was Aaron Curry's "Melt To Earth," which debuted in the fall of 2013.