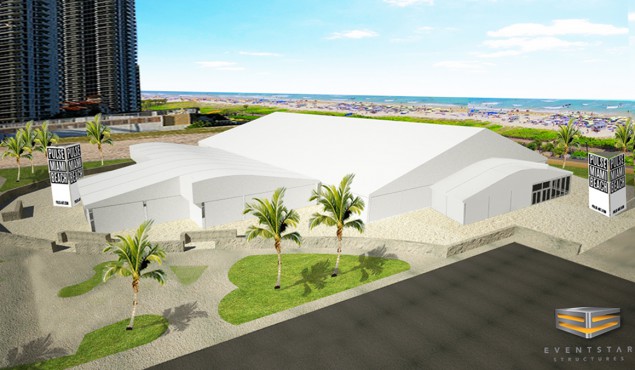 This has been, and continues to be, a big year of changes for PULSE Contemporary Art Fair, and they'll be visible in abundance at PULSE Miami Beach in December. The fair's director Helen Toomer, formerly director of the Collective Design Fair, is trying to breathe new life into the middle-market fair as it enters its 10th year in Miami — a long time for any fair. The biggest news: Pulse this year abandons it's inconvenient taxi-ride-away-if-you-can-get-one headquarters in Miami's Ice House for a beachside tent (shades of the Untitled fair) adjacent to the Fontainebleau Hotel and not far from SoHo House. Toomer promises "an oasis of calm in the middle of Miami madness."
The exhibitors list has been paired down to 60 galleries and 150 artists, and Toomer is integrating IMPULSE (emerging gallery booths) and POINTS ( a special curated section for alternative spaces and non-profits) with the rest of the fair's programming.
"Around a third of the exhibitors are new, a quarter are from this past PULSE New York edition, and the rest are returning, whether from last year or years past," Toomer told The Observer.
At her inaugural run with PULSE at last spring's New York Frieze Week, the fair was condensed into a single floor at the Metropolitan Pavilion. (The smaller, more curated model was easier to digest, and gave exhibitors breathing room on the fair floor.) It's an approach that seems to have pleased galleries, with a number of familiar names from New York on the list trying their luck at the fair's new tent location at Indian Beach Park, including Art Mûr, Catinca Tabacaru Gallery, Davidson Contemporary, De Buck Gallery, gallery nine5, GUSFORD | los angeles, LMAKprojects, and Tyler Rollins Fine Art.
And for the first time ever, the fair has simultaneously released the names of its exhibiting artists. There's a wide range, with recognizable names like Edward Burtynsky, Sam Messenger, Jim Campbell, Jay DeFeo, Dawoud Bey, and Matthew Brandt next to up-and-comers like Maya Hayuk, and Joana Vasconcelos, among others.
For the milestone year, the focus for PULSE is turned inward, looking back at what made the fair successful in the first place. "I think we are getting back to our roots–the art and the artists. And although the tent and the food and the parties are all important–they are not the main focus for me… I want PULSE to be a place where they can stop, look, listen and develop relationships with our galleries and artists," said Toomer. "Although we are a commercial entity, we don't want to focus solely on that, when so many opportunities arise from the fairs in the form of future collaborations and curation."
As for what's changed in Miami over the last 10 years, "There is more competition now and I think people are being more selective, which requires us to be more selective," and added, "We are definitely continuing that same curated approach and over half the fair will contain focused booths of three artists or less."
Here is the full list of galleries and artists coming to PULSE Miami Beach:
Art Mûr, Montreal, Canada: Jinny Yu
Ballast Projects, New York, NY: Russell Tyler (POINTS)
Beers Contemporary, London, UK: Faig Ahmed, Janneke Von Leeuwen, Tony Romano, Pawel Sliwinski
Black & White Gallery/Project Space, Brooklyn, NY: Michael Van den Besselaar
Bryce Wolkowitz Gallery, New York, NY: Yorgo Alexopoulos, Edward Burtynsky, Jim Campbell, Robert Currie, Airan Kang, Jimmy Nelson, Jose Parla
Catinca Tabacaru Gallery, New York, NY: Yapci Ramos
CC Gallery, Berlin, Germany: Maya Hayuk
Danziger Gallery, New York, NY: Christopher Bucklow, Susan Derges, Hendrik Kerstens, Karen Knorr Jim Krantz, Corinne Vionner
Davidson Contemporary, New York, NY: Kiel Johnson, Darren Lago, Sam Messenger, Thomas Witte, Ghost Of A Dream
De Buck Gallery, New York, NY: Simon Vega, XOOOOX
De Soto Gallery, Venice, CA: Amelia Bauer, Brian Paumier, Ramona Rosales (IMPULSE)
DIA Galería, Mexico City, Mexico: César López-Negrete, Ricardo Paniagua
Elizabeth Leach Gallery, Portland, OR: Ann Hamilton, Sean Healy, Isaac Layman, Julia Mangold, Anna Von Mertens
Front Room Gallery, Brooklyn, NY: Mark Masyga, Sasha Bezzubov
galerieKleindienst, Leipzig, Germany: Corinne von Lebusa, Christoph Ruckhäberle
Galerie Simon Blais, Montreal, Canada: Jean-Sébastien Denis, Alexis Lavoie, Yann Pocreau
Gallery Joe, Philadelphia, PA: Mia Rosenthal
gallery nine5, New York, NY: Soojin Cha, Jessica Lichtenstein, Ignacio Muñoz Vicuña
Gallery Poulsen, Copenhagen, Denmark: Barnaby Whitfield, Aaron Johnson, Jean-Pierre Roy, Eric White
Greg Kucera Gallery, Seattle, WA: SuttonBeresCuller, Chris Engman, Margie Livingston, Whiting Tennis
GUSFORD | los angeles, Los Angeles, CA: Genevieve Chua (IMPULSE)
Heskin Contemporary, New York, NY: Doreen McCarthy, Jennifer Riley
Horrach Moya, Palma de Mallorca, Spain: Aníbal López, Jorge Mayet, Joana Vasconcelos
Hosfelt Gallery, San Francisco, CA: Jim Campbell, Jay DeFeo, Jutta Haeckel, Emil Lukas, Marco Maggi, Andrew Schoultz
James Harris Gallery, Seattle, WA: Karin Davie, Gary Hill, Alexander Kroll, Cameron Martin, Alwyn O'Brien, Akio Takamori
junior projects, New York, NY: Guy C. Correiro, Stuart Elster (IMPULSE)
LAMONTAGNE GALLERY, Boston, MA: Gil Blank, Jeff Perrott, Joe Warwell
LA NEW GALLERY, Madrid, Spain: Cristina de Middel, Santiago Talavera, Jorge Fuembuena
LMAKprojects, New York, NY: Jonathan Calm, Popel Coumou, Claudia Joskowicz, Erika Ranee
LYNCH THAM, New York, NY: Carlo Ferraris, Walter Robinson (IMPULSE)
MA2Gallery, Tokyo, Japan: Ken Matsubara
Miller Yezerski Gallery, Boston, MA: Evelyn Rydz, Nathalie Miebach, Deb Todd Wheeler
New Image Art, West Hollywood, CA: Cleon Peterson, Retna, Maya Hayuk
Nohra Haime Gallery, New York, NY: Natalia Arias
Nuova Galleria Morone, Milan, Italy: Felix Curto, Mariella Bettineschi, Domenico Grenci, Sadegh Tirafkan
Paci contemporary, Brescia, Italy: Michal Macku, Teun Hocks
Patrick Heide Contemporary, London, UK: Pius Fox, Hans Kotter, Reinoud Oudshoorn, Dillwyn Smith
Paul Loya Gallery, Los Angeles, CA: Tom Fruin
Philip Slein Gallery, St. Louis, MO: Andrew Masullo, Gary Stephan, Chuck Webster, John Zinsser
Purdy Hicks Gallery, London, UK: Sue Arrowsmith, Jonathan Delafield Cook, Claire Kerr, Susan Derges, Sandra Kantanen, Jorma Puranen
Rena Bransten Gallery, San Francisco, CA: Dawoud Bey, Joe Cunningham, Bovey Lee, Nathan Lynch, Vik Muniz
Rick Wester Fine Art, New York, NY: Alyse Rosner, Laurie Lambrecht, Lilly McElroy
ROCKELMANN&, Berlin, Germany: Florian Japp, Jeffrey Teuton (IMPULSE)
Rosamund Felsen Gallery, Santa Monica, CA: John Mills
Rosa Santos, Valencia, Spain: Andrea Canepa
SENDA, Barcelona, Spain: Oleg Dou, Anthony Goicolea, Sandra Vásquez de la Horra, James Clar
Shoshana Wayne Gallery, Santa Monica, CA: Phil Argent, Kathy Butterly, Rachel Lachowicz, Izhar Patkin, Berverly Semmes, Michal Rovner, Kiki Smith
Schroeder Romero, New York, NY: Lisa Levy
Shulamit Gallery, Venice, CA: Kamran Sharif, Shahab Fatouhi, Tal Shochat
Sienna Patti Contemporary, Lenox, MA: Lauren Fensterstock, Susie Ganch
taubert contemporary, Berlin, Germany: Adrian Esparza, Markus Linnenbrink, Markus Weggenmann, Beat Zoderer, Jan von der Ploeg, Dionisio González, Sylvan Lionni
Tyler Rollins Fine Art, New York, NY: Arahmaiani, Heri Dono, FX Harsono, Agus Suwage
Uprise Art, New York, NY: Eric LoPresti, Erin O'Keefe
Walter Maciel Gallery, Los Angeles, CA: Tm Gratkowski
WAGNER + PARTNER, Berlin, Germany: Erwin Olaf, Mona Ardeleanu, Peter Dreher, Ruud van Empel
WATERHOUSE & DODD, New York, NY: Kim Keever, Jean-François Rauzier, Xavier Guardans
X-Change Art Project, Lima, Peru: Alessadra Rebagliati, Ana Cecilia Farah, Marian Riveros, MOHO Collective (POINTS)
Yossi Milo Gallery, New York, NY: Marco Breuer, Lorenzo Vitturi, Alison Rossiter, Matthew Brandt, Assaf Shaham
YUKI-SIS, Tokyo, Japan: Katsutoshi Yuasa, Kohei Kawasaki (IMPULSE)
Zhulong Gallery, Dallas, TX: Alexandra Gorczynski, James Geurts (IMPULSE)