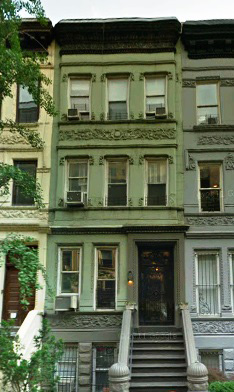 A lot can happen in 48 years. People are married and divorced. Politicians triumph and then face disgrace. Children are born. The Landmarks Preservation Commission casts its eye upon one property and then another, bestowing its (sometimes) coveted imprimatur or not. And here in New York, of course, real estate prices rise and rise and rise. Since 1966, when Joan Schlank—who is herself a veteran of the house-trading biz—bought the Renaissance Revival townhouse at 318 West 71st Street, prices have gone up so much that it's difficult for us moderns to imagine that real estate could once be had for such tiny figures, even after the mechanisms of inflation have been explained to us.
City records during the Johnson administration was no doubt a warren of filing cabinets chaotic with dusty documentation, and the department indicates that Ms. Schlank acquired the home for roughly $0.00, which, we've noticed, is the department's preferred placeholder for older transactions. We have to guess that there's more to it than that, though compared to today's figures, it might as well have been zero. And we're also pretty sure she's made a nice profit, having just sold it off for $5.58 million, according to those same records. The buyer, a pair of LLCs known as 318 West 71st Street A and B,  appears to a single entity operating out of a fancy rental in Kips Bay.
Her new place, which stands on a quiet and unusual cul-de-sac close by West End Avenue, is of the not-yet-fancy variety. It is, according to the listing held by Wolf Jakubowski at Brown Harris Stevens, "a historic beauty ready to be transformed." And so it appears. At a mansion-worthy 4,836 square feet, the house hosts "cavernous open floor plans," with original wood floors, five fireplace mantels and high ceilings that show off bright interiors. Other original details, circa 1901, include a staircase and "foliate plaster molding." (That's flowery broker-speak for "flowery.")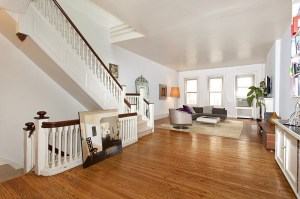 Kempt but dated, the house is configured currently as two duplexes, though it would certainly, with the addition of elbow grease, make a graceful single-family retreat. The backyard garden and wraparound terrace, to be sure, don't hurt. Even way back in 1966, Manhattanites are sure to have paid a premium for even the illusion of the great outdoors—to say nothing of privacy.