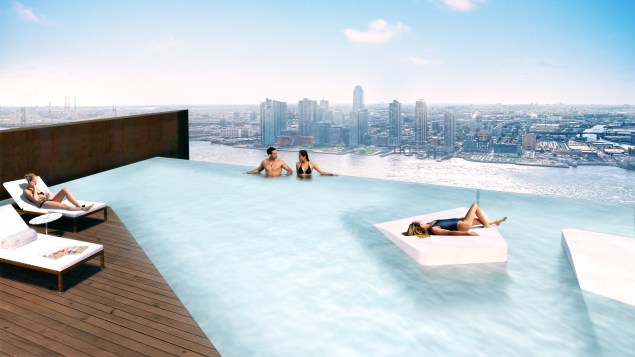 At a time when the flashiest residential towers rising in the city hew closely to the edges of Central Park and the High Line, 626 First Avenue is something of an outlier. Located a block from the East River in Murray Hill, when JDS Development Group completes the super-luxurious project in 2016, it will consist of two copper-clad towers conjoined by a sky bridge with a lounge area and indoor lap pool. The aquatically inclined will also be able to swim in an infinity pool on the roof, offering residents enviable vantages of the East River and skyline (much like the glass-walled gym; no dank basement weight room, this). Even more unusual than the location, however, is the fact that 626 First won't be making a play for billionaire buyers: it's a rental.
While the surging condo market and skyrocketing land values have persuaded most developers working in Manhattan to build condos, capitalizing on a glut of buyers seeking safe harbor for their fortunes, JDS Development Group felt that there was "space at the top of the rental market" in the words of managing director Simon Koster.
"We're starting to see some pushback at the higher end of the condo market, but we're not seeing that in the rental market," said Mr. Koster, going on to describe how 626 First's finishes, amenities and white-glove service would rival those at JDS condo projects like Walker Tower.
"There's certainly a huge component of people in New York that want to be condo buyers, but for some reason can't and they are looking for top-end condo product," he said "There's so much difference in the product at the top of the condo market vs. the rental market. But the people aren't very different—they want the same things."
And JDS is betting, they'll be willing to pay.
Testing the upper limits of an already overheated rental market has worked for JDS before at 202 8th Street in Brooklyn—a would-be condo with Italian cabinetry and marble baths on the edge of Park Slope that they decided to take rental last year. At the time, it was fetching an unheard-of $60 per square foot.
"This past year, the rental market has seen more growth than could have been predicted," Mr. Koster opined, noting that prices at the city's poshest rentals—One MiMA, Mercedes House and the Frank Gehry-designed 8 Spruce Street are now pushing $100 per square foot. Meanwhile, nearby luxury rentals in Murray Hill, most of which are close to 20 years old, are getting $60 to $70 a square foot. So who knows what heights the market might reach by 2015?
If there is one consensus about New York City's rental market at this current moment in time, it's that rentals are now attaining prices that no one ever would have thought possible, especially in Brooklyn.
"In Brooklyn, the product we're seeing is still a discount to Manhattan, but it's not the discount it used to be," said Clifford Finn, who heads up Douglas Elliman's new development rental and marketing team. "Either it's zero in certain buildings in Williamsburg and in other neighborhoods, 10 to 15 percent at most. It's not a default location for renters anymore, it's a primary location."
People feel that a lot of Brooklyn neighborhoods have the attributes Manhattan has lost, he added. Among them, small businesses, a sense of community and, perhaps most importantly, new rental developments.
Despite a handful of projects like 626 First Avenue and 70 Pine—the former AIG building that Rose Associates is converting to ultra-luxury rentals poised to be downtown's priciest when they come on the market—there are very few new rental projects rising in Manhattan, according to Jonathan Miller, the appraisal guru who heads up Miller Samuel. "Builders build what makes economic sense and the land prices are so high that you really can't build luxury rentals unless you bought land before [the current boom]," said Mr. Miller. "And even if you did, why wouldn't you try to get the highest return you can?"
Some developers have found novel workarounds. For example, Equity Residential is partnering with Toll Brothers on a rental/condo tower designed by Christian de Portzamparc on Park Avenue South. "Given the premium land prices in New York City, it made sense to partner with Toll Brothers City Living," wrote Marty McKenna, a VP at Equity, in an email to the Observer.
Another work-around is building in a slightly less than prime location: most of Manhattan's top-tier rental projects are popping up on the fringes of the city's most fashionable districts: One MiMA and Mercedes House in Hell's Kitchen, 626 First in Murray Hill and 8 Spruce and 70 Pine in the Financial District (though 8 Spruce is more the no man's land between FiDi and City Hall).
And so, much of the new rental housing—for which there is still great demand given that some 70 percent of New Yorkers are renters—is being built in Brooklyn and Queens. Mr. Miller said that when he started appraising back in 1986, 80 to 85 percent of Manhattan's housing stock was rental; now it's closer to a 75/25 split.
Some of the hunger for rental housing is slaked by an increasing number of condos that are effectively functioning as rentals—with so many people scooping up Manhattan apartments as investment properties, there's now a cottage industry of brokers and managers who help out-of-towners rent their holdings until it's time to cash out. Ad hoc rentals can be found in the toniest addresses in the city, like 15 Central Park West, where Robert De Niro just rented a five-bedroom pad that was most recently asking $125,000 a month.
For an increasing percentage of New Yorkers, though, Brooklyn and Queens are the only viable choices below 125th Street (and while Washington Heights and Inwood are becoming increasingly popular, brokers say that many would-be renters find those neighborhoods too far from friends in Brooklyn).
"Two years ago, people would say, 'I want to be in Manhattan.' They'd see two or three apartments, realize they couldn't afford what they wanted and go to Brooklyn. Now they come to us saying they want either Brooklyn or Manhattan," said Luciane Serifovic, who heads up Douglas Elliman's rental division.
It's a huge cultural shift that more than a few rental developments have been on the wrong side of, like 101 Bedford in Williamsburg, whose tone-deaf marketing campaign featured a would-be technocrat cooing, "Toto, I have a feeling we're not in Brooklyn anymore," to the Yorkshire terrier on his lap.
"I think most people care about staying within their budget and trying to get the best they can within a neighborhood that they like," Ms. Serifovic noted, adding that such a Catholic approach to neighborhood, which a number of brokers described as a development that's only come about in the last few years, can be unhelpful. Picking an apartment is, after all, about narrowing one's options.
Gary Malin, the president of Citi Habitats, said that without a significant amount of economic development or job growth, there's only so high certain segments of the Manhattan market can go, and some areas, specifically the East Village, have seen tenant pushback in the form of higher-than-expected vacancy rates.
"Tenant philosophies have really changed; more people are willing to trade off on location for price and size," said Mr. Malin. "People before were very myopic, they wouldn't look at different neighborhoods. Now they're more exploratory."
Though with increasingly robust amenities packages—which real estate professionals described as de rigueur in new development—where a person lives matters less and less.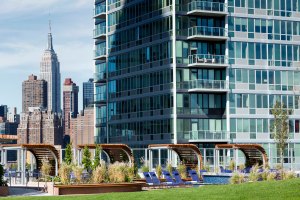 How much they get used is another matter. While Ms. Serifovic said that renters frequently ask for amenities like condo-caliber kitchen and bath finishes and en suite washer dryers, few specifically request lavish perks like rooftop beach volleyball courts, ping pong rooms, squash courts, lap pools, screening rooms, golf courses, playrooms, massage rooms, spas, wine cellars and juice bars. Amenities that, with the exception of gyms and outdoor space, largely goes unused, brokers confess. And even gyms often sit empty in this era of SoulCycle and CrossFit; one friend recalled a recent tour of a Dumbo rental during which the leasing agent boasted that she'd be able to have the gym to herself as hardly anyone ever used it.
But regardless of whether they'll use them or not, with so many of the borough's landlords taking advantage of the tight inventory to raise prices, shilling buildings as "luxury" after a cursory renovation of white paint, stainless steel appliances and new bathroom fixtures, those who can afford amenity-ridden new development, no matter how silly beach volleyball may be, often do so if for no other reason than it feels like less of a rip-off. As one woman put it: "No matter how nicely they'd redone the apartment, there's only so much I was willing to pay for a fifth-floor walk-up."
But that kind of choice may, too, be fleeting. As Eric Benaim, the CEO of brokerage Modern Spaces noted, developers in Downtown Brooklyn are now citing rising land costs in their decision to go condos. Many renters, he added, have decamped to Queens rather than wait out the tide of rising prices.
And while Queens remains a somewhat harder sell for some, renters quickly overcome their hesitation about the lack of "Brooklyn brownstone feeling" when they consider the discount: up to 30 percent cheaper than Manhattan, according to Mr. Finn. Amenities are also, often, comparatively lavish.
Not so much the square footage, alas. While rents have remained comparatively low in Long Island City, developers are making up the difference by building smaller units—more in line with those in Manhattan and Brooklyn. In a recent market report, Modern Spaces found that the average square footage of LIC condos on the market had declined by 29 percent in the past two years, falling each quarter since the beginning of 2012.
Mr. Benaim said that in 2006 most LIC studios were slightly over 500 square feet and one-bedrooms 700 to 775 square feet. Now Modern Spaces is working on a rental project in the pre-development stages that will have studios just under 400 square feet—nearly as tiny as the micro-units being developed in Murray Hill—and one-bedrooms in the high-400s. As for two-bedrooms, they'll be around 700 square feet.
But maybe if there's a spinning studio in the building, nobody will notice.