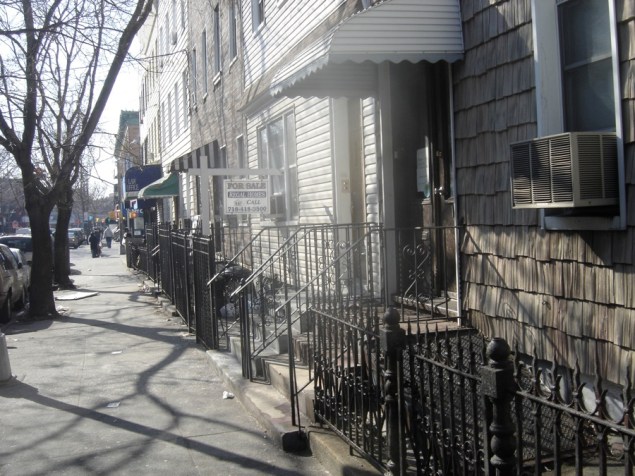 The inevitable has happened: Ridgewood, Queens, that neighborhood that everyone has been watching tirelessly for signs that it is, indeed,  the next hot neighborhood, has seen a flurry of commercial real estate sales. In fact, this July, Ridgewood's 11385 zipcode was the most active one for commercial property sales in the city, according to an Actovia analysis of Department of Finance records. The crown has, in recent memory, belonged mostly to Brooklyn zip codes and the county of Kings still outpaces Queens in terms of overall sales; in June, Brooklyn had 249 commercial property sales, nearly twice the 131 recorded in Queens (Manhattan had only 125).
We all knew this was coming. It has now been more than a year since The New York Times heralded the hip-ification of Ridgewood—whose comparatively low rents and old-timey, quaint vibe provided a welcome balm to "young creative types" seeking shelter from the soaring costs of continuing to partake in Bushwick's aggressively cool industrial vibe.
And let it be known that The Times, for all the flack they get for "discovering" neighborhoods like Williamsburg and Bushwick, has been writing about the gentrification potential in Ridgewood since at least December of 2011. At the time, The Times urged readers to consider the little-known—little-known to Times readers, that is—neighborhood and its "architectural eye candy": well-preserved older buildings that called to mind pricier preservation-mad neighborhoods like Brooklyn Heights. Even if the paper's now-infamous June 2014 review of Houdini Kitchen Laboratory—the one that launched the uneuphonius portmanteau 'Quooklyn'—spoke despairingly of the "desolate" scene "10 stops out of Manhattan on the L line."
It shouldn't be long now before it's all "free tattoo parties" and fancy restaurants. Ridgewood's zipcode saw 98 sales during the first eight months of 2014, according to Actovia, which analyzes data for commercial properties over four units, including mixed-use and multi-family properties. There were 6 garages sold, 12 industrial properties, 32 mixed use, 45 multi-family, two vacant and one categorized as "other," suggesting that developers are focusing their energies on the neighborhood now that Bushwick land costs are rising, with that neighborhood becoming the next hub of the Brooklyn condo boom. Commercial properties in the 11385 zipcode also traded at an average of $1.17 million, according to Actovia, indicating that there is still good value to be found in the neighborhood.
Last summer, Andrew Barrocas, chief executive of MNS told The Times that he had organized about a dozen informal walking tours of the area for investors and developers: "We're getting a lot of these landlords who historically have been in Manhattan saying, 'Tell us about Bushwick; what is this area in Queens?' "
What, indeed? Who wouldn't see the opportunity to make a tidy profit in the future, with hordes of hip refugees priced out of Brooklyn neighborhoods, hungry for overpriced street food, underpriced rents and "authentic" beer halls? When the Daily News finally gets around to declaring a neighborhood "the next big thing," you know it's only a matter of time.