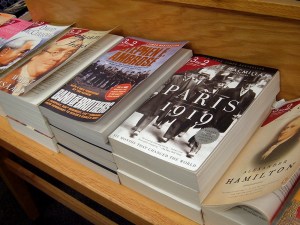 Bibliophiles, rejoice! The famed Rizzoli bookstore, which closed the doors of its longtime home on West 57th Street in April as the not-quite-historic-enough building's owners—the LeFrak family and the Vornado Realty Trust—prepared to demolish the structure, will return next spring. The store will occupy 5,000 square-feet of space in Kew Management's St. James building at 1133 Broadway, in what we're increasingly feeling pressured to call the "NoMad" neighborhood, where it will resume its trade in both new and rare books, with particular attention to titles in art, architecture, photography and design."Our new flagship bookstore will embody the experience our customers expect from Rizzoli while further enhancing their in-store experience," Rizzoli International Publications president Marco Ausenda said in a release. "A special salon for events, our trademark interior wrapped in an exciting modern envelope, and other new features will make Rizzoli's an icon for the future of illustrated bookstores.  After an exhaustive search that included many options in several of New York's unique neighborhoods, our criteria were fully met only by the 1133 Broadway location."
The Gilded Age St. James, which dates to 1896, grants the Rizzoli high ceilings and classical details that will perhaps lessen the sting of losing its pretty old digs. Additionally, the new store will be roughly the same size as the old one, though on one level, rather than the gracious two the last store occupied. (And now that Shakespeare & Co., which was until recently resident at 716 Broadway—a short walk south—has closed, Rizzoli will face little in the way of local brick-and-mortar competition; then again, that sort of competition is not really what booksellers have the most to fear from these days.)
Rizzoli's new flagship will join "a growing concentration of Italian and International stores" in the area that includes Eataly, Marimekko, Porcelanosa and Maison Kitsune, lending a kind of old-world intellectual imprimatur to what is otherwise increasingly a corridor of luxe consumption (albeit one on the edges of wig wholesalers).
"We have strived to find the right retail tenants for what is one of the highest profile corners in NoMad," Leslie Spira Lopez, president and CEO of Kew Management, said in the release. "I believe we couldn't have found a better match for our building and the neighborhood.  Rizzoli's decision to locate in our building affirms that the Madison Square area is once again a center of New York City life, just as it was the hub of New York society in the late 19th and early 20th centuries."
If only the same could be said of bookstores.