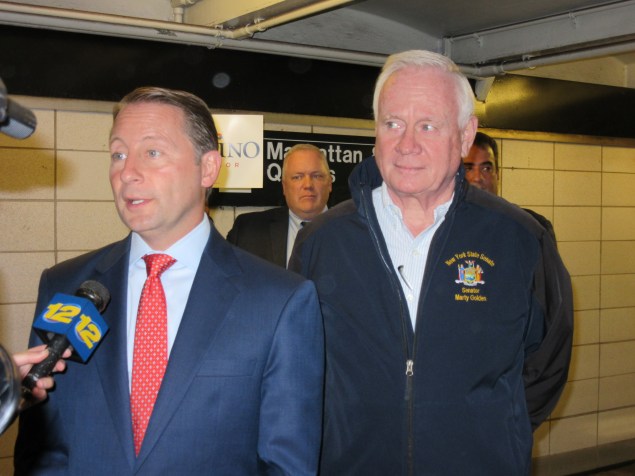 Republican gubernatorial candidate Rob Astorino today pledged to make the notoriously tardy R train ride the rails quicker if voters pick him over Gov. Andrew Cuomo in November.
Campaigning with GOP State Senator Martin Golden inside the 77th Street R station in the latter's home neighborhood of Bay Ridge, the Westchester county executive argued that the southern Brooklyn neighborhood suffers from few public transit options, and that those available are often unsatisfactory. Mr. Astorino–who moments earlier had struggled to purchase a Metrocard, seeming unfamiliar with the Metropolitan Transportation Authorities vending machines–said as governor he would work to increase the speed and frequency of the R, the area's only train line, the letter of which locals sometimes joke stands for "rarely."
"The express buses are important. The R train, which runs here, is slow, we're going to try to make it run a little faster," Mr. Astorino told reporters.
The candidate–who according to polls lags almost 30 points behind Mr. Cuomo–said he would lean heavily on the Authority to make them improve the service.
"You talk to the MTA and you put public pressure on them to speed up the service. It's an important link from Brooklyn to Manhattan," said Mr. Astorino.
Mr. Golden noted that the governor appoints all five members to the Public Authorities Control Board, which oversees the transit agency. The senator himself sits on the MTA Capital Review Board, which approves expenditures on new projects like the Second Avenue subway and the 7 train extension.
"We definitely have some say in service that runs through the communities through the city and outside the City of New York," Mr. Golden said.
The Straphangers Campaign, an arm of the New York Public Interest Research Group that produces an annual "report card" on train service, ranked the R the seventh best of 19 train lines. The campaign's assessment found the R ran less frequently than most trains, but suffered fewer breakdowns and that riders were more likely to find a seat.
Mr. Astorino also laughed off an attack yesterday by the "Astorino Truth Squad," a group run by the Westchester County Democratic Committee. The group slammed the candidate for campaigning instead of working as county executive.
"These are the same bitter Democrats we've beaten now twice. They don't speak for all the Democrats in Westchester County, who have re-elected me in large numbers because we're doing the job in Westchester," Mr. Astorino said.