Last Monday, both NBC and I took a break from Running Wild to watch actors get together and celebrate other actors for being good actors. This is called the Emmys, or something. But this week we are back, baby, and Bear Grylls is taking NBC and MSNBC reporter and anchor Tamron Hall into the wild. As it turns out, a TV anchor that lives in New York City doesn't fare too well scaling mountains and eating dead animals. Who knew! My favorite thing about this episode is that Bear Grylls hasn't taken this much obvious delight in the struggles of his guest since week one with Zac Efron. I'm not saying Bear Grylls is a bad person. I'm saying there's a chance he isn't human and we as a species greatly amuse him.
Here are the most pivotal moments of Bear Grylls and Tamron Hall's tour of the high country of southern Utah.
Bear usually gives his guests the benefit of a little preparation time, but there was a week long break and Bear is an adventurer dammit and there is no time for preparation this episode. Instead, Bear surprises Tamrom as she drives along by swooping in on the side of a helicopter. This is the start to the episode and, I can only assume, every single date Bear Grylls has ever been on.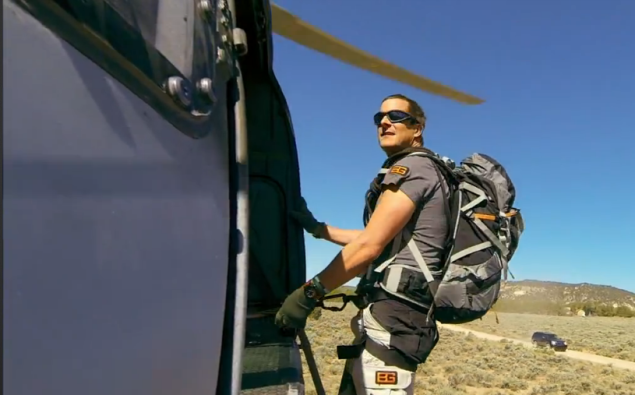 There are two things you never say to Bear Grylls while camping. The first: "How bad could decayed animal carcass really taste?" The second: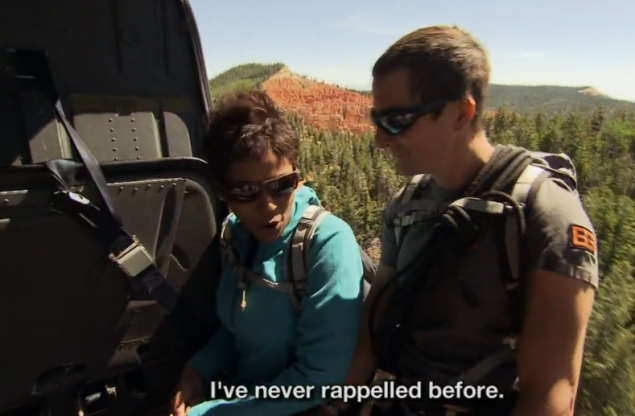 I'll admit, Tamron gets a lot better at the whole outdoors thing as the episode goes on, but the first foray into hiking goes terribly, terribly wrong. We spend what feels like four hours with Tamron tethered to Bear, struggling to get, well, anywhere.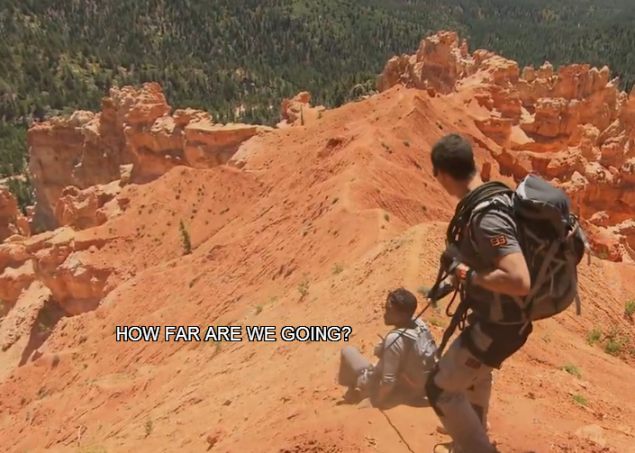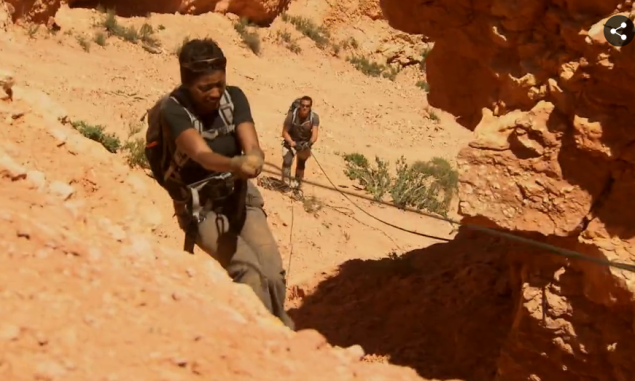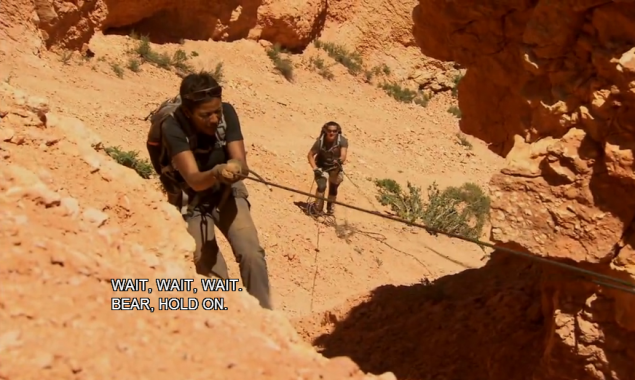 Hey everybody, still trying to get down the hillside with Tamron here. She finally makes it, but not before falling about four feet to what would appear to be her impending death.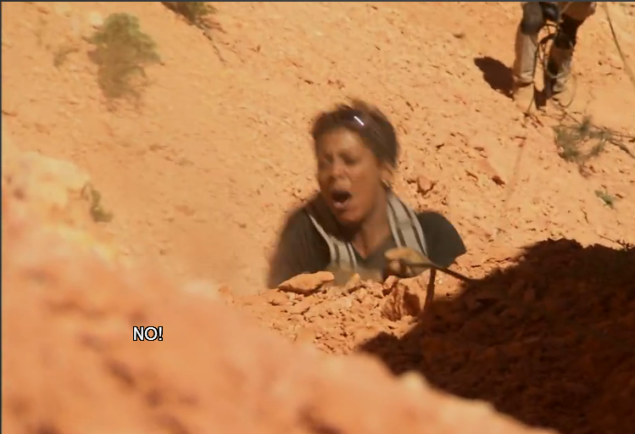 We interrupt the struggles of Tamron Hall for a little bit of Bear Grylls wisdom: "The wild throws things up and you've just got to embrace it and go with it. And sometimes when you're sliding, don't try and fight the slide."
Tamron follows those wise words up with a little wilderness joke: "What does the big brown bear carry around in his big brown bear sack?"
Hey, does everyone remember when I was joking around before about Bear making people eat dead animal carcasses?
Tamron and Bear's final obstacle before the extraction point is an 150-foot deep chasm that is just begging to be rappelled down. Because she is a human being, this seems slightly daunting to Tamron. Because he is a nature robot that wasn't programmed to feel feelings, Bear offers some pretty sound advice.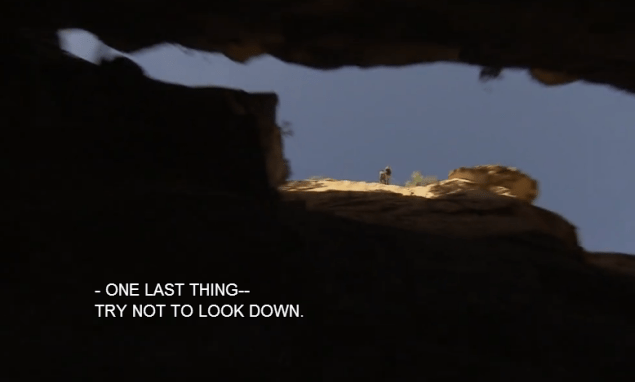 Tamron and Bear eventually do make it to the bottom, and nobody even dies doing it. That's cause for a celebration. After climbing out of the chasm the easy way, on an actual path, they hit the extraction point. In a season first, the pair's ticket out of the wild is a motor cycle, with Bear taking the wheel and Tamron riding passenger. This is the end to the episode and, I can only assume, every single date Bear Grylls has ever been on.
NBC obviously hasn't been getting my letters about keeping this masterpiece on year round, because next week is Running Wild's season finale. The guest is NFL Hall-of-Famer Deion Sanders, so expect a lot of mentions that the wild is Deion's "greatest opponent yet." The wild is pretty scary, but does it have nearly as many receiving yards as Jerry Rice!? Find out next week!