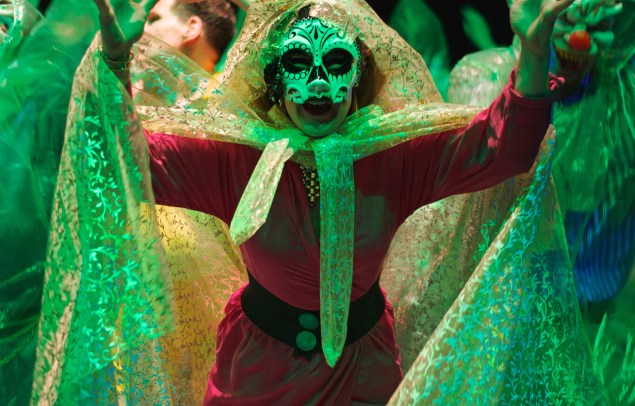 Tucked into the heel of this summer, during those weeks in August everybody always seems to forget about, was one of New York City's most ambitious opera projects. The small but potent dell'Arte Opera Ensemble presented 16 performances of three full-length works—all based on Shakespeare—in the space of barely two weeks.
So modest is this company that the first show of the season, Purcell's The Fairy Queen, slipped right past me, but I caught up with them the final weekend for Salieri's Falstaff and Verdi's Macbeth.
The Salieri is a 1799 confection that adapts the Bard's farce The Merry Wives of Windsor to the conventions of 18th century opera buffa.  Falstaff, an overweight nobleman down on his luck, tries to play the gigolo with the wealthy married ladies Mrs. Ford and Mrs. Slender. They, in turn, teach him a lesson, or rather three lessons, in the form of elaborate practical jokes.
This trope of women bringing to heel the sexually errant man naturally brings to mind Mozart's Le nozze di Figaro, a work with which Falstaff shares a number of formal elements, particularly discrete musical numbers linked by secco recitative and ambitiously extended act finales. The difference between the two works is essentially the gulf between talent and genius. Mozart humanizes his farcical characters with unforgettable melodies and unexpected subtleties of harmony; Salieri settles for high-class situation comedy. When you leave the theater, you're neither humming the tunes nor wondering what might happen to the characters in a sequel.
Even though Falstaff is the title character, the show belonged to the merry wives, in particular Mrs. Ford, who devises and stars in each of the gags they play on the hapless knight. Suitably, dell'Arte cast this part on a Thursday evening with by far the strongest singer in the cast, the delightful soprano Marie Masters. Her lyric voice easily soared and dipped through Mrs. Ford's playful music, and she made a particular highlight of the first act scene in which she disguises herself as a German au pair to flirt with Falstaff. Adept at the physical comedy of seduction (ending with Falstaff stuffed into a laundry basket), she later spun out the elegant lines of her "fairy" aria gracefully.
Another excellent singer, Scott Lindroth, didn't have as much to do as Mr. Slender, which was a pity, because his baritone sounded full and resonant. Less successful was the tenor Erik Bagger in the longer role of Ford. His two wide-ranging, bombastic arias sounded shrill and harsh.  As Falstaff, bass David Morrow created a hilariously skeevy character but he plodded through his many pages of recitative.
Stage director Louisa Proske kept the sitcom jokes flowing in an updated 1980s setting, arranging the action on a beige shag carpet in the center of the East 13th Street Theatre's black-box space. Nina Bova's costumes precisely defined Falstaff's cluelessness, dressing him first in an ill-fitting 1970s tux and later (for his final humiliation) in a too-small yellow spandex wrestling singlet.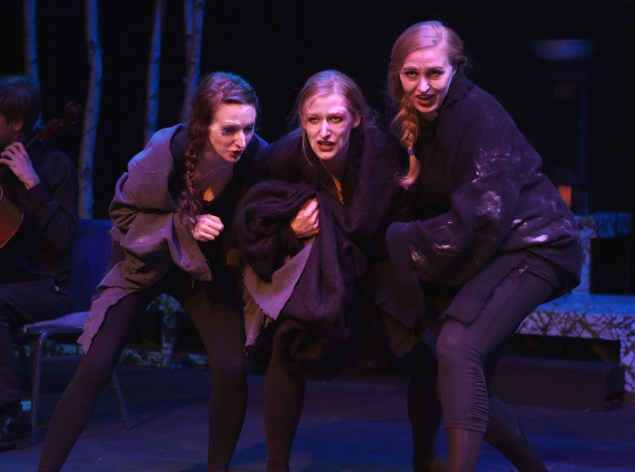 The following night, dell'Arte turned serious for Macbeth. Unlike the Falstaff, which was written for chamber forces comparable to those dell'Arte mustered, the Verdi opera is a large-scale Romantic work calling for an orchestra and chorus of Metropolitan caliber. Yet with a band of only 20 players scattered about the arena space and a cast of 13, this pared-down Verdi proved both solidly musical and dramatically moving.
This opera, originally composed in 1847 and revised in 1865, had to wait until the middle of the 20th century to find its audience, probably because both the subject matter and the music are so uniformly grave. Another challenge in producing the work is casting Lady Macbeth, a ferociously demanding part extending from fierce declamation to the most delicate pianissimo singing.
Kelly Griffin sailed through the treacherous role with a lean, cool soprano encompassing both pingy high notes and gutsy plunges into chest register. She commanded the stage with icy presence, betraying the character's doubts with no more than a glance. Even in the sleepwalking scene, she maintained a dignified, almost formal bearing echoed by her graceful bel canto vocalism.
Baritone Jason Plourde had all the right ideas while interpreting the part of Macbeth, but unfortunately lacked the voice, his wispy tone verging at times on a character tenor's wail. In contrast, Rocky Sellers brought a vibrant, booming bass to the role of Banco. Too bad he had to die so early in the opera!
In the lead tenor role of Macduff, Michael Morrow sang his mournful aria "Ah, la paterna mano" sensitively with a dryish voice. In what turned out the be the most thrilling moment of the performance, he was then joined by another tenor, Mackenzie Gotcher, for the rousing cabaletta "La patria tradita," climaxing with both singers landing on high B-flat.
In Myra Cordell's bare-bones production, the singers stood mostly immobile in an unadorned stage space, leaving the melodrama to the music. Ms. Bova dressed the men in black slacks and shirts draped in tartan. Ms. Griffin's ascent to the role of queen was indicated simply by the addition of increasingly elaborate jeweled necklaces to her severe tunic of slate-colored velvet.
In the vastly different styles of Salieri and Verdi, conductor Christopher Fecteau not only maintained exemplary ensemble, but found time to emphasize fine points that stood out in lapidary detail. In particular, an unusually slow tempo for the first act duet between Macbeth and Lady Macbeth exactly caught the scene's mood of mysterious dread.
Strictly speaking, the musical year doesn't commence until after Labor Day. However, these exceptional performances from dell'Arte make me feel like the season is not only already in progress, but is off to a bright and shining start.