About 32 seconds into Saturday Night Live's 40th (40th!) season premiere, I could already tell it was better than season 39. To be fair, two hours of dead air would have been funnier than season 39. But after the great cast member clear out, the Weekend Update switcharoo, and the addition of one (20 year old) new cast member, the 40th season is indeed upon us.
And it wasn't even that great of an episode. But it also didn't suffer from cast member overload, people mostly seemed confident (I'm looking at you, Aidy Bryant) and as an added bonus hey it's Chris Pratt. Don't ever change Chris Pratt, you beautiful sonofabitch.
Here's a rundown of the good stuff, the bad stuff, and the Ariana Grande stuff from SNL's season premiere.
The Good
[hulu id=yhaqczeds5vjcejfww9x8w width=512]
Man, maybe I am a sucker for the tail end of the episode weird stuff. Either way, Bad Boys was my favorite sketch of the night, and I was so glad to hear it actually get more than silence from the audience. And honestly, if you didn't LOL like I did when that 10-year-old hiked up his shirt to show that he was packing a gun, then I just don't know what to tell you.
[hulu id=donqsau1bfalcoarn9nvnq width=512]
I would camp out overnight and shill out the extra $16 to see Marvel's Fancy Ghosts in 3D on opening night. I would probably take a date to see Pam. But not Pam 2: The Winter Pam, because ugh sequels, am I right?
[hulu id=jytzdptm5wudpmnrobfffq width=512]
The premiere's long, long, long Weekend Update basically fired on all cylinders, even after newcomer Michael Che's trip up on his first joke. The guy gets a break because anyone that's seen him on The Daily Show knows he's a natural. I'm still not sold on the returning Colin Jost, because I still can't tell if his case of the awkward face is on purpose or not. Only time will tell. Leslie Jones is always welcome as SNL's relationship expert/Ghost Whisperer enthusiast, and once you got over the initial "oooh that's awkward"-ness of having Cecily Strong out there so soon, you realized she's better as a character cast member anyway. And good for Pete Davidson, who at the tender age of 20 looked more comfortable than most of the returning cast, even while talking about going down on a dude for $3 million.
[hulu id=vtxhgv1ed3ill4rjqwztdg width=512]
Sometimes you can just tell that the writer of an SNL sketch just worked backwards from a moment they wanted to happen to find a premise, and the moment this SNL writer wanted was "how can we get Chris Pratt to touch another dude's junk?" And you know what, sometimes that is just alright with me.
[hulu id=7zfpwzddwtgxhopqps154a width=512]
Despite Aidy Bryant fumbling her words more times than the Giants fumbling an actual football (sigh), this season's first cold open worked mostly because the world is in full on WTF NFL mode at the moment. Keenan Thompson with a fake beard will probably always make me laugh and Shannon Sharpe annoys me in real life so good for Jay Pharoah. Also, "we fight four different women?"
The Bad
[hulu id=ttuqof1race_o1ruwig8yg width=512]
"Booty Rap" had two things going way, way against it. 1) It was about three versions of the same joke two long and 2) SNL missed out on a golden opportunity to have this happen. Shame on you, SNL.
[hulu id=tym-pnlrwh4paiggmnkg3q width=512]
This sketch wasn't not funny per se, but it just reminded me and probably every other single person way too much of Key and Peele's East/West College Bowl. Which I feel like the SNL writers knew, and they did it anyway. Maybe even on purpose. I don't know, I just feel dirty and used.
[hulu id=3movt5rxwefwykkvy8mhuq width=512]
SNL's worst sketches are notorious for two things — beating a single joke into the ground and ending awkwardly and abruptly. "Vet Office" did both, and it was the third sketch on the show and it was the second "Vet Office" SNL has done. Boo, "Vet Office."
The Grande
[hulu id=la9spn3xkjlpsrvvhjwpmw width=512]
I had to Google how old Ariana Grande is before writing that I enjoyed this performance. Just saying. Although whoever told her she could wear the cat ears for both performances probably should learn to say no. But she did fine, as far as musical guests go. Also, I refrained from titling this post "The Good, The Bad and The Ugly" lest anyone get the idea that I think Ariana Grande is ugly. But then this guy showed up.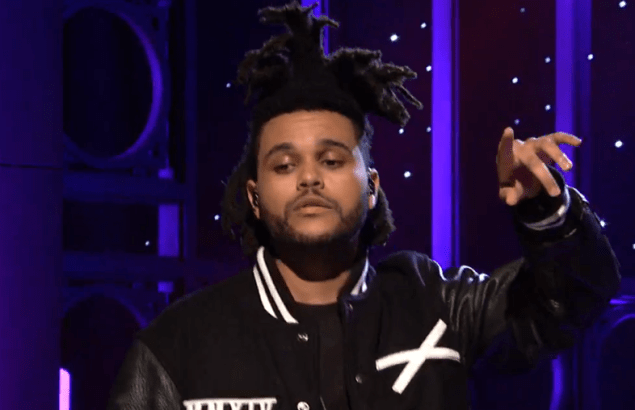 LOL who the hell is that guy?