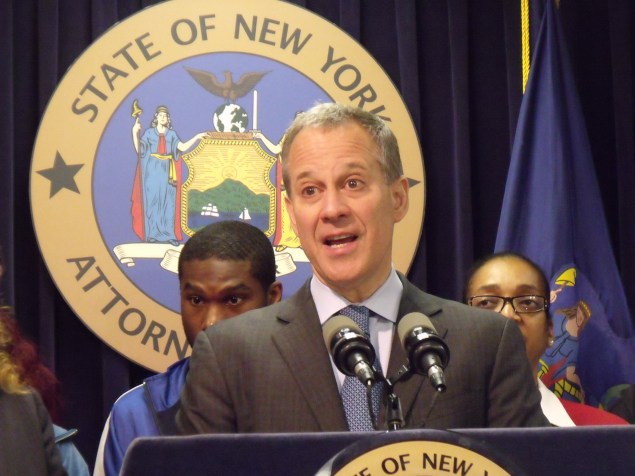 Attorney General Eric Schneiderman announced a settlement today that will net $925,000 for skycaps who were being paid as little as $3.90 an hour at John F. Kennedy International Airport.
Mr. Schneiderman — joined by labor leaders and Public Advocate Letitia James — said employer Alstate Maintenance LLC had been paying the workers below the proper wage for tipped employees in the state, and well below the standard non-tipped minimum wage of $8 an hour.
"Even if Alstate had fulfilled the legal requirement for taking the tip credit, which the company did not do, it would still have had to pay these workers at least $5.40 an hour," Mr. Schneiderman said. "So, they first of all didn't take the legal steps they were required to take to make themselves eligible for the tip credit, and then even if they'd done that, they weren't paying the minimum salary that was required for tipped workers. So they were cheating in two ways."
Skycaps, who take bags and check in passengers curbside, are sometimes tipped by airline passengers. Mr. Schneiderman pointed out that the paltry wages they made during the time of his offices' complaint — between $3.90 and $4.15 an hour — is less than the state's minimum wage in 1991.
"Ladies and gentleman, this is not 1991. These are not the wages required by the law, and this is wage theft, pure and simple," he said.
Ms. James — who joined Mr. Schneiderman recently when he launched his re-election bid against challenger John Cahill — recalled prior settlements for other underpaid airport workers, including wheelchair attendants.
"It is criminal. It's really unacceptable that the people who ensure that our air travel is safe, convenient and uninterrupted are making far below minimum wage," Ms. James said.
The skycaps are now seeking to unionize, and skycap Jeffrey Young said he thought the victory was one for all airport workers.
"I want other members that are part of our company, and JFK Airport, to win also," Mr. Young said. "A lot of companies that's in JFK Airpot, LaGuardia, Newark, is all getting underpaid — and nobody is standing up for it because everybody is scared."
Mr. Schneiderman has enjoyed strong support from unions in his re-election bid –AFL-CIO President Mario Cilento recently said workers have "no greater champion" — as well as from elected officials and organizations pushing for fair pay for low-wages employees working in the fast food and carwash industries. At his campaign kickoff, he was introduced by a Papa John's employee earning $8.50 an hour.
"I think that there is a national movement growing around the issue of economic inequality, and one of the most basic steps you can take to address the issue of economic inequality is to make sure people get a fair day's wage for a hard day's work," Mr. Schneiderman told the Observer.
 "And I have to say that some of the lowest paid workers, when they stand up — the car wash workers, the fast workers, the skycaps — really send a message to everyone else in the system, everyone else in labor, everyone else in management."
32BJ SEIU, which helped the workers file their class action suit, has opened a 24-hour hotline for workers to report wage theft: 844-OUR-WAGE (687-9243).