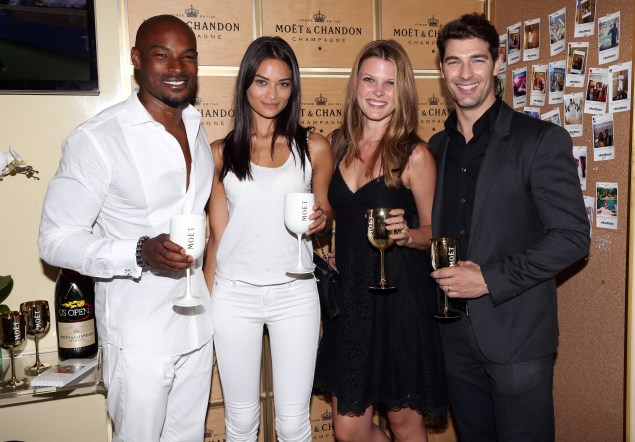 Call it outrageous, call it a bore, but dinner theater appears to be having a comeback, from the en vogue adult Disneyland that is the ever-expanding McKittrick Hotel, to Natasha, Pierre and the Great Comet of 1812. And then there is Randy Weiner's erotic smorgasbord, Queen of the Night at the Diamond Horseshoe. In brief, the spectacle recounts the mysterious debutante ball thrown by the regal Marchesa for her daughter Pamina, who has fallen in love with a suitor of whom the Marchesa disapproves. Wine and cocktails flow, and there's a messy suckling pig and lobster feast, along with costumes by Thom Browne and fanciful scenic design by Douglas Little, all taking place beneath the Paramount Hotel, that 90-year-old Times Square landmark that cost owner Aby Rosen a reported $20 million to renovate. A splashy New Year's Eve opening saw Sir Ian McKellen, André Balazs and Zachary Quinto in attendance.
---

$16,000
Estimated cost of a premium U.S. Open suite at Arthur Ashe Stadium


$475
Cost of an "ultimate ticket" to Queen of the Night


---
It still seems to be popular with stars, as everyone from Chrissy Teigen and John Legend to Edward Norton, Heidi Klum, Hugh Jackman, Jessica Alba, Johnny Depp, Jude Law and Neil Patrick Harris have stopped by.
A few weeks back, Shindigger & Co. ventured back to the Diamond Horseshoe, curious if the circus was still thrilling audiences.
"For a long time, when used in combination, the two dirtiest words in entertainment have been dinner and theater," Mr. Weiner (husband of Tony-winner Diane Paulus, as well as a producer of Sleep No More) told Shindigger. "In creating Queen of the Night, we challenged ourselves to turn the normal expectation of dinner theater on its head."
On our second visit, the entertainment held up just as much as the grub. But did others buy in?
"I haven't seen Queen of the Night," offered Lucio Castro, the menswear designer who's having a bit of a moment since joining the latest class of the CFDA Fashion Incubator. "I saw Sleep No More in London, and I thought it was great that you ended the night having a beer with the actors. But I have also witnessed so many tacky 'live performances' in parties in New York that I've grown a bit weary of them."
So, frankly, has Shindigger.
The real drama is on the tennis court anyway. We got to watch the US Open while sitting in the lavish, boozy Moët & Chandon suite, on the heels of Gina Gershon, Karlie Kloss, Josh Lucas and Boris Becker. While Charlotte Ronson and Jessica Stam took "#MoetMoment" selfies for charity (the bubble brand has pledged to donate $100 to the national charitable foundation of the USTA for each one) we chatted with Tyson Beckford.
"I've been here almost every year that Ralph Lauren's been a sponsor," the former face of the Polo Pony said. He had arrived with his off-again girlfriend and Victoria's Secret Angel Shanina Shaik, festooned in an all-white ensemble by the label.
Scanning the room, we noted more attention being paid to the gourmet dinner and Champagne than the tennis.
"Have you seen any drama on the courts?" Shindigger asked, taking another sip.
"This guy's incredible!" the hunky model enthused, pointing to the match's eventual loser, Germany's Matthias Bachinger. "He's fighting to survive against Andy Murray."
Accepting a top-off, Shindigger wanted to know what weird libation Mr. Beckford was slurping up.
"The Imperial Champagne Nectar with fruit," he replied. "The last time I had it I was in Ibiza with my lady friend."
"The end of summer," we cooed, and unsteadily hoisted our golden Moët goblet high in the air.