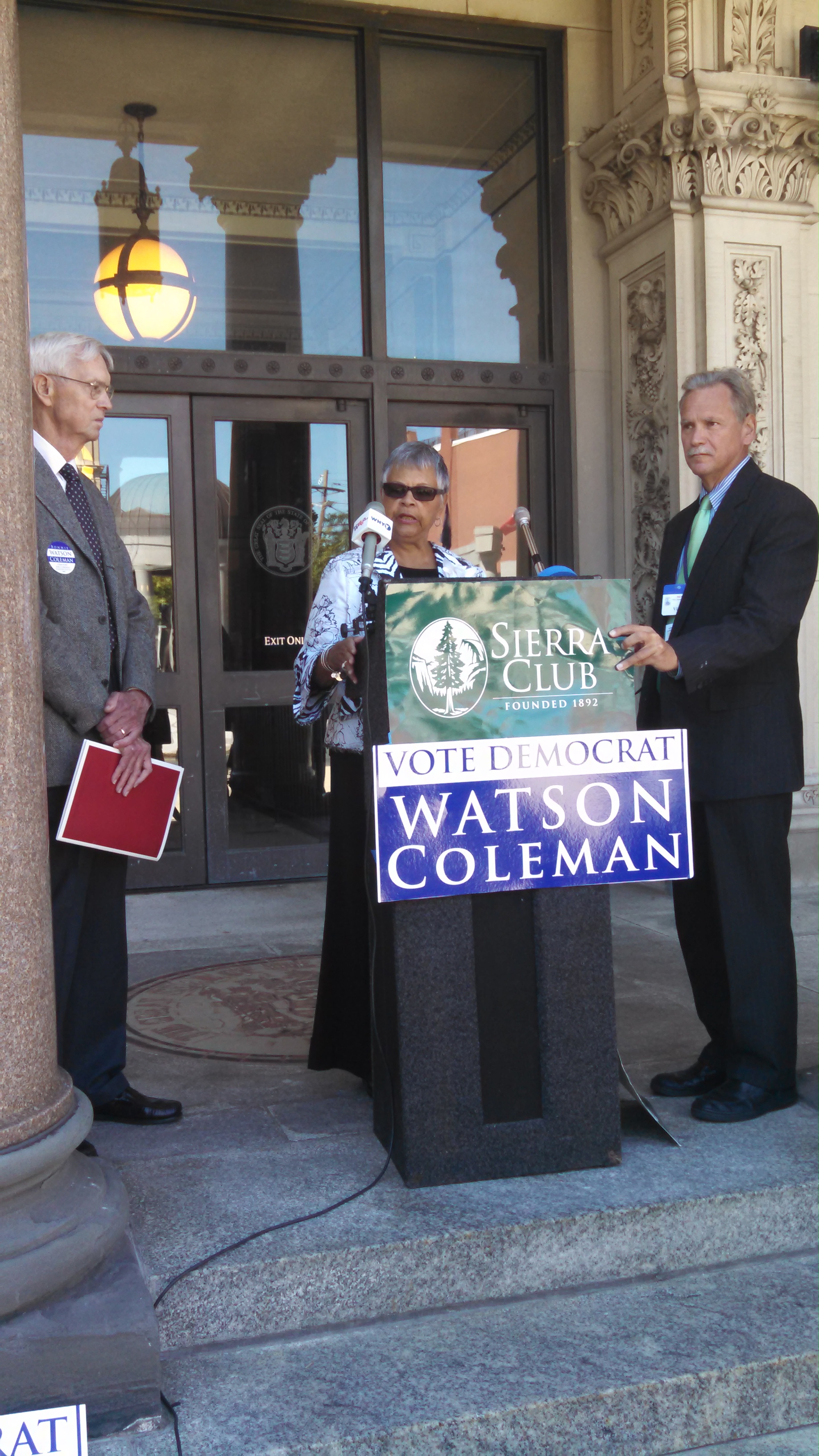 TRENTON – The Sierra Club, the oldest and largest environmental group in the country, announced its endorsement of Assemblywoman Bonnie Watson Coleman (D-15) in the Twelfth Congressional District race on the steps of the of the Statehouse here today.
"Very rarely do you have the opportunity to endorse a candidate who you know going into office is going to be a champion, who will fight for the environment, who will fight for the people not only in New Jersey but nationally," Jeff Tittel, director of the New Jersey chapter of the Sierra Club, said. "If there's an issue that has been important to the people of New Jersey, Bonnie Watson Coleman has been at the forefront for her entire career."
Tittel lauded Watson Coleman, a Democrat and former Assembly Majority Leader, for being a "fighter" and for a "long record of championing clean air and water in New Jersey."
"That's exactly what Washington needs, it needs someone who is going to stand for the people, who's going to stand for the environment, who's going to stand up to the fossil fools in Washington on issues like climate change and green energy," Tittel said. "Someone who's going to stand for the people, not for the special interests; for the environment, not for the polluters. And that's why we're proud to endorse Bonnie Watson Coleman for congress. "
"I know that I've got sort of a reputation for being a fighter, and that's because that's what New Jersey has needed particularly in the last six years with such a regressive administration, who acts like we are not responsible for global warming," Coleman said later. She blasted that administration — whose she's sparred with lately over last year's Bridgegate scandal — for being "transactional in the decisions that it makes — not because the environment or the people need it but because the industry needs it."
"The Sierra club has been instrumental in understanding the important of preserving the resources that God has given us," she said.
Watson Coleman is facing off against Somerset County doctor and Republican hopeful Alieta Eck in the CD12 contest to replace outgoing U.S. Rep. Rush Holt (D-12) after beating Middlesex County native and state Sen. Linda Greenstein (D-14) in a heated primary earlier this year. Observers of the current race look favorably on Watson Coleman, who they say has a clear advantage over Eck both in funding and support.
Asked if after the presser if today's endorsement really means anything for her campaign, Watson Coleman said it makes a "big difference."
"The people in my district, they believe that the lifestyles and the decisions that we make impact global warming. My opponent doesn't," she said.