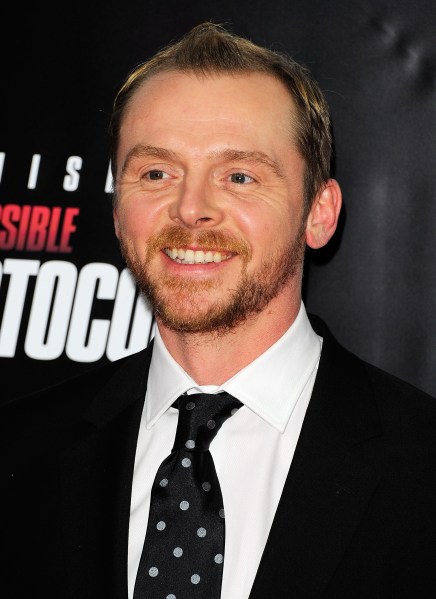 Simon Pegg — with his latest movie Hector and the Search for Happiness just opening, a punchline-turned-reality gig in the Mission: Impossible series, and two scene-stealing performances in the rebooted Star Trek franchise in his back pocket — probably has the right to feel content. Speaking to the actor a few days ago, however, I got the sense that contentment would be the worst thing possible.
"I think there's no greater enemy to creativity than contentment. We are never more creative than when we are at odds with things," Mr. Pegg told me. "Art is us expressing ourselves. If we have nothing to say, it's probably because we're quite happy. Contentment can come because there is no danger in your life. There's no danger of starving, or being eaten, or killed or something. You just live in a very comfortable society where the dangers of the real world can be taken away. You're sort of numb, and have nothing to say."
Now, far be it to say that Mr. Pegg is in any danger of being eaten any time soon (or maybe he is? I don't know, I've never been to England). But you can't say the actor and writer doesn't keep himself plenty busy. And after wrapping and doing press for a movie that not only has the word "happiness" in the title, but by my count mentions the word around 15,000 times (it's basically the Eat Pray Love for dudes), Mr. Pegg has had more than enough opportunity to contemplate the actual meaning of the emotion.
[youtube https://www.youtube.com/watch?v=iWFVAIbIkS4&w=560&h=315]
"To me it's become about staying in contact with the simplicity of your childhood. It's a very unadulterated, very pure sense of joy to have," Mr. Pegg said. "If you try and keep a connection to that, even as you get older and wiser and you take on the burden of cynicism or realism or what have you, you just try and maintain a healthy connection to your childhood outlook. Like when I got the job on Star Trek I tried to think, what would I think if I was seven? It would be a far more euphoric, unbridled joy that I would experience."
Luckily, Mr. Pegg also clearly recognizes and addresses the biggest problem I had with an otherwise charming movie like Hector: how am i suppose to care that a young, white male psychiatrist with a beautiful girlfriend and an apartment on the Thames is unhappy?
"It made me laugh when I first read the script because I thought it was audacious to take the single least sympathetic figure in the world, kind of the white middle class male, and see if anyone gave a shit," he said. "That's what modern living does to us, because the comfort removes all the irritation from our lives, it makes us slightly one note and makes many of us susceptible to depression."
Mr. Pegg, unfortunately, experienced a closer brush than most with one of the most recent, widely-covered case of depression of our day — the untimely death of Robin Williams. Williams provided voice work for Absolutely Anthing, an upcoming film in which Mr. Pegg stars and is slated to be one of Mr. Williams' final performances. Mr. Pegg tells me that many years before Absolutely Anything, Mork from Mork and Mindy was the first school-yard impression he ever attempted. He followed Mr. Williams' career as a fan from a distance until 2009, when Mr. Williams both quoted and name-dropped Mr. Pegg in the movie World's Greatest Dad. ("I believe, like Simon Pegg said, 'death is an impediment, not an energy drink.'")
"That was before I got to work with him, and he was sort of a hero and an inspiration, and someone whose career I thought was a fantastic template," Mr. Pegg said. "Someone that came from pure comedy and migrated quite effortlessly into dramatic stuff. That's something I would quite like to do. I think the comedy that Edgar [Wright] and myself do is rooted in the dramatic at times, but he came from a far more zany, far more clowny kind of comedy and still managed to be taken serious as a dramatic actor."
I ask where he thinks the best dramatic acting is happening nowadays, and like many he believes it has migrated to the small screen for the most part. Despite his schedule, Mr. Pegg still finds the time to watch. And by "watch" I mean "binge" (is there even a difference anymore?) He joined 99% of everyone else in the world in catching up with Breaking Bad on Netflix. And despite finding it incredible, he found the experience oddly hollow. It was only after watching True Detective on a weekly basis did Mr. Pegg realize what was missing.
"I think every show should come with a sort of health warning, like leave twenty minutes between each one so you can digest. I forgot what that was like," he told me. "There's something to be said for point of view – back in the day, TV used to rule us. It was a box in the corner of the room that we didn't own, really. It was window into another world and we had to be in front of it at a certain time or you'd miss something. Now a days, we have control of it and it has lost, in a way, its mystique."
It isn't as if Mr. Pegg is a stranger to television — his 1999 British sitcom Spaced basically introduced him to the world. But he definitely isn't ruling out a return to the small screen. I ask him his feelings on a younger television crowd — a new generation of writers, producers and actors — that may see him as an inspiration, or regard working with him as Mr. Pegg does working with Robin Williams. He laughs and brushes it off, claiming it hasn't happened yet.
"I don't know, that would be very nice. I'd be very flattered if anyone said that. If someone ever says that to me ever, that will be a happy day," he says.
Which, okay, could be true. Or, maybe, it would just mean that Mr. Pegg is finally allowed to feel content. And we can't have that.