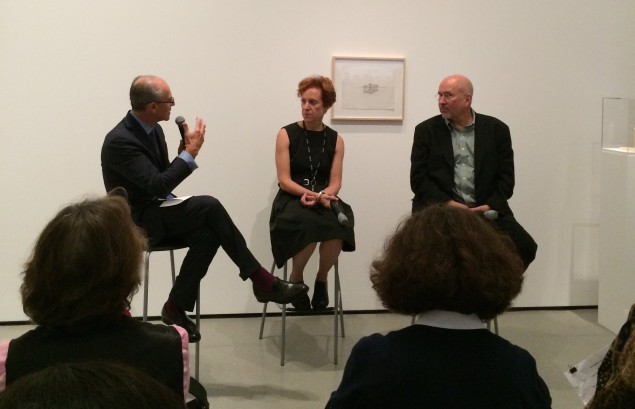 Today, press and select viewers got a first glimpse at Robert Gober's first U.S. retrospective at MoMA, "The Heart Is Not a Metaphor." The artist joined director Glenn Lowry and chief curator of painting and sculpture Ann Temkin for a rare interview, discussing the scope of the show, how his religious upbringing influenced him, and the DIY attitude that separates him from his peers.
Here, some highlights:
On including very early works in the show: "When I was a young artist, and I would go look at other artists' career retrospectives and I was often disappointed with the lack of story line…What was missing to me was the story of where the artist came from, and how they got to where they were. So when I got the chance, I thought that was something that I'd like to do. Even though some of that early work might be a little embarrassing, it would tell a fuller story."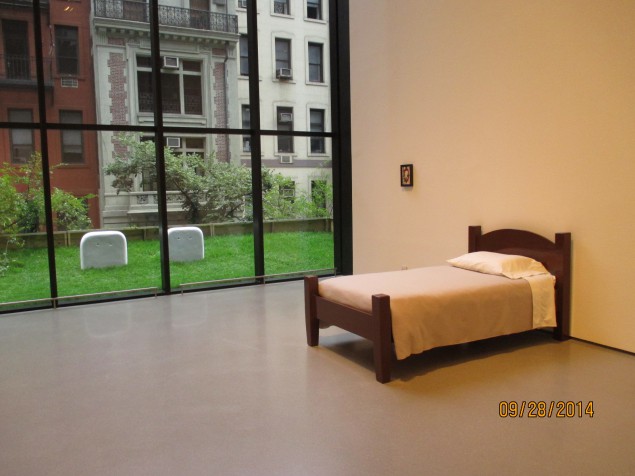 On why he didn't shy away from graphic and controversial subject matter: "There's many reasons why looking back I decided to deal with these issues, and one of them was that I matured as a man—specifically a gay man—during one of the biggest health epidemics of the century. I was at the epicenter, and it was absolutely indicative that you say who you are."
How he found himself curating and organizing exhibitions, in addition to making his own work: " Like everything else I thought, 'do it yourself.' The first painting you see as you come in [to the exhibition] is a painting of a house. That's the house that my father built when he and my mom were engaged, and it wasn't exactly finished but they moved in after they were married. It's where I grew up, it's where my 90-year old mother still lives. It's what I learned as a kid, since I didn't learn skills from my dad as he was barely there, but I did learn the attitude that 'if you want a house, figure it out, and build it yourself, do it yourself.' And so I brought that attitude here, 'if you want a better context for your work, do it yourself.'"
On the theme of his religion, Catholicism, throughout: "When you grow up being taught to worship, whatever that means, there is an array of body rich symbols: tears, blood, crucifixion, the stations of the cross, transubstantiation…Faith is a belief in something that is irrational, and so to have faith, there is some correlation there with the belief in the art."
Why most of his work is untitled: "For the most part works of mine are untitled. There was a brief period where I had poetic titles for works and they're embarrassing now. I think for the most part it's not something that I have talent for."
And how he came up with the title for his MoMA retrospective: "I never titled an exhibition of my work before, but I titled the retrospective exhibitions I worked on for others. This is the first time I have a poetic title for a show. It came from a book that I was rereading two summers ago, when I was beginning to work on the exhibition. It was a novel by Elizabeth Hardwick called Sleepless Nights and the full sentence is "alas, the heart is not a metaphor, or at least not always a metaphor." And I took "the heart is not a metaphor" out of it. By taking it out of its context I made it into, hopefully, a line of poetry, and thus it is irreducible."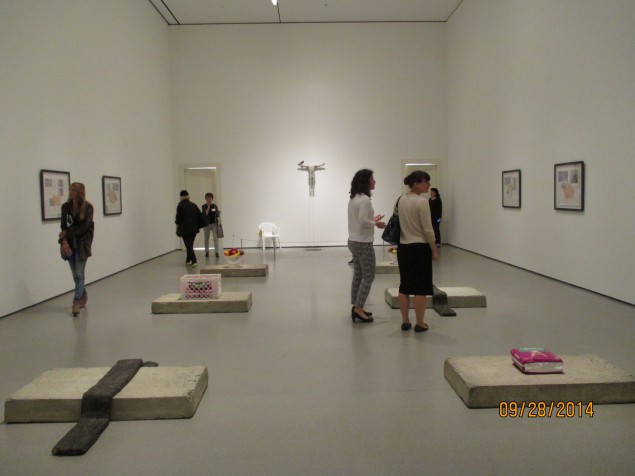 Robert Gober's "A Heart Is Not a Metaphor" is on view at the Museum of Modern Art October 4, 2014 through January 18, 2015.