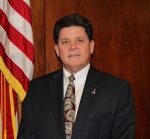 Burlington Republicans will make a switch next week in one of the most watched Freeholder contests in the state, where control of the board is up in an off year.
Incumbent Freeholder Joseph Howarth (pictured) will not pursue re-election, a source told PolitickerNJ.
Facing a health issue, Howarth will come out, the source said, and former Freeholder Mary Ann O'Brien will replace him as a candidate in time for next Thursday's filing deadline.
That leaves incumbent Republican Freeholder Bruce Garganio – a carpenter – to run for re-election with O'Brien against a Democratic freeholder ticket of Tom Pullion of Edgewater Park and Mike Schmidt of Evesham.
An early candidate for Congress this year, Garganio decided not to run for the CD3 once businessman Tom MacArthur jumped into the pre-primary.
The Carpenters this week surprised some politics watchers when they awarded their endorsement to MacArthur over Democrat Aimee Belgard, a move explained in part by the fact that they didn't want to be in a position to threaten one of their own on the Burlington Freeholder ticket.
The endorsement represents not only a big win for MacArthur – but for Gargano.