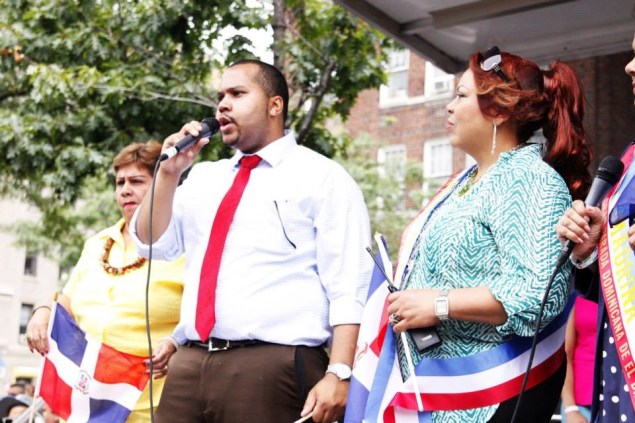 One vote may not make a difference, but two might.
A city-mandated hand recount placed Bronx Assemblyman Victor Pichardo just two votes ahead of his Democratic primary challenger Hector Ramirez, a Bronx source told the Observer–which could leave the freshman legislator with one of the narrowest margins of victory in New York State history.
Mr. Pichardo leads Mr. Ramirez–whom he narrowly defeated in 2012–1,888 votes to 1,886 in a recount completed yesterday, the source said. Mr. Ramirez led Mr. Pichardo 1,764 to 1,753  votes on September 9, but because the gap between the candidates was less than half of one percent of all ballots cast, it triggered the manual review.
The source said representatives from both candidates' teams sat in on the recount, and Mr. Pichardo announced he was ahead this afternoon–though he would not specify by how much.
"The voters of the 86th Assembly District deserve to have their representatives elected in a fair and honest process and I am confident that, after the manual recount concluded yesterday, my neighbors once again chose me to be their representative in the Assembly," Mr. Pichardo said in a statement. "I am incredibly thankful for the support and encouragement my campaign and I received – from my neighbors and beyond – in our efforts to ensure that the outcome of this election was both fair and honest."
The incumbent's two vote edge, if it holds, would be one of the narrowest victories in the history of the state–so much so that the only comparable contest the Observer could find was a 2005 mayoral race in the town of Irvington in Westchester County, which was determined by a coin toss.
Mr. Pichardo was the Bronx Democratic Party-backed candidate to replace indicted former Assemblyman Nelson Castro, and he topped Mr. Ramirez by 82 votes in a seven-way primary. The contest was tied up in courts for several months following, as Mr. Ramirez unsuccessfully alleged voter fraud.
This time, the claims of malfeasance came from Mr. Pichardo's side.
"Troubling reports of voter intimidation by [Councilman Fernando] Cabrera & Ramirez's paid supporters in my District today, disrupting several poll locations," Councilman Ritchie Torres, an ally to Mr. Pichardo, posted on Twitter on September 9. "Right to vote is sacred. Voter intimidation is unacceptable."
Mr. Torres declined to expand on his tweets when the Observer asked about them.
The New York City Board of Elections would not confirm the source's information and said it would not certify the results until next Tuesday.
Mr. Ramirez did not immediately respond to requests for comment.