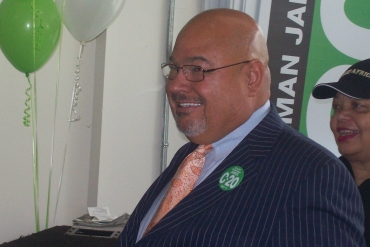 Carlos Gonzalez, the veteran Newark At-Large councilman from the North Ward, is poised to leave the City Council, sources tell PolitickerNJ.
An attorney – and longtime staunch ally of former Mayor (and current U.S. Senator) Cory Booker, Gonzalez stands in line for a municipal court judge's position.
Pat Council of the South Ward – a close ally of Mayor Ras Baraka's – is in position to replace Gonzalez, sources say.
Council chairs the South Ward Democratic Committee.
Much hangs on Gonzalez's final declaration.
His departure would reshape the city council and conceiveably tilt more power into the hands of the mayor.
Right now, Baraka has close ties to five of the nine city council members.
Gonzalez, East Ward Councilman Augusto Amador and North Ward Councilman Anibal Ramos backed the mayor's opponent in the mayor's race.
At-Large Councilman Luis Quintana – a North Ward resident – is a wild card.
The departure of Gonzalez and replacement by Council would weaken the North Ward's representation on the governing body and strengthen the hand of the South-Ward based mayor.