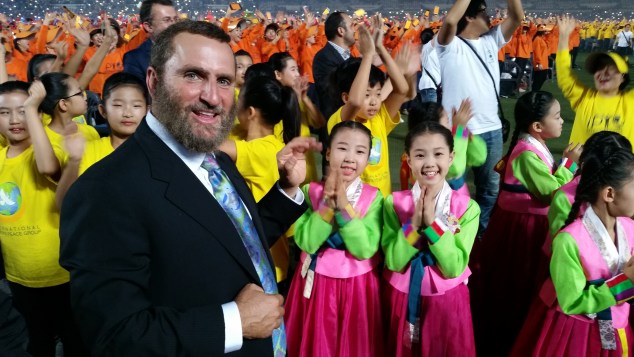 Today was a remarkable day and it's difficult for me to even convey the full color of it. I've spoken in stadiums before but never like today and never to such an enormous audience.
I delivered a speech at Seoul Olympic Stadium in South Korea before an estimated crowd of 100,000 people. It was part of a global peace summit for religious and political leaders. There were nine speakers and I was second to last. A few of the speakers were former heads of state. The rest were religious leaders. I was actually happy for the penultimate placement as it gave me time to digest the comments of speakers from all the major world religions.
First, when we arrived, thousands of young people were lining the route, cheering and jumping as the various dignitaries drove through, almost like for a police motorcade. Besides religious leaders there were many world leaders including the former heads of state of South Africa, Ireland, Croatia, Ecuador, and about 10 other nations.
We were greeted by women dressed in traditional Korean attire and we entered the stadium accompanied by hundreds of children.
When we walked in I knew what it felt like to be in the Olympics. The stands were absolutely full and bursting and there were tens of thousands more seated in the middle of the stadium. People were roaring and applauding.
Most interesting was a group in the stands of approximately 10,000 holding colored cards creating the most incredible images and words on an enormous scale. When it came time for me to speak they made an absolutely enormous image of my face together with the words USA. It made me proud to be an American. I felt honored to represent my country at this global peace summit.
I started my speech by honoring the memory of the 33,000 Americans who died to keep Korea safe during the Korean war. I then thanked the estimated 30,000 active duty service men and women of the United States military who are currently keeping the peace on the Korean Peninsula.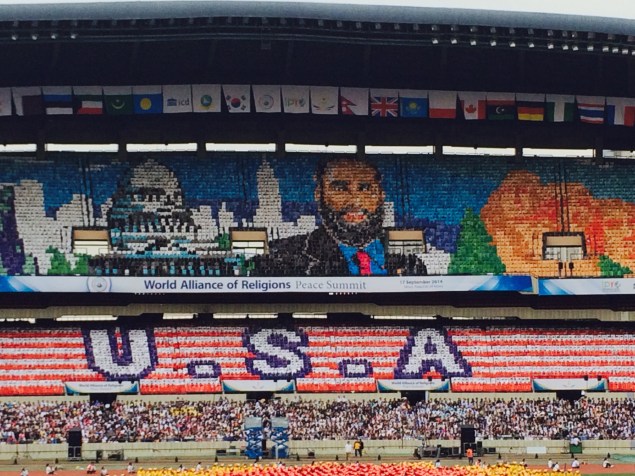 From there I talked about the recent atrocities and tragedies across the world that were a direct threat to peace.
Sitting right behind me were religious leaders from all over the world, including many highly prominent Muslim leaders. There was one from Hezbollah from Lebanon whom I met yesterday.
I spoke about how Israel had recently been marked for destruction by thousands of rockets simply because it was the home of the Jewish people. I spoke about the recent beheadings of Americans and Britons just because of their citizenship.
And from there I went into how with all of these horrors and tragedies, humankind has still never lost its yearning for peace. Its belief in the prophecies of Isaiah that the time would come when "the wolf would lie down with the lamb… No man would teach his son the art of war… Nation would not lift sword against another nation… Men would beat swords into plowshares."
As you will see in the video there was tumultuous applause. Because there were more than 100,000 people in the stadium, it gradually rose to a roaring din. Soon I was being interrupted for applause every line. I fed off the energy of the crowd, almost all of whom were Korean youth in their teens, 20s, and 30s.
I reached the pinnacle of my speech with a refrain, "Let peace reign," using the words to depict a global outbreak of peace in the most dangerous regions on earth.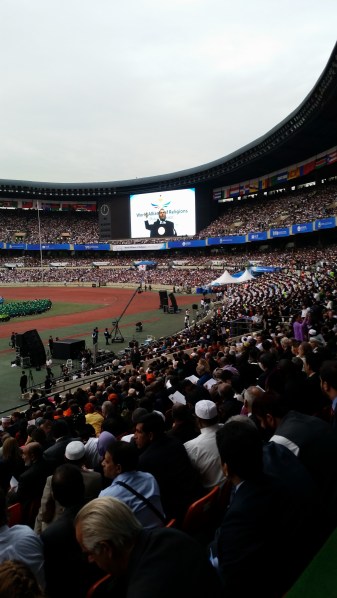 I also sharply and harshly condemned the brutal regime of North Korea as a threat to the peaceful people of the South. I spoke of the brutality of a regime that would starve to death millions of its people in order to feed its army. I spoke of the brutality of a regime currently holding more than 200,000 political prisoners in concentration camps. Interestingly, though the summit's purpose was peace and I was making the point that there could be no peace without the vanquishing of evil, when I condemned North Korea there was thunderous applause from the people of the South. Here in South Korea people live under the specter of a nuclear holocaust at the hands of a crazed 31-year-old dictator.
Toward the end of the speech a man ran up right in front of the podium and started screaming at the top of lungs, "What about Gaza? What about Gaza?" Everyone saw him and most heard him, as his voice bled into the microphone. He did everything he could to disrupt my speech.
At first I ignored him, continuing with the flow of the speech and letting my words speak for themselves. But as I concluded I said that I would never bow, nor would I be deterred, by those who seek hostility and war.
When I finished, many of the world leaders came over to me to congratulate me for not capitulating to the disgusting attack.
A former prime minister told me he was impressed that not only did I not stop my speech because of the heckler spouting hatred against Israel, but actually incorporated the attack amid the great resolve in the speech to fight on for my beliefs.
At dinner I was invited to sit with Bertie Ahern, former Prime Minister of Ireland, who is a warm man, and with whom I had a discussion about Ireland's relationship with Israel. Seated at the table was also the former President of South African and former President of Croatia, who sat right next to me and told me how much he supported Israel for defending itself against unprovoked rocket attack.
It was a memorable day.