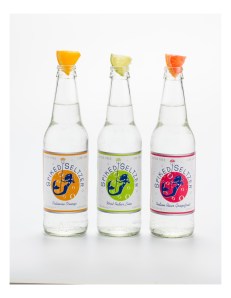 When Boathouse Beverage's founder Nick Sheilds was determined to find an alcoholic beverage that wouldn't pack on the pounds, and ease the weight of a hangover, he came face to face with creating a low-carb, low-calorie, gluten-free beer. On a mission to make alcoholic beverages the "next big thing," Sheilds has one request: to push a product that's genuinely "clean, and light, and as low-carb as possible."
As an alternate to the bloating feeling of a regular beer, Sheilds' Spiked Seltzer eliminates the wheat filled carbonation in that of a normal light beer. And while Sheilds handles the creative aspect in carefully and precisely selecting the sugars that go into Spiked Seltzer, co – founder Dave Holmes takes on the business side of things in packaging and product managing.
Brewed in Westport, Connecticut from pure Adirondack water and natural citrus flavors, Spiked Seltzer's twelve-ounce bottles come in three quirky flavors named after their origin: Indian River Grapefruit, Valencia Orange, and West Indies Lime. Each flavor literally tastes as if you've just bitten into a piece of ripened fruit.
Under each bottle cap is quote based on positivity – ones in which customers can submit on their own at spikedseltzer.com. While Spiked Seltzer is considered a beer because of it's bubbly, 6% alcohol content, and fermentation process, it doesn't contain any typical beer contents. What can be better then only 5 grams of carbs per bottle? I'll answer that for you: nothing.
Perfect for a "spikey" hot summer day, while relaxing on the beach or having a picnic, Spiked Seltzer is currently available in the Hamptons, Montauk, Westchester and Boston, and soon to be hitting New York City with it's cheery, refreshing, guilt-free taste.