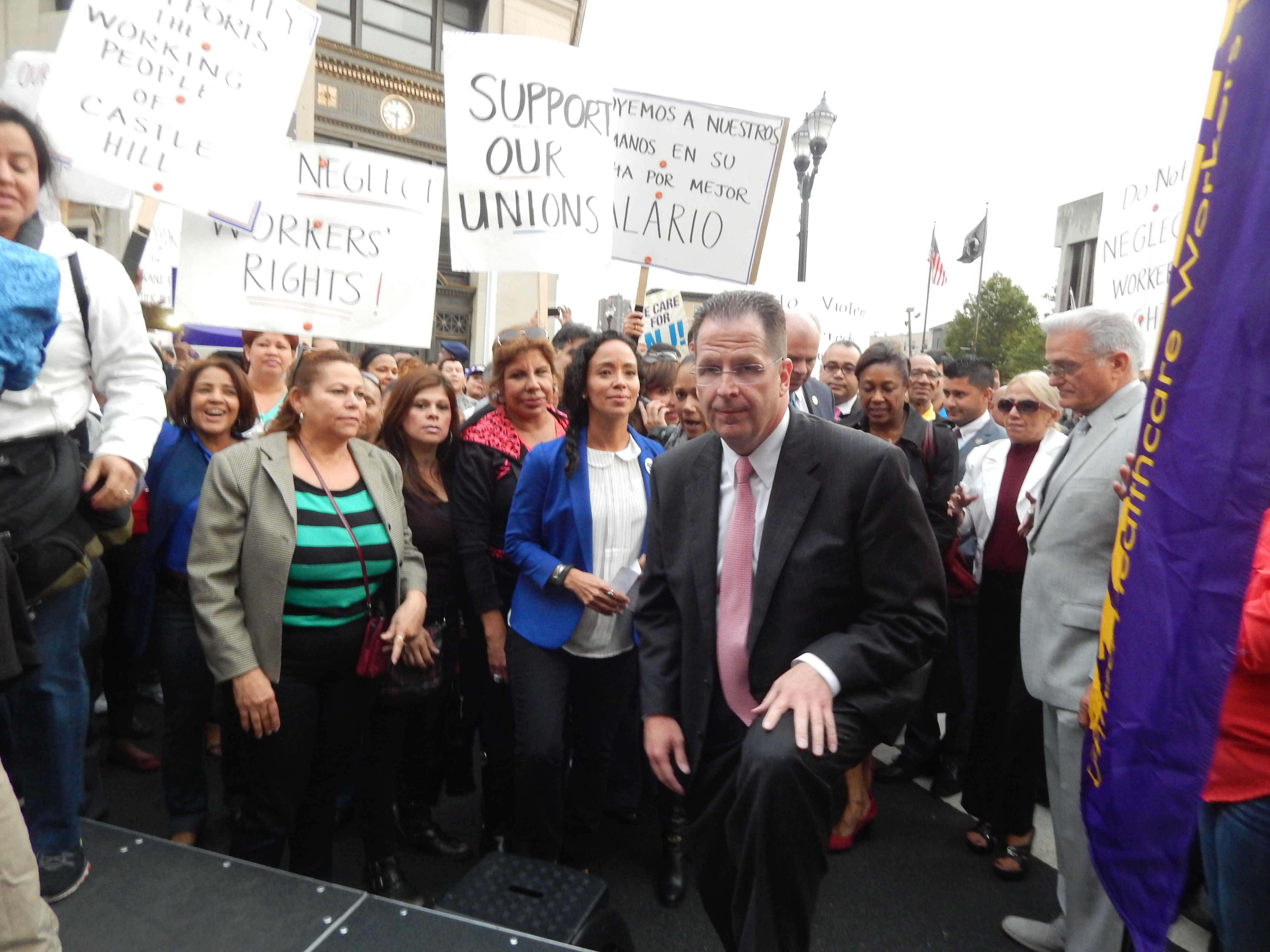 UNION CITY – Mayor Brian Stack had a look on his face somewhere between Bill Bixby and Lou Ferrigno as he mounted the stage in front of hundreds of SEIU workers from around the tri-state area and demanded the immediate reinstatement of two dozen nursing home caregivers whom he said for-profit healthcare center Alaris booted following a three-day strike.
"It's disgraceful to treat workers like that," screamed Stack, voice shaking with emotion.
It's personal.
The mayor's ailing mother is in an Alaris facility in Bergen County.
"My mother is cared for better by you than by some people in her own family," said Stack, backed up onstage by 1199 leader Milly Silva, U.S. Rep. Albio Sires (D-8), Senate President Steve Sweeney (D-3), state Sen. Sandy Cunningham (D-31), Weehawken Mayor Richard Turner and Assemblyman Raj Mukherji (D-31) and other labor leaders.
"You can't put a price on that," said the mayor.
Shouts of "No contract, no peace, no contract, no peace" filled the crammed intersection at 32nd and Bergenline in Union City, where Stack led on foot an army of supporters to join the healthcare workers' cause.
Stack's been with SEIU from the start, when 450 frontline caregivers at four Alaris Health nursing homes in Hudson and Bergen Counties held a series of three-day strikes during the week of 9/15 to draw attention to the company's numerous unfair labor practices, which 1199 said included bad faith bargaining spanning six months and attempting to prevent workers from engaging in union activity through a campaign of intimidation and threats.
The nursing homes are Alaris Health at Castle Hill in Union City, Alaris Health at Harborview in Jersey City, Alaris Health at Boulevard East in Guttenberg, and Alaris Health at Rochelle Park in Rochelle Parkm where Stack's mother is staying.
Two dozen workers say that upon returning to work on Friday 9/19 and Saturday 9/20, management turned them away.
Stack was there with the workers, who say that under federal labor law, an employer is barred from locking out or permanently replacing workers for participating in an unfair labor practice strike.
According to 1199, the union had notified Alaris ten days prior to the strike that its members would be returning to work immediately following the end of the strike at each facility.
"Just maybe the federal government needs to look into Alaris Health's business practices," said Stack.
Alaris did not return an email for comment.