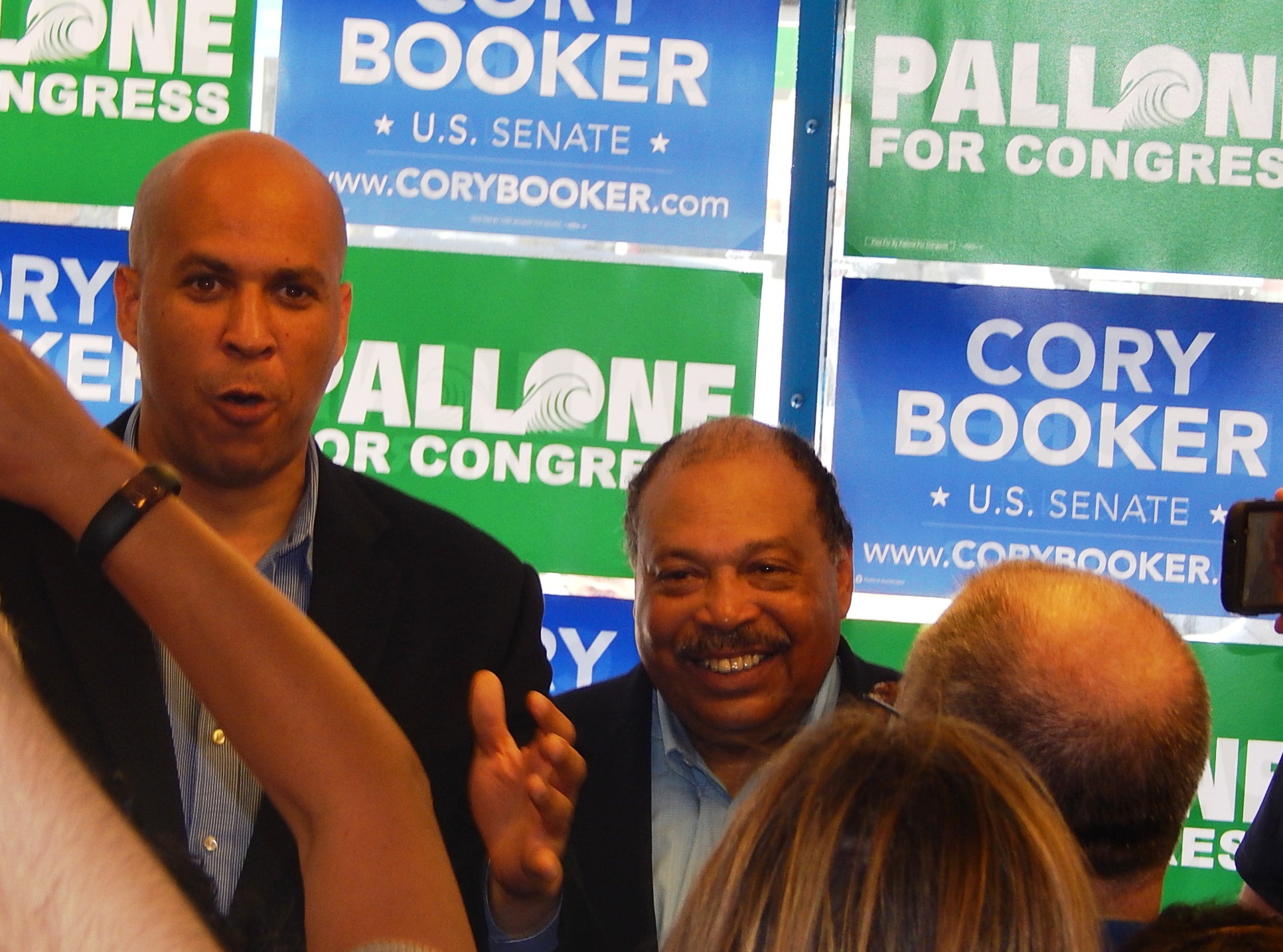 WOODBRIDGE – In terms of creating the kinds of dramatic tension that produces a heroic public outcome, Jeff Bell has been a frustrating general election opponent for incumbent U.S. Sen. Cory Booker (D-NJ).
The tedium of carrying someone for 11 rounds before coming suddenly alive in the 12th on Election Day at that carefully cultivated moment of heightened public expectation and producing the spectacular knockout is the difficult task of the incumbent in this case.
In his three mayoral runs – 2002, 2006 and 2010 – only in the first did Booker produce the kind of scintillating narrative that offset the loss to then-Mayor Sharpe James and resolved itself at last in his runaway comeback four years later.
Wins over Ron Rice and Cliff Minor were snooze-fests; and while Team Booker has labored hard to make this season look like Muhammad Ali versus Joe Frazier III against the backdrop of Republicans pushing around Barack Obama; or even Booker v. James with a happy ending, the media has absorbed the contest as something on the order of Ali v. Al Blue Lewis.
Nowhere was that more evident than earlier this week when the press stayed away from a steel mill that once made metal for the Verrazano Narrows Bridge, where Booker and others, including U.S. Rep. Frank Pallone (D-6) talked about the economy.
But the party – and Booker (who has seen polls showing the contest with Bell closer than expected, a nine-point spread a month ago, according to one, before the senator upped the ante), nonetheless keep a busy appearance today with 39 days until Election Day in an impressive show of mobilizing bodies for arguably no-contest, gerrymandered-assisted events.
At the opening this afternoon of the New Jersey Democratic State Committee's coordinated campaign office in downtown Woodbridge, the U.S. Senator joined a spillover crowd of other Democrats – Pallone, Assemblywoman Bonnie Watson Coleman (D-15), Woodbridge Mayor John McCormac, Perth Amboy Mayor Wilda Diaz, Assemblyman Craig Coughlin (D-19), Assemblyman Wayne DeAngelo (D-14) and Assemblyman Pat Diegnan (D-19) among them.
Democratic State Committee Chairman John Currie and Middlesex County Democratic Chairman Kevin McCabe stood at the front of the room.
"She has a shot," Currie said of 3rd Congressional District candidate Aimee Belgard in the state's lone competitive contest, according to the Democratic Congressional Campaign Committee, which is putting resources into her cause against Republican businessman Tom MacArthur.
"We've been helping her out with money," Currie said of Belgard.
Looking like a labor leader on the set of F.I.S.T., McCabe revved through a rousing speech that had the audience hovering at the edge of the promised land, ignoring the fact there is nothing in their way at this point, Gov. Chris Christie having easily won re-election a year ago.
Throughout there was a mild undercurrent of chest-thumping, and if anyone put an exclamation point on it it was Watson Coleman, who made a comment from the front of the room at one point about political watchers always gazing northward or southward but seldom paying attention to Central Jersey.
A staunch progressive who just bested state Sen. Linda Greenstein (D-14) in the Democratic Primary for the 12th District seat, Watson Coleman rang the bell of progressive politics.
"We can beat them when they know we're different [on the issues]," she said.
For his part, the U.S. Senator waded into the storyline in front of him: his own, and the six years that will be his if he gets by his little known Republican, under-financed opponent on Nov. 4th.
Built up to give the last remarks of the event, he received an enthusiastic response from rank and file Democrats and laughs and claps when he jangled Bell.
"My opponent wants to take America back to the gold standard – the one idea that unites all economists in opposition to something," the senator said.
He fire-blanketed Bell as the living example of out-of-touch extremism, casting himself as the pro "growth" antidote to the politics of "ideological rigidity."
In his brief remarks, Booker carefully selected three topics: the need for immigration reform and equal pay for equal work, and his commitment to infrastructure and colleges and universities refurbishment as a way to create jobs and opportunities.
Contacted for comment, Bell slapped back at Booker.
"It seems like an odd time to be citing the economist's profession when it's been wrong in almost every prediction it's made," said the Republican challenger, "The fact that the economist's profession is united against the gold-backed dollar is a pretty good recommendation for the gold standard."
He objected to Booker's charge that he's an ideologue, and called the attack strange given Booker's alignment with President Barack Obama.
"That statement from somebody who has gone down the line with President Obama, who is such an ideologue, always going in the same direction and who never learns from his mistakes, is truly bizarre," Bell said. "The Obama-Booker ideology is the most rigid in 100 years of the history of the presidency."
But to Watson Coleman's point about Central Jersey and with McCabe, the dynamic young party chairman very much at the helm here, Central Jersey looked ready to make a statement if and when a regional fight goes down.
Running for the 12th District Congressional seat, Watson Coleman said this year and next year will send a statement to Republicans. She happened on a conversation between Babs Siperstein, Assemblyman Wayne DeAngelo (D-14) and PolitickerNJ about the next governor. An electrical worker, DeAngelo's in with Senate President Steve Sweeney (D-3), an ironworker.
Superstein's neutral for the moment.
Watson Coleman avoided the trap of picking a candidate.
"It's going to be a Democrat," she said. "The Democratic bench is deep. The Republicans have no bench."
But that fight will come later, after the bell has rung for the final round of Booker v. Bell.