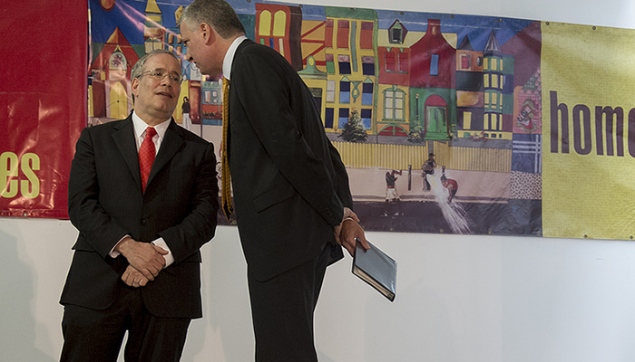 Scott Stringer was stunned.
Mr. Stringer, the city comptroller, found himself last week on the receiving end of the sort of Bloombergian wrath that is rarely seen from Mayor Bill de Blasio, a fellow Democrat with an operative's sense of discretion. Mr. de Blasio had wrangled two pols from Mr. Stringer's Upper West Side base, along with many other shared allies, to repudiate his latest analysis of the mayor's prekindergarten plan, even digging out a statement from a former Bloomberg chief of staff to drive the point home: I am the mayor, you are wrong and I have many, many friends who agree with me.
Mr. Stringer had crossed a de Blasio red line when he chose on August 27 to release a report detailing how his office has not received more than 70 percent of the city's contracts with new universal pre-K service providers. "I don't know why any public official would want to leave parents with the misimpression that there's a danger when there isn't a danger," Mr. de Blasio groused at a press conference the next day. As the mayor was about to pontificate under a bright Brooklyn sun, his office shot out a press release with 30 statements from elected officials and allies defending the mayor and discrediting Mr. Stringer's report, a passive aggressive broadside that was clearly assembled with urgency.
That afternoon, in the same municipal building Mr. de Blasio occupied as public advocate, Mr. Stringer blew up.
"I want them to stop playing games. I want them to stop trying to tell you what you don't want to hear. I appreciate the hard work that's gone on, but now we need the work, we need the work product," Mr. Stringer said at a press conference in his office.
He continued later: "At the end of the day, I don't work for this mayor. I think you know that now, and I think you know that I'm independent."
Democrats who know Mr. de Blasio and Mr. Stringer say this clash over pre-K represents a public airing of what has been privately felt for a long time: The two nakedly ambitious politicians, only a year apart in age, view each other with wariness and even a degree of resentment. While Public Advocate Letitia James, who appeared at Mr. de Blasio's pre-K press conference, has sounded at times like a de facto deputy mayor and Council Speaker Melissa Mark-Viverito rarely rebukes Mr. de Blasio in public, Mr. Stringer is now emboldened, unafraid to chart a course that he hopes will eventually lead him to City Hall, observers say.
"Scott and Bill are transactional politicians and have never been close," said a Democrat familiar with their thinking. "This is a guy, Scott, who has a very high opinion of himself, who wanted to run for mayor. He has been saying in recent months, since de Blasio become mayor, that he'd be a better executive than Bill. And now he's trying to show how that would be true."
None of this apparently sits well with Mr. de Blasio. When he and Gov. Andrew Cuomo tangled over funding for pre-K earlier this year, the mayor never challenged him in public or ordered up surrogates to question the wisdom of the governor. With Mr. Stringer, Mr. de Blasio feels confident enough–or furious enough–to deploy surrogates like Ms. James, who said last week Mr. Stringer's pre-K report was "old news."
Few think Mr. Stringer would have the gumption to run in a Democratic primary against Mr. de Blasio in 2017. But when the mayor is term-limited in 2021, Mr. Stringer will be one of several Democrats who can mount a viable run. In a city that may one day tire of a gangling progressive with glittering rhetoric, Mr. Stringer could be a palatable alternative: A sober, numbers-crunching executive, the Abraham Beame to de Blasio's John Lindsay.
When asked about his relationship with Mr. Stringer, Mr. de Blasio avoided the superlatives he usually reserves for politicians that he is even mildly close to.
"I think we've worked together on a variety of issues and I think it's been a professional relationship," Mr. de Blasio told the Observer.
A spokesman for the mayor declined to elaborate on their relationship.
****
Unlike Ms. James and Ms. Mark-Viverito, Mr. Stringer was never a governmental colleague of Mr. de Blasio's. When Mr. de Blasio was a city councilman, Mr. Stringer was an Upper West Side assemblyman and then Manhattan borough president. Mr. de Blasio's ascendance was made possible by a Brooklyn organized labor nexus and the national ties he forged as a Democratic operative. Mr. Stringer, on the other hand, scrapped his way through Manhattan Democratic circles, the son of a city councilwoman who rose under the tutelage of Congressman Jerrold Nadler.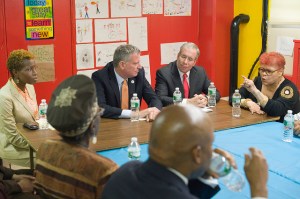 "Stringer grew up in regular politics, election day politics. De Blasio was more out of a political movement," said Jerry Skurnik, a veteran Democratic operative. "Stringer is a politician who happens to have progressive views. De Blasio is a progressive who got involved in politics to further his progressive interests."
Mr. Stringer, who ran unsuccessfully for public advocate in 2001, won a bruising 2005 race for Manhattan borough president. Vanquishing people like de Blasio foe Eva Moskowitz and then-Assemblyman Adriano Espaillat, Mr. Stringer set about turning the mostly ceremonial post into a useful appendage of municipal government. He churned out wonky reports, cultivated the press and began to lay the groundwork for a mayoral bid in 2013.
Mr. de Blasio, elected as public advocate in 2009, always saw Mr. Stringer as a rival and possible threat. "There was this cautious undercurrent of competition underlying the relationship," a Democratic source recalled.
When Mr. Stringer gave a major policy speech in 2011, Mr. de Blasio dispatched a staffer to keep tabs on the event. Privately, sources say, the future mayor's campaign aides fumed when Mr. Stringer's wife, Elyse Buxbaum, created a Twitter account because they believed it was an attempt to copy their plan to promote Chirlane McCray, Mr. de Blasio's wife, who created an account several years before.
With his poll numbers stagnating, Mr. Stringer eventually dropped out of the mayor's race and ran for comptroller. Able to marshal the Democratic establishment to strong-arm candidates out of the field, Mr. Stringer was waltzing into the citywide office until Eliot Spitzer, the former governor felled by a prostitution scandal, crashed into the race in the summer of 2013.
Often described that year as an unassuming, "nebishy" career politician, Mr. Stringer surprised campaign observers by matching wits with Mr. Spitzer, a much-lauded ex-attorney general, in televised debates. With the help of the Democratic, labor and business classes united to defeat Mr. Spitzer, Mr. Stringer won the Democratic primary.
Mr. Stringer's primary victory revealed that his electoral base, for now at least, is a mirror image of Mr. de Blasio's: In the polarized contest with Mr. Spitzer, whiter and more affluent neighborhoods backed Mr. Stringer, while black and Latino enclaves overwhelmingly favored Mr. Spitzer. Poll numbers have since shown that Mr. de Blasio is very popular among black and Latinos and relatively disliked by whites.
Still, it appeared when the new year arrived and Mr. de Blasio became mayor, he would have three reliable allies in Ms. James, Ms. Mark-Viverito and Mr. Stringer.
It turned out the mayor only had two.
  ****
On policy questions, the mayor and comptroller are usually aligned: they endorse a higher minimum wage, the Dream Act, growing the city's affordable housing stock and even banning horse-drawn carriages. As recently as July 1, the two happily shared a stage together in the Bronx to announce new public funding for arts programs.
Their differences are defined more by ambition than ideology, as is true of most high-achieving city Democrats. Mr. Stringer's first real swipe at Mr. de Blasio came in February, when Mr. de Blasio placed a phone call to police to inquire about the status of a pastor who was arrested. The pastor, Bishop Orlando Findlayter, was an early campaign supporter.
Ms. James and Ms. Mark-Viverito avoided criticizing Mr. de Blasio, but Mr. Stringer said the phone call was "problematic."
Mr. de Blasio was incensed and informed Mr. Stringer of his feelings, sources say. After several months of comity, Mr. Stringer challenged the mayor on accounting related to retroactive raises granted to the United Federation of Teachers, the first major labor deal of Mr. de Blasio's tenure. A minor embarrassment for Mr. de Blasio, it also came around the same time Mr. Stringer began to do something equally irksome to the administration: Stage Hurricane Sandy town halls.
Traveling to the outer reaches of the city, Mr. Stringer hosted town halls on the city's beleaguered Build It Back program, allowing residents in areas like Breezy Point, Coney Island and Staten Island to unleash their frustrations at City Hall. To Mr. Stringer, the town halls were necessary exercises in governmental accountability; to Mr. de Blasio, the events amounted to little more than grandstanding at the mayor's expense.
"In their view, it was shameless politicizing," the Democrat familiar with Mr. de Blasio and Mr. Stringer's thinking said. "They saw it as trying to score political points."
****
Tension between the mayor and comptroller is nothing new. Michael Bloomberg, a Republican-turned-independent, regularly sparred with John Liu, the Democratic comptroller. Their disagreements, however, were usually grounded ideology: Mr. Bloomberg, a billionaire, occupied the role of pro-business centrist, while Mr. Liu, who ran for mayor, was the aggressive left-winger.
Like Mr. Liu, Mr. Stringer is already starting to look like a candidate. Though aides downplay his ambitions, Mr. Stringer recently began greeting commuters at subway stops.
Mr. Stringer's team, insiders say, is already built for a future campaign, unlike Democrats' who openly dream of higher office. One Democratic consultant compared it to a scaled-down "Ready for Hillary" operation, a loose orbit of loyalists in the public and private sector that are prepping for Mr. Stringer's next move.
"There's a network of progressive staffers, some of whom work for him and some of whom work in the private sector, for the legislature, for the AG and governor, all over really, who met or got close during the Stringer Spitzer primary and are basically now ready to follow Scott into hell if he asks them to," the Democratic consultant said.
Stringer acolytes include Micah Lasher, Attorney General Eric Schneiderman's chief of staff, Audrey Gelman, a vice president at the PR firm SKDKnickerbocker and a former Stringer staffer and Amy Rutkin, the chief of staff to Mr. Nadler, the Upper West Side congressman who mentored Mr. Stringer.
Within his office, Mr. Stringer crafted a political apparatus with the savvy to match City Hall. He plucked Michael Nitzky, a political producer with NY1, and Eric Sumberg, a press secretary for the state comptroller, to steer his press shop.
In other policy posts, Mr. Stringer has not neglected politics. Camille Joseph, Mr. Stringer's deputy comptroller for public affairs, briefly managed Anthony Weiner's mayoral campaign. His chief of staff, Sascha Owen, managed Mr. Stringer's comptroller campaign.
Mr. Stringer implied last week that his pre-K report would not be the last time he riled up the new mayor.
"Since the day I got elected, I have called it as I see it. I have not backed down," Mr. Stringer told the Observer. "I am strong in our audit function. I am strong in how we evaluate our contracts. That's not going to change."
 Jillian Jorgensen contributed reporting.