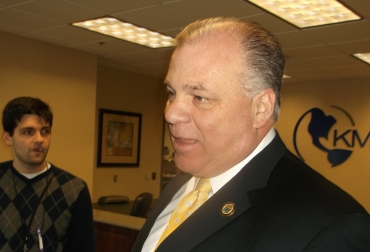 The big debate among insiders and observers in the Statehouse last week revolved around the legislature's  approval of two of Gov. Chris Christie's nominations, both well known Democrats, to key state positions —   Jamie Fox, a longtime political operative and former transportation commissioner, to the Department of Transportation, and Upendra Chivukula, a respected assemblyman with a track record of progressive environmentalism, to the Board of Public Utilities.
All agreed that both candidates were obviously qualified, but that didn't keep observers from musing about what, exactly, the Republican governor — and particularly one with looming national political aspirations ahead of the 2016 Republican primaries — gained by appointing liberals to the powerful posts. The best guesses varied.
Was it a move to boost his managerial skills in an effort to look more presidential in the eyes of voters and donors? A deal cut with his political compatriot across the aisle, Senate President Steve Sweeney, to get a savvy pol into the DOT position to sell a gas tax and fix a broken Transportation Trust Fund (seemingly Sweeney's top priority at the moment)? Or was it something else, a down payment to South Jersey's political boss, George Norcross III, who wants Sweeney in the governor's seat after Christie leaves and might have something to offer the Republican in his quest for the Oval Office?
None of those speculations placed the move squarely, however, so PolitickerNJ asked Sweeney himself today what he made of it all.
On the Chivukula appointment — which was complemented by the nomination of Richard Mroz, a conservative and former Whitman Administration Chief Counsel, Special Counsel, and Authorities director, to BPU president — Sweeney said it was one side of a good old-fashioned political compromise.
"I'm not trying to white wash anything, but you have to look at it like this," Sweeney said outside Wynona's House, a child advocacy center in Newark named after the late state Sen. Wynona Lipman, where he appeared today to announce efforts to expand similar centers in other regions of the state. "The governor was appointing a Republican into a Republican seat as the president of the BPU. So he was going to have to appoint a Democrat also. I don't think anyone questions Upendra on his knowledge of these issues. Upendra is one of the most knowledgeable people in the legislature when it comes to energy issues. But it's not like he appointed Upendra to appoint Upendra — he appointed Upendra because he wanted to get one of his guys in.
"Mroz wasn't going to go forward without a Democrat," he added. "It's really that simple. So it's not like he gave me anything — he wanted his appointment and we wanted to make sure the other seat was filled with someone with knowledge of what they're actually doing. He had no choice."
On Fox, who has served under to earlier Democratic governors and who more recently worked as a senior aide to President Barack Obama's campaign, his explanation was more measured. He called Fox an experienced political director with a reputation of being "fiercely, fiercely protective and loyal to who he works for."
"As far as Jamie Fox, I was shocked, but thrilled, when the governor nominated him, because as I told everyone, and what we were talking about, everyone knows Jamie," Sweeney said." Everyone. Everyone respects Jamie and his ability. And there should be no misconception. He's taking the position the governor has offered him, and he will work for whoever hired him. He's not a Democrat operative. He might be a Democrat but he's going to be working and working on the governor's initiatives and directives. "
But Fox, a former DOT commissioner, can also help find and drum up support for a solution — could it be a gas tax? — to replenishing the Transportation Trust Fund. And so Fox's nomination is clearly a win for Sweeney, who's championed the search in recent weeks.
"Jamie is there to advance whatever the legislature comes up with," Sweeney contended. But you need a professional, especially in these time with the [Transportation Trust Fund]. Look, if you just brought someone off the street that nobody really knew, talking about TTF, the learning curve, on how to deal with me or other legislators, Jamie already has that."
Still the question remains: what's Christie's angle?
"I don't think he's getting anything out of it," Sweeney said, anti-climactically. "I think that he's appointed two qualified people, and probably one of the best persons that he could've appointed, because he's respected by everyone. So it takes the politics out of it."