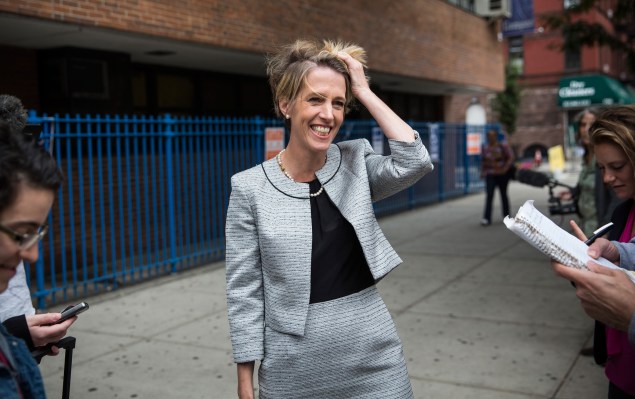 Zephyr Teachout said today that her longshot challenge of Gov. Andrew Cuomo has already changed the political conversation in New York State and pushed the incumbent leftward.
Ms. Teachout, while still insisting she was in the race to win, told reporters at a campaign stop in Brooklyn that Mr. Cuomo–who governed as a liberal on social issues but has been considerably more conservative on fiscal ones–is now speaking to progressive concerns as a result of her campaign, noting that he recently spoke about wealth disparities and told anti-fracking protestors this morning he would visit places in Pennsylvania where the controversial natural gas drilling technique is being used.
"We've already shown Cuomo you need to talk about inequality, which he did yesterday, you need to visit fracking in Pennsylvania, he did that today, you need to fund schools, and that's on his lit," Ms. Teachout said. "He's proclaiming in print all the things we're running on."
Most observers expect Ms. Teachout to lose in a landslide, though many anticipate she will pull a large enough percentage of the vote to be embarrassing to Mr. Cuomo, who enjoys massive advantages in fund-raising and name recognition. Ms. Teachout, however, refused to say what percentage she believed would be sufficient chastisement for Mr. Cuomo's alienation of the liberal base.
"Everybody's making these numbers up," she said.
The Fordham University law professor said she found Mr. Cuomo's more left-wing rhetoric gratifying–noting in particular he was now campaigning on campaign finance reform, the pro-choice Women's Equality Act and the DREAM Act, which would grant state tuition assistance to students in the country illegally. Those same initiatives failed to pass the State Senate during Mr. Cuomo's first term thanks in part to the decision of the breakaway Independent Democratic Conference to caucus with the Republicans, allowing the GOP to maintain their majority–an arrangement that Mr. Cuomo reportedly helped put in place.
"He's basically running on the things he didn't pass," Ms Teachout said. "I'm happy Andrew Cuomo is singing our tune."