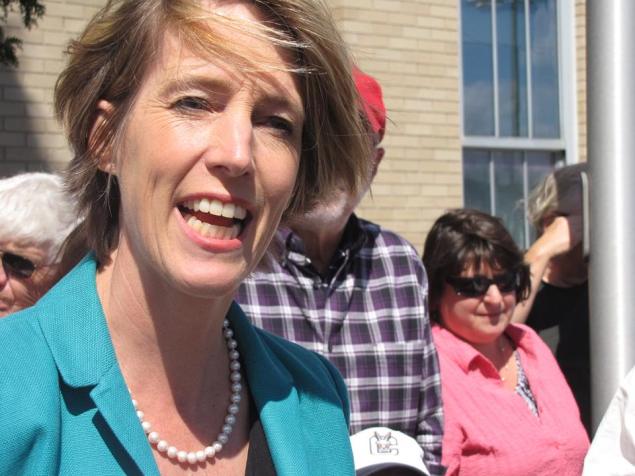 Dark horse gubernatorial candidate Zephyr Teachout broke with weeks of declining to comment on Middle Eastern affairs today to promise to preserve New York's "special relationship" with the state of Israel if elected.
At a press conference at the Manhattan Municipal Building accepting the endorsement of former Public Advocate Mark Green, Ms. Teachout told reporters that she recognized historical, social and religious ties connecting the Jewish state to the Empire State–home of the largest Jewish population in the diaspora.
"New York has a very special relationship with Israel," Ms. Teachout said. "Israel was born here, at the United Nations."
Ms. Teachout said she would safeguard that bond if she triumphed over Gov. Andrew Cuomo in next week's Democratic primary.
"We have an ongoing especially strong social and economic relationship with Israel that it would be my job as governor to maintain," said Ms. Teachout.
The long-shot contender added, however, that she did not view setting policy in the Middle East as the job of the governor, and promised to support the policies of President Barack Obama and Secretary of State John Kerry if victorious.
"I'm not running for president. I'm not going to second guess the president and the secretary of state," Ms. Teachout said.
Ms. Teachout had declined to comment to the Observer on the Israeli-Palestinian conflict in June and, in recent weeks, has come under increasing pressure in the press to take a stand on the issue. Her remarks today echo comments the governor made earlier in the afternoon at a press event focusing on the subject, where he noted a "special connection" between New York and Israel for the same reasons Ms. Teachout cited–on top of the shared concern over terrorism and Islamic extremism.
"It's not just Israel's problem and it's not just Hamas — it's the Middle East, it's Hamas, it's Hezbollah, it's ISIS, it is growing and fomenting in terrorism and extremism and in extremist groups. And they're in the Middle East today, and if you look down the road they're going to be in Europe tomorrow, and if you look down the road further they'll probably be in this country — and our city and our state are premier places for targets of opportunity," Mr. Cuomo said.
Mr. Cuomo defended his decision not to debate Ms. Teachout at the same event, suggesting that it could be a "disservice to democracy."
"I've been in many debates that I think were a disservice to democracy — so anyone who says debates are always a service to democracy hasn't watched all the debates that I've been in," Mr. Cuomo said.
Ms. Teachout, her running mate Tim Wu and Mr. Green all ridiculed the governor's remarks.
"It seems to me I have a different understanding of the word 'democracy' than he does," said Mr. Wu, who, like Ms. Teachout, is an academic.
Mr. Wu vowed that he would use the usually ceremonial office of lieutenant governor as a state-level version of the city's public advocate office–and take Mr. Green, the first to hold the office of public advocate, as an example to follow.
"I look to Mark Green for a role model for public advocate for lieutenant governor," Mr. Wu said. "The constitutional office of lieutenant governor is a wasted potential."
Mr. Green said he believes Mr. Wu would serve as more than just a lapdog to the governor–regardless of whether Ms. Teachout or Mr. Cuomo end up in that office next year.
"Not just mimic the top dog, but be a watchdog over the top dog–Tim Wu can do that," said Mr. Green.
Mr. Green acknowledged that the odds are against Ms. Teachout and Mr. Wu defeating Mr. Cuomo and his running mate Kathy Hochul–and that his support was unlikely to make a significant impact on the race.
"To the extent it means much, and endorsements don't mean much and shouldn't, but people like to get them, I'm here on the merits," Mr. Green said. "Some smartypants, who are smarter than I am, call them long-shots, and say they are titanic underdogs. But to quote our New York State Lotto motto, 'ya never know.'"
Mr. Green was favored to defeat Michael Bloomberg in the 2001 mayoral race, but a strong endorsement from then-Mayor Rudolph Giuliani in the aftermath of 9/11 is believed to have lifted Mr. Bloomberg to victory.