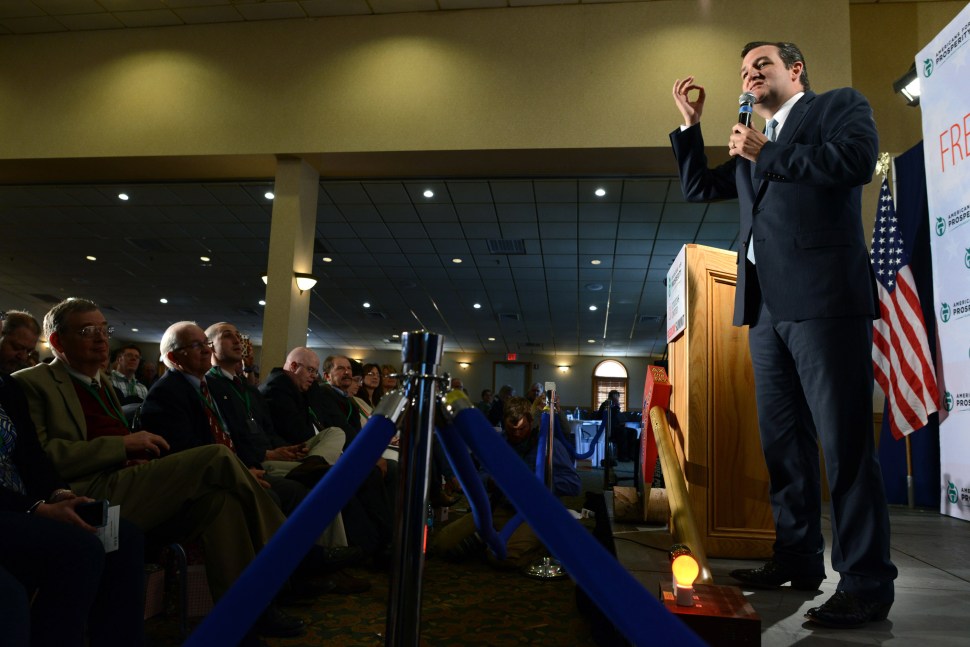 John F. Kennedy once said, "Israel was not created in order to disappear. Israel will endure and flourish. It is the child of hope and the home of the brave. It can neither be broken by adversity nor demoralized by success. It carries the shield of democracy and it honors the sword of freedom."
In today's world of increasing anti-Semitism and moral relativism it is rare to find a leader with solid unshakable principles related to Israel that do not vacillate with the capricious tides of public opinion. Senator Ted Cruz stands out as such a leader.
At a recent gala held by the newly formed In Defense of Christians, a nonpartisan organization "committed to the preservation and protection of Christians in the Middle East," Senator Cruz addressed a crowd on the topic of Christian persecution. Mr. Cruz's speech started well. But then the topic turned to Israel.
"ISIS, Al Qaeda, Hezbollah, Hamas, and their state sponsors like Syria and Iran, are all engaged in a vicious genocidal campaign to destroy religious minorities in the Middle East…In 1948 Jews throughout the Middle East faced murder and extermination and fled to the nation of Israel. And today Christians have no better ally than the Jewish state."
On hearing this support of Israel, Cruz was loudly booed. Cruz continued, "Christians have no greater ally than Israel. Those who hate Israel hate America."
The boos grew louder.
Mr. Cruz, unfazed by the show of animosity continued. "The very same people who persecute and murder Christians right now, who crucify Christians, who behead children, are the very same people who target Jews for their faith, for the same reason." He cut his speech short, ending with, "If you will not stand with Israel and the Jews, then I will not stand with you. Good night, and God bless."
The evening was an opportunity to unite for an extremely important cause in defiance of the tyranny sweeping Iraq and Syria and claiming untold innocent lives. Unfortunately for many in the crowd, their hatred for Israel outweighed the need to save Christians.
Mr. Cruz is a rare breed of politician who possesses a resolute set of morals and principles with regards to foreign policy and who has the courage to speak his mind. He will speak the truth and bravely defend Israel, no matter the forces that stand against him.
He also has the foresight to realize that the destiny of the West is inextricably bound to the fate of Israel.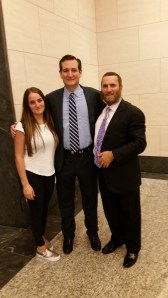 In a speech given on September 11th exactly one year ago he said, "In my view the United States of America should remain unshakably alongside our vital ally, the nation of Israel. We get an enormous dividend from the intelligence, from the resources, from the alliance on the ground, and it is beneficial to the United States of America to have an ally like Israel that is fighting alongside us in such a perilous part of the world where they are surrounded by terrorists who would do us harm and would do them harm."
Cruz is unafraid to challenge leaders in positions of power whose moral vacillation on evil may harm Israel. With regard to Chuck Hagel's nomination for secretary of defense he protested that, "His record on Israel strongly suggests that he views Israel not as our friend but as a nuisance. The U.S.-Israeli alliance is critical to our national security, but Hagel has been far too willing to undermine that alliance. He was one of only four senators who refused to sign a letter urging the president to express solidarity with Israel and condemn the Palestinian campaign of violence. And he has stated that he believes Israel has "chained down" the Palestinians."
Since taking office Mr. Hagel has proved a friend to Israel. But Mr. Cruz was right to call him out on his record.
While politicians the world over are prepared to go soft on Iran and their nightmarish nuclear ambitions, Mr. Cruz boldly stated, "We should have told them up front that their detention of our citizens and hostile rhetoric against the United States and our ally Israel is unacceptable, rather than engaging, without preconditions, in a negotiation that will provide the Iranian regime substantial sanction relief while doing nothing to curb – let alone end – its pursuit of a nuclear weapon."
Mr. Cruz defends Israel's interests across the board. With regard to the latest IRS scandal, he stated, "Likewise, it appears that Jewish and pro-Israel groups were also targeted. Senior officials at the IRS have known since 2011 that the agency had inappropriately flagged these groups, yet, IRS Commissioner Douglas Shulman testified – falsely – to Congress in March 2012, "There's absolutely no targeting."
Finally, Mr. Cruz can relate closely to Israelis and the toughness required to maintain the forces of justice and righteousness in the world's most dangerous region. He once remarked, "The values of Israel and Texas are very similar: frontier independence and strength."
Ted Cruz is a phenomenal friend of Israel and exhibits unique courage in constantly standing in Israel's defense. His walking out of a crowd hostile to the Jewish state was a kiddush hashem, a sanctification of God's name, as traditionally defined in the Jewish faith. He has shown the fortitude to stand up to the threats of those forces that would try to eliminate Israel and all the freedoms and values that this small yet courageous democracy holds dear.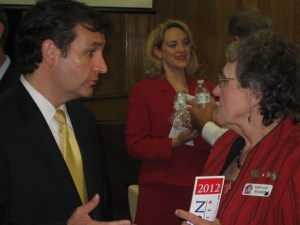 On August 21, 1790, George Washington sent a letter to the Hebrew Congregation of Newport, Rhode Island. It read, "May the Children of the Stock of Abraham, who dwell in this land, continue to merit and enjoy the good will of the other Inhabitants." He then echoed the Declaration of Independence in citing the need not for just "toleration" of religious differences but cited religious liberty as a critical goal of the new nation. "Every one shall sit in safety under his own vine and figtree, and there shall be none to make him afraid."
With his heroic actions, Ted Cruz proved himself a true "Oheiv Yisrael", a lover of the Children of Israel. As long as there are men like him in Washington, Israel can rest assured that the deep cords of trust and unwavering support that has defined the America-Israel relationship will continue, to the mutual benefit of both democratic nations.
Shmuley Boteach, "America's Rabbi" whom Newsweek calls "the most famous Rabbi in America" is the international best-selling author of 30 books and award-winning TV host. He has just published "Kosher Lust." Follow him on Twitter @RabbiShmuley. His website is www.shmuley.com.