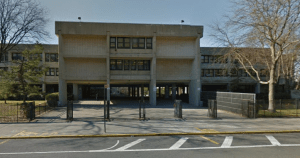 In the sweltering hallways of Tottenville High School, a perpetually un-air-conditioned school on Staten Island, students are rebelling against the new stifling dress code. Almost 200 students—90 percent female—have been given detention since the start of the school year regarding the brand new, extremely harsh dress code. If their clothes are found "distracting," students are forced to don baggy sweats over their "inappropriate" clothes or, even more humiliating, have a parent deliver a costume change.
According to Gothamist, Tottenville has banned "muscle shirts, wallet chains and spiked jewelry," for all students. However, the rest of the dress code applies only to girls: low-cut shirts, tank tops, leggings, skinny jeans, headbands, halter tops and any shorts or skirts shorter than the fingertip-on-thigh rule have been declared unfit for the classroom.
In response, the student body–with some concerned parents in tow–are protesting the new dress code by putting on their best booty-shorts and the most "disruptive" clothing they can find.
The change in policy apparently has to do with "dressing for success." According to Daily Intelligencer the school's interim principal has explained in the school code, "Dressing for Success applies not only to the workplace. Students do have the right to determine their own dress except where such dress is dangerous or interferes with the learning and teaching process."
One student told Gothamist, "Tottenville should just be an all boys school considering this dress code is only affecting the girls."
Who'd have thought exposed shoulders could cause such mayhem.