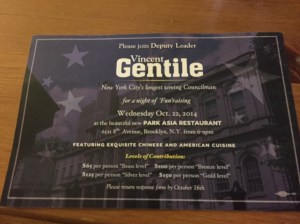 What's next for the longest tenured city councilman?
It's not immediately clear, but Brooklyn Councilman Vincent Gentile is apparently keeping his options open by hosting a fund-raiser next month. Mr. Gentile, term-limited in 2017, will hold a fund-raiser on October 22, charging from $65 to $150 per head, according to an invitation obtained by the Observer.
"Please join Deputy Leader Vincent Gentile New York City's longest serving councilman for a night of 'Fun'raising'," the invitation reads. Mr. Gentile will hold the event at  the "beautiful new" Park Asia Restaurant on the Sunset Park border, where "exquisite" Chinese and American cuisine will be served.
A spokesman for Mr. Gentile did not say what exactly the fund-raiser is for.
"As the senior-most member of the New York City Council, Councilman Gentile enjoys tremendous support and is simply making sure he's prepared for the future," said Justin Brannan, the spokesman.
Mr. Gentile recently registered a political committee to fund-raise for a future office, stoking speculation in Brooklyn political circles that the Democrat, first elected in 2003, was eying a next step. An unassuming presence in the council, Mr. Gentile finally rose to power this year when he was named a deputy leader and chosen to chair the Committee on Oversight and Investigations. Under former Council Speaker Christine Quinn, Mr. Gentile–who endorsed her mayoral rival, Bill de Blasio–had relatively little clout in the council.
No one is quite sure what Mr. Gentile has in mind, if anything at all. Barring special elections, there are not likely to be any open seats in 2017. Mr. Gentile mulled a run this year against Republican State Senator Martin Golden–Mr. Golden defeated Mr. Gentile to become a state senator and Mr. Gentile in turn ran for Mr. Golden's council seat–but ultimately declined to challenge him.
Some Brooklyn sources speculated that Mr. Gentile is just looking to have a little extra campaign cash to help other candidates, take out advertisements and perform other run-of-the-mill political duties.
This story originally stated Mr. Gentile was elected to the council in 2002, not 2003.