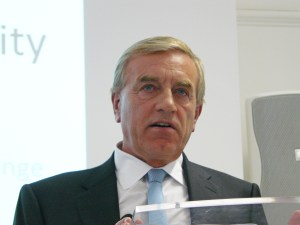 "All tan, tailoring, big red ties, hollered greetings and firm handshakes," the one-time private equity honcho Sir Peter Lampl, OBE struck the Financial Times a somewhat unlikely champion of—and generous participant in—educational philanthropy for Britain's poor when an FT editor lunched with Sir Peter last year. His particular brand of preppy machismo no doubt seemed less incongruous at 911 Park Avenue, where the deep-pocketed nobleman had a penthouse perch practically since prehistoric times—or at least since before the city began keeping records of such things. But Sir Peter is lighting out at last, it seems, having just sold his two-bedroom unit for $6.16 million, according to public records. Pamela Nichols and Jason Stojkovic of Douglas Elliman had the listing.
The co-op does have a certain staid, across-the-pond flavor about it. Then again, Upper East Side sensibilities do not differ all that much from those of our island-dwelling former landlords. Sir Peter's old place sports parquet hardwood floors, which he saw fit to blanket in fine Orientals, electric wall sconces, beamed 11-foot ceilings and chandeliers in various configurations. A corner living room has a trio of exposures, a wood burning fireplace and double sets of French doors. The master bedroom, too, enjoys a corner spot, and attaches to large and windowed bathing quarters.
Sir Peter accented such solid charms with heavy, ruffled curtains, Louis chairs and in the library, textured walls, serious-looking tomes and a standing globe that might have doubled as an exercise ball. The eat-in kitchen, however, though described as "updated," looks unlikely to suit the tastes of today's multmillion-dollar buyer. Still, with its simple black-and-white checkerboard floor and decidedly un-marbled counter tops, it evinces a kind of resolute, merely-functional rejection of the ridiculous and scarcely used cookery accouterments that have become near-standard in Park Avenue penthouses.
The listing suggests that the apartment might serve as a "magical pied a terre." The buyer, though, is C. Justin Foa, the fifth generation of his family to lead the insurance broker Foa & Son, which has, since 1935, been based in New York.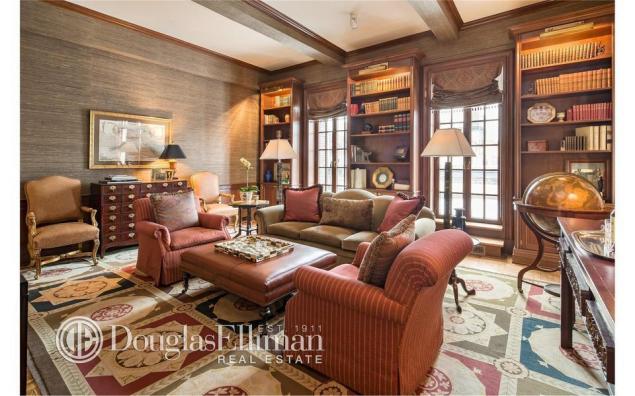 Correction: An earlier version of this article incorrectly named the buyer of a co-op at 911 Park Avenue as Conrad Foa, the fourth generation of his family to lead the insurance broker Foa & Son. The buyer was C. Justin Foa, the company's president and CEO, and the fifth generation of the family to head the business. The Observer regrets the error.