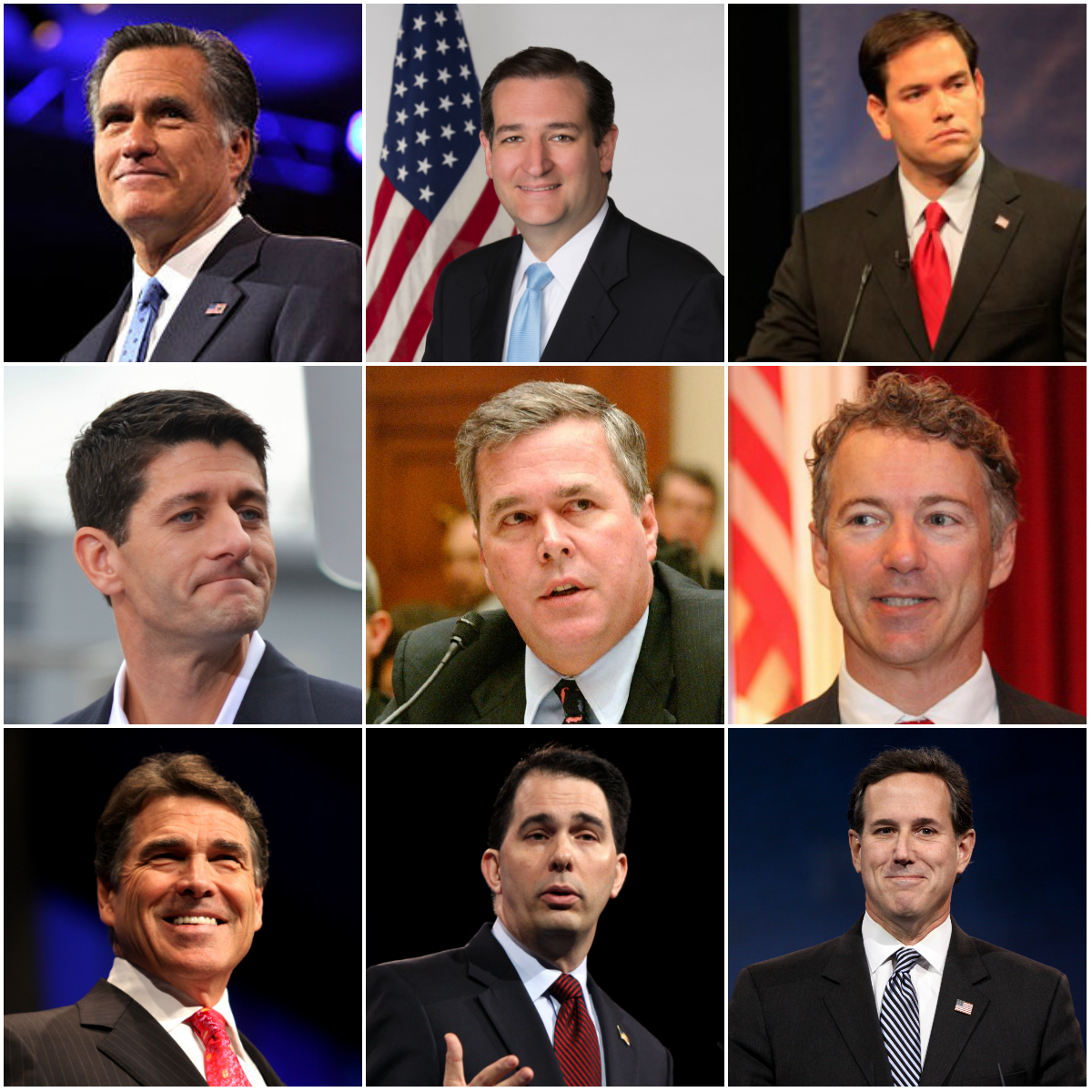 New Jersey's Gov. Chris Christie is back on the Republican Governors Association campaign (read: presidential campaign) trail this week with a trip to the Carolinas today to stump for incumbent GOP South Carolina Gov. Nikki Haley and North Carolina Republican U.S. Senate hopeful Thom Tillis. Tomorrow, he returns to New Hampshire — a first-in-the-nation presidential primary battleground — for his third visit to the state in recent months.
That these trips are part of an early trial run for Christie ahead of mounting an actual bid for the 2016 Republican presidential nomination is all but obvious. He's publicly mulled the move, telling a crowd of beachgoers this summer that he's "thinking" about it, but his political movements behind the scenes are more telling: he's spent almost as much time out of state as he has in state this year, stumping for fellow gubernatorial candidates as head of RGA; when he has been home, it's been to undertake milestone bi-partisan legislation, reinforcing his image as a "different kind" of politician; he even traveled to Mexico earlier this month on a "trade mission" to strengthen economic and cultural ties between New Jersey and the Latin American country. If Christie is testing the waters of a presidential campaign, he seems to be finding the temperature to his liking.
But that's not to say Christie's bid for the nomination, if (read: when) he finally declares, will be easy. Though he has had the advantage of his RGA chairmanship during this trial run, giving him the exposure and networking opportunities that other GOP hopefuls being touted as presidential candidates lacked over these past few months, it's near impossible to predict how things will play out once he's actually put beside the competition, in front of voters, on the national stage. National polling puts Christie among a handful of frontrunners in this race-before-the-race, but, as Ben Dworkin, Director of the Rebovich Institute for New Jersey Politics at Rider University, points out: "No one has declared, no one knows how much money each will be able to generate, and no one knows how these guys are going to resonate with voters. Let me put it this way: Everybody is in first place on the opening day of a season and that's where we are in this race."
Still, a number of candidates have already emerged as likely Republican contenders in 2016. Here's 10 that might pose the greastest challenge to Christie's own bid.
Jeb Bush
Son of former president George H. Bush and younger brother to of former president George W. Bush, Jeb Bush might be the strongest challenger to a Chris Christie primary run out of the dozen or so Republican candidates in the mix. Not only is he ideologically similar to the former Florida governor — both are considered centrists with a wider appeal than other fringe-treading counterparts — but their political connections have been cris-crossed ever since Christie helped then-presidential aspirant George W. Bush raise money toward victory in 2000. (Bush returned the favor by appointing the Christie U.S Attorney a year later). Polling shows Bush alongside — and some cases ahead of — Christie as a presidential favorite among likely Republican voters.
But the Texas-turned-Florida resident holds a serious edge over the brazen Garden State governor in some crucial areas. Bush's wife, Columba Bush, is a Mexican-born American philanthropist, giving him standing among a bloc of voters — Latinos — that Christie has had to venture to Mexico to earn the allegiance of (and it's not yet clear that that mission was successful). Worse, Bush seems to already be the favored candidate of the two: a New York Times report earlier this year found that many top Republican donors who are now tentatively lined up behind Christie would flock en masse to Bush should he become a serious contender.
Mitt Romney
Stylistically, Mitt Romney, the former governor of Massachusetts and presidential candidate who ran unsuccessfully against Barack Obama in 2012, and Chris Christie, are worlds apart. Many point to the Romney's stiff, businessman-like character as one reason for why he lost against the cooler Obama in 2012, while most consider Christie's greatest strengths to be his gregarious — though sometimes brazen — personality. The latter might arguably stand up better among fickle voters than the former during national debates and on the campaign trail, though their difference in style — or the fact that they may end up running together in 2016 — didn't keep them from sharing the spotlight at a New Jersey Republican fundraiser last week.
And that's where a Romney candidacy might pose another important challenge to Christie's ambitions. Not only does Romney — by virtue of his 2008 and 2012 campaigns — have the name recognition that Christie lacks, but he also has access to establishment money that could come in handy for any presidential hopeful running for the Republican nomination. While Romney has said definitively that he doesn't plan on running again, he'd likely take the money with him on the off chance that he does. The donors in the room last week would have a difficult (or easy?) choice to make.
Scott Walker
Wisconsin Governor Scott Walker is the author of a career that, in many ways, closely resembles Chris Christie's: both are popular conservative governors in historically Democratic states, both have been scorched by scandals that have threatened their political aspirations, and both tout the same signature legislative achievements: namely, pension and benefit reform.
Walker, however, might have an easier time championing that achievement than Christie will in 2016, seeing as Christie's pension and healthcare benefit reform efforts have run into some problems in recent months. Christie has had to go back on some earlier pension promises, defending his decision to cut from the state's yearly contributions to the fund by pointing to New Jersey's troubled fiscal health, which continues to dog the governor at every credit downgrading. Put next to each other, rust belt Walker — another advantage over the moderate, northeasterner Christie in a heavily conservative GOP — might come away a stronger prospective presidential contender in 2016.
Rand Paul

U.S. Kentucky Senator Rand Paul might be relegated by much of the GOP to the fringes of the party for his tea party-like politics, but that hasn't stopped him from making a name for himself nationally and building a reputation, like Christie, as a "different kind" of politician. Politico ranked Paul, son of the Texas Congressman and former Republican presidential candidate Ron Paul, number one on their Politico50 list, citing his millennial appeal and "calculated blurring of Washington's otherwise rigid ideological battle lines" as strengths. He's also championed bi-partisan efforts in the Senate with New Jersey's own U.S. Senator Corey Booker (D-NJ), a close Christie ally. Neither Christie nor Paul are mainstream politicians in a heavily conservative GOP, which might make this matchup particularly interesting.
Marco Rubio and Ted Cruz
If the Republican primary in 2016 comes down to a candidate's ability to get out the Latino vote, these two politicians — both senators, one in Florida and the other in Texas — might have a serious advantage over Christie. Both are Cuban-Americans with strong records on immigration reform, an area of policy Christie himself has tried to bone up on in recent months. He was in Mexico two weeks ago, won a majority of the Latino vote in New Jersey in 2013, and started celebrating National Hispanic Heritage Month — all presumably to boost his appeal among Latino voters. Though not always on the same page, Rubio and Cruz are already far afield on the immigration issue, experts in the field even, and both have built strong reputations among GOP leaders.
Paul Ryan
Christie can credit Wisconsin Congressman Paul Ryan with snatching the Vice President nomination out from under him during Mitt Romney's presidential campaign. The two were strong candidates in the running for the position, according to Romney operatives who've since revealed the search process, but Ryan won out over Romney-favorite Christie because the younger congressman was "client-ready." Also Christie's weight seemed to be an issue for the candidate. Still, Ryan remains a strong candidate for 2016 — this time at the top of the ticket — and has the advantage over Christie of name recognition from his time spent on the campaign trail with Romney.
Scott Brown
In the midst of his own senate campaign — this time in New Hampshire — Scott Brown is another Republican politician eyeing a 2016 primary run. He took a trip to Iowa last year with that run in mind, telling the Boston Herald he wanted "to get an indication of whether there's even an interest, in Massachusetts and throughout the country, if there's room for a bipartisan problem solver." Brown built a strong national profile following his 2010 senate run in Massachusetts, and, like Christie, is a moderate Republican from the northeast — a disadvantage for a candidate up against someone from the elsewhere, maybe, but placed side by side Brown and Christie might negate each other.
There are occupational ties, here, too: Christie is stumping for Brown in New Hampshire tomorrow, where a former Christie aide is running Brown's senate campaign.
Rick Perry
Like Walker (and Christie), Texas Governor Rick Perry is another Republican facing problems at home. Perry was indicted on two felony counts last month in a somewhat surprising development that had fellow GOP leaders across the country clamoring to his defense. Christie was among those leaders, saying he has "complete faith and confidence in Governor Perry's honesty and integrity." But unlike Christie's Bridgegate controversy, which marred his image early on but has since seemed to clear, as well as Walker's own scandal, the hammer has already been brought down on Perry, seriously weakening, many say, his chances at a 2016 run. On the other hand, if everyone is facing down scandals at home, will they matter at all on the national stage?
Rick Santorum
Rick Santorum, the former Pennsylvania senator who surprised some when he ran a strong primary campaign for the Republican nomination in 2012, might have a better chance this time around, though he might still face the same challenges he did then. Still, Santorum is polling at 6 percent — behind most of these other guys but still better than he was during then lead-up to 2012.