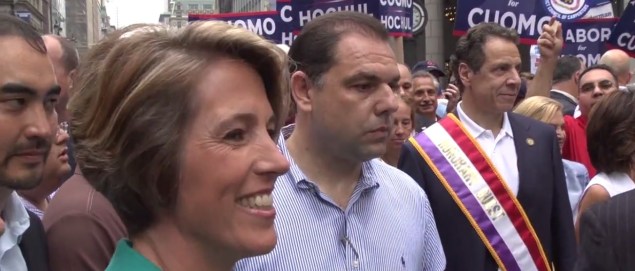 For New Yorkers, Primary Day 2014 can't quite measure up to the political bacchanalia that was the Democratic primary one year ago. There are no sexting former congressmen, prostitute-patronizing ex-governors or disgraced Brooklyn power brokers seeking redemption today. Eccentric billionaires are nowhere to be found. Bill de Blasio is not the public advocate trying to avoid a runoff against Bill Thompson (remember him?)–he is the mayor of New York City.
But sans the carnival ambience and relentless tabloid wordplay, Election Day is not bereft of compelling story lines or consequence. A governor is trying to avoid a revolt from his left. Two state senators, each former majority leaders, are battling well-funded insurgents–and indictments–to keep hold of their outer borough seats. The Working Families Party has a winning streak to protect.
Here are several stories to watch for in today's contests:
What will Gov. Andrew Cuomo's margin of victory be? 
Much has been made of law professor Zephyr Teachout's primary challenge of Gov. Andrew Cuomo. Ms. Teachout is a crusading, anti-corruption specialist with a knack for landing herself press and excoriating the governor in intriguing ways. But for all the leftist anger that she embodies, the centrist governor enjoys such a massive advantage in fund-raising, name recognition and establishment support that a Teachout victory appears impossible.
The same is likely true for her running mate, lieutenant governor contender Tim Wu. Some operatives have speculated that Mr. Wu, also a reputed law professor, could upset Mr. Cuomo's pick for lieutenant governor, former Congresswoman Kathy Hochul, who must run on a separate ballot from the governor. The story line is candy for political junkies, but also seems a bit far-fetched–Ms. Hochul has a formidable get-out-the-vote machine that Mr. Wu and Ms. Teachout simply don't possess.
Any surprising dent in the Cuomo Hochul margin of victory, however, is likely to irk the governor and give credence to the view that he is going to have to cater to a vocal left-wing in his second term. If Mr. Wu can make the race remotely close and Ms. Teachout can clear thirty percent of the vote, the Cuomo colossus will suddenly seem a bit smaller to the many state lawmakers and activists that have been too gun-shy to openly spar with the governor.
And if Mr. Cuomo and Ms. Hochul smash the opposition, 2015 will look all the brighter in Cuomoland.
Will the Working Families Party continue their winning streak?
2013 was a magnificent year for the labor-backed Working Families Party, the organizing muscle of the state's rising left. In the ashes of the Democratic Party machines, the WFP has risen to dominate local contests, playing kingmaker in the races for public advocate, city comptroller and City Council speaker. This past May, they threatened Mr. Cuomo with an endorsement of Ms. Teachout, winning a promise from the governor to bring the Democrats into the majority in the State Senate and raise the minimum wage yet again.
Today, the WFP will again try to prove they can keep on winning, even if they are at odds with many of the same Democratic officials they helped elect–and party organizations they are trying to weaken. In a central Brooklyn State Senate race, the WFP is backing Rubain Dorancy against Jesse Hamilton, a Democratic district leader running with the support of Brooklyn Borough President Eric Adams, who held the seat before Mr. Hamilton, and the Kings County Democratic Party. In southern and eastern Brooklyn, the WFP is pushing one of their own, former 1199 SEIU political coordinator Dell Smitherman, in a challenge of State Senator John Sampson, an indicted Democrat that still enjoys a close relationship with the Brooklyn Democratic machine. And in Brownsville, the WFP is determined to defy the political establishment there and elect Lori Boozer over Latrice Walker, a candidate who has the endorsements of Public Advocate Letitia James, a WFP darling, and Congressman Hakeem Jeffries.
Perhaps nowhere is the WFP taking a greater risk than in brownstone Brooklyn, where their efforts have drawn the most scrutiny. The party, with Mr. de Blasio's assistance, is pushing first-time candidate Pete Sikora, an economist with the Communication Workers of America, against a Democratic district leader who was widely viewed as the heir apparent of retiring Assemblywoman Joan Millman. The party, defying Ms. Millman, Ms. James and Congresswoman Nydia Velázquez–not to mention many other local pols–is hoping to knock off Jo Anne Simon. Ms. Simon outright accused the WFP of parachuting Mr. Sikora into the district to "buy" the seat.
In these races and several others, the WFP has more to prove. A poor showing on Election Day could put at least a small chink in the party's armor; a few more wins could substantially boost their clout beyond municipal government.
Indictment Excitement 
Mr. Sampson and State Senator Malcolm Smith, a Queens lawmaker, are both under indictment. They each were once one of the most powerful Democrats in the state. And they're up against challengers who may end their political careers before they even get tried.
Mr. Smith, a one-time power broker in southeast Queens, was indicted for participating in a bribery scheme to land himself in the Republican primary for mayor last year. He will be tried in January after a mistrial was declared in his case this summer.
Despite the endorsements of the Rev. Floyd Flake, his political mentor, and the large public employees union DC 37, Mr. Smith is a lone wolf at this point. The Queens Democratic Party, still infuriated over Mr. Smith's decision to join a breakaway group of Democrats that caucus with the Republican Party, recruited former Councilman Leroy Comrie to defeat him. The WFP and Mr. de Blasio are also uniting around Mr. Comrie. A third candidate, attorney Munir Avery, could play spoiler in the race, but Mr. Comrie appears well-positioned to return to elected office.
Mr. Sampson is not quite as alone. Sources say the Brooklyn Democratic Party is backing his candidacy in part so they can control who replaces Mr. Sampson if he is convicted of his charges (Mr. Sampson was indicted twice, once for embezzlement and once for lying to FBI agents, and has plead not guilty to both indictments.) If Mr. Sampson were to win and then lose the seat in a guilty conviction, a potential special election would mean the party, controlled by Canarsie resident Frank Seddio, could nominate a Democrat to run and avoid a primary. But if Mr. Smitherman triumphs, Mr. Seddio loses even more standing in his own backyard to organized labor. Also watch for Sean Henry, a well-funded candidate that could cut into the anti-incumbent vote.
Mayoral Might
This is Mr. de Blasio's first real chance as mayor to make endorsements and see how they pan out. Despite snubbing Congressman Charles Rangel in June, Mr. de Blasio has been liberal with his endorsements this time around.
The mayor is supporting Independent Democratic Conference stalwarts like State Senator Tony Avella and the conference's leader, State Senator Jeffrey Klein. He gave the nod to Mr. Sikora in his own Brooklyn backyard to defeat Ms. Simon. He is throwing his weight behind Mr. Smitherman and Mr. Comrie. He is backing Mr. Dorancy in central Brooklyn against allies like Council Speaker Melissa Mark-Viverito, who is siding with Mr. Hamilton. Rodneyse Bichotte, an Assembly candidate and district leader in Flatbush, has his endorsement as she seeks to topple a contender endorsed by the area's retiring assemblywoman, Rhoda Jacobs. The mayor backed State Senator Gustavo Rivera, a Bronx Democrat fending off a challenge from Councilman Fernando Cabrera, an ex-Republican now reviled by social liberals. Mr. Cuomo has endorsed in many of these races too, but the mayor is the new and exciting kid on the block.
No single endorsement can dramatically sway a race in 2014. Yet Mr. de Blasio, an old political operative, can add a few feathers to his cap if most of his picks win, especially in the black neighborhoods of Brooklyn and Queens where he polls well. One pattern is also apparent in Mr. de Blasio's endorsements: he is often following the lead of 1199 SEIU, the union that helped him become mayor.
The Future of the IDC
Former Bronx Councilman Oliver Koppell once looked like the great hope for angst-ridden liberals in Daily Kos land when he decided to take on Mr. Klein, the leader of the IDC. But with Mr. de Blasio's help, the IDC cut a deal a few months back to break their alliance with the GOP and govern the senate instead with the mainline Democrats in 2015. Mr. Koppell lost much of his labor support in the deal and Mr. Klein racked up enough liberal bona fides in endorsements to fill his palm card. Look for Mr. Klein to not only survive but coast as the Bronx political establishment–well aware of where their bread is buttered–closes rank.
The more compelling race is in eastern Queens, where Mr. Avella, the IDC's fifth and newest member, faces down former Comptroller John Liu. The failed mayoral candidate trounced Mr. Avella in fund-raising. He is Congressman Joseph Crowley's–the Queens Democratic Party chairman–pet project: Mr. Crowley despises Mr. Avella and therefore the Queens establishment is aligned with Mr. Liu. But the demographics and political leanings of the district never favored Mr. Liu and the incumbent, a rare maverick, is very well known in the affluent, moderate and a tad disgruntled precincts of the oddly-shaped district. If Mr. Liu wins, his Gracie Mansion dream remains alive, if faintly. And if Mr. Avella, with the help of a mayoral robocall, triumphs, someone somewhere will be singing "long live the IDC." This one will be tight.
Leftovers 
Can the New York Times endorsement propel investment banker Gus Christensen past attorney Rebecca Seawright? Both are running against two other contenders in an Assembly race on the Upper East Side. Ms. Seawright, who apparently forgot what the "right to work" law was, is running with the endorsement of just about every elected official in the area.
Will ex-Councilman–and Black Panther–Charles Barron go make trouble for Assembly Speaker Sheldon Silver? He's the front-runner to replace his wife, now-Councilwoman Inez Barron, in a race against perennial contender Chris Banks for an East New York, Brooklyn seat.
Will Vito Lopez's old foot soldiers keep a toe hold in northern Brooklyn? Ex-Councilman Erik Dilan is a favorite to replace Rafael Espinal, a former assemblyman who took Mr. Dilan's seat when he was term-limited. Mr. Dilan's father, State Senator Martin Dilan, is opposed by Debbie Medina, a WFP-backed challenger out of the reform movement. Mr. Lopez may be history, but the politicians he made are going strong.
Does State Senator Adriano Espaillat survive to run for Congress in 2016? The upper Manhattan lawmaker never rules out a third shot at Congress–he's lost to Mr. Rangel twice–and may have his best chance yet when Mr. Rangel (probably) retires in two years. Former Councilman Robert Jackson has made this a spirited race and should pull some votes out of his African-American base. Look for Mr. Espaillat to roll past Mr. Jackson and start dreaming (again) of Washington D.C.