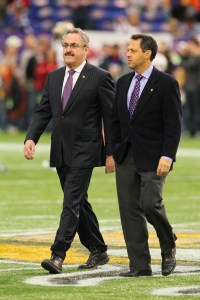 Brothers Zygi and Mark Wilf, owners of the Minnesota Vikings (with cousin Lenny) and New Jersey-based homebuilders Garden Homes have always portrayed themselves as principled, family-oriented businessmen. Their recent stewardship of the Vikings has cast a harsh spotlight on that image, and it's not a pretty picture.
After following the Wilf family for a year, I have learned it was a mistake to regard as "uncharacteristic" the extraordinary scolding they received from a New Jersey judge for robbing their business partners, or the $100+ million judgment against them for fraud, bad faith, and racketeering. (The Wilfs are appealing.) It was not uncharacteristic of the publicity-shy family to own an NFL team, nor was it uncharacteristic to play hardball to get the state of Minnesota to pay $500 million for the Wilfs' new stadium, or even dupe the locals into high-fiving each other for doing it.
In fact, all of those maneuvers are perfectly in keeping with the Wilfs' long history of avoiding responsibility and asking others to pick up the tab. In business, that history mostly has produced lengthy lawsuits about boring subjects that don't get much ink from a sleepy New Jersey press corps. But owning an NFL team has highlighted practices that many in the business world already knew to be the Wilfs' modus operandi.
The Wilfs will fire their pro-gay kicker. They will reinstate (early!) a bullying, gay-hating coach. They lifted their star running back's one-game suspension after he admitted he whipped his son's testicles. They will let the legal process decide for them: On Monday, after losing to the Patriots 30-7, they reinstated their superstar, saying, "We believe this is a matter of due process, and we should allow the legal system to proceed." So due process is their principled position, but only until Wednesday, when they completely reversed course in the face of a firestorm of outrage, in which the Wilfs were criticized by Minn. Sen. Al Franken. Even notorious Wilf ass-kisser, Gov. Mark Dayton, the Target heir who Time dubbed "The Blunderer," called the spectacle a "public embarrassment."
So now their principled position is to put Adrian Peterson on the NFL's "Exempt/Commissioner's Permission list," and make it the League's problem.
The lack of backbone displayed by the Wilf family is pitiful. With Ray Rice's Atlantic City beatdown of his fiancée, the NFL just finished screwing up a domestic violence case. And Adrian Peterson's conduct was shocking. CBS News in Houston revealed the horrific details from a police report: multiple beatings, untreated wounds, admission of the acts by Peterson, incapability of showing remorse, and a disturbing pattern of his offspring coming to harm. Even Vikings General Manager Rick Spielman had to admit to the media, "The photos are disturbing. I understand that."
When Peterson was indicted by a grand jury in Texas last Friday, it seemed a no-brainer for the Wilfs to suspend him indefinitely. On Sunday, after a 30-7 drubbing by the New England Patriots, they apparently had second thoughts. You can teach anyone to be a good parent. But how many parents can you teach to rush for 2,097 yards in an NFL season?
On Sunday night, the Wilfs also announced the early reinstatement of special-teams coach Mike Priefer. He served two games of a three-game suspension after an independent investigation found a pattern of anti-gay remarks by Priefer in the workplace. The Wilfs' announcement, of course, reflected "extensive conversations with the independent professional consultants retained to" work with Coach Priefer. (Those consultants may not realize it yet, but they struck the mother lode with the scandal-prone Vikings.)
The Wilfs correctly counted on most fans having already forgotten about fired pro-gay-rights punter Chris Kluwe. They must have also recognized the Priefer announcement would be buried by Monday morning's bombshell about lifting Adrian Peterson's suspension after three days.
The Monday announcement – which competed for media attention with prior allegations made public about Peterson abusing another of his children last year – came dressed up with the required language about taking "very seriously any matter that involves the welfare of a child." In the next sentence, however, the Wilfs lowered the boom: "We believe this is a matter of due process, and we should allow the legal system to proceed so we can come to the most effective conclusions and then determine the appropriate course of action."
This morning, after seeing which way the wind was blowing, the Wilfs released another statement, finding other principles that allowed them to cave in to the backlash against the Vikings. After "further reflection" and input they "appreciate and value" from the community – not to mention the loss of sponsors such as Radisson and Nike pulling AP jerseys off its shelves – they suddenly realized getting Adrian Peterson away from the team was actually what he wanted: "Adrian emphasized his desire to avoid further distraction to his teammates and coaches while focusing on his current situation; this resolution accomplishes these objectives as well."
Meanwhile, back in New Jersey, the Wilfs continue to stall, delaying payments to the two partners who sued them in 1992. Apparently, 22 years is not quite enough "due process" for the Wilfs, who were already upbraided by the judge in uncommonly harsh language, when she found against them and said they acted with "bad faith and evil motive." Nevertheless, the Wilfs have engineered yet another delay in paying the nearly $100 million ($84.1 million in damages plus $15.1 million in attorneys' fees) for what the Star-Ledger describes as having "cheated their partners … for more than 20 years."
Surely, failing to honor a judge's decision is yet another principled decision by the family-friendly Wilfs.
Zygi and Mark Wilf concluded today's about-face on Adrian Peterson by saying "We hope that all of our fans can respect the process we have gone through to reach this final decision."
We can admire, in a Machiavellian sense, their ability to find a way to justify even the most outrageous and contradictory behavior. But "respect"? That was lost long ago.