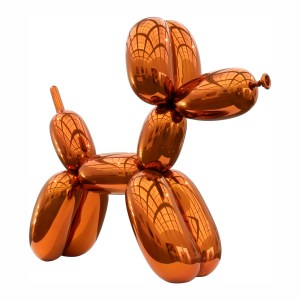 Sales of contemporary art at public auctions surpassed $2 billion for the first time last year, the Paris-based arts-data organization Artprice said.
The report tallied auction sales between July 2013 and July 2014, and it found that contemporary art sales grew 40 percent from the previous year. The number of big-ticket items that sold for over 10 million euros ($12.8 million) more than doubled in the period.
Those who follow the art market will remember the record-breaking Christie's auction in November that saw buyers walk away with the most expensive publicly auctioned piece of art ever, Francis Bacon's $142.4 million Three Studies of Lucian Freud (1969). That auction also minted Jeff Koons' $58.4 million Balloon Dog (Orange) (1994-2000) as the most expensive piece by a living artist ever sold at auction.
The Artprice report comes with a nice helping of patriotism. The three artists who have sold for the most at auction, Jean-Michel Basquiat, Jeff Koons and Christopher Wool, are all American. The rest of the top ten earners are Zeng Fanzhi of China; Peter Doig of Britain; Richard Prince of the U.S.; Martin Kippenberger of Germany; and Luo Zhongli, Chen Yifei and Zhang Xiaogang, all from China. In fact, Chinese artists have now eclipsed the U.S. in overall contemporary art sales, with 40 percent of the market.
Another trend to watch is the increasing number of artists who skip the gallery world altogether and sell their pieces for the first time at auction.
"For the first time, young artists voluntarily want to start on the [secondary] market," Artprice founder Thierry Ehrmann told French news agency Agence France-Presse.
"It's a real revolution. The two markets are in the process of merging."