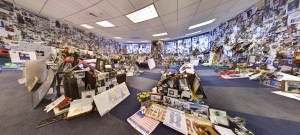 In an office space on the 20th floor at 1 Liberty Plaza, overlooking Ground Zero, families of 9/11 victims spent twelve years remembering, documenting grief and telling their stories.
Named the Family Room, the space began in April 2002 after victims' relatives requested a private area to mourn and pay tribute to those lost in the tragedy. Donated by Brookfield Properties, the room transformed into much more than a shrine, accessible only by the families affected.
Now, timed with the 13th anniversary of the attacks, the collection has been recreated and opens to the public today on September 11, 2014 in an exhibition at the New York State Museum in Albany.
As reported by The New York Times, State Museum Director Mark A. Schaming said there are materials in the room related to about 1,000 victims of September 11, 2001. Families were notified of the move and "given the opportunity to claim or donate," Mr. Schaming told the Times. "We don't want to have anything in our collection that a donor doesn't want us to have."
Per the family reflections quoted on the State Museum's website for The Family Room, this private place was paramount in its offers of comfort and strength. Retired Deputy Chief Alexander and Maureen Santora, whose son Christopher Santora was killed at the World Trade Center, wrote, "Our journey to healing began here and we feel sad that the room is no more."
Anthoula Katsimatides, a former official of the Lower Manhattan Development Corporation, whose brother John Katsimatides was killed on 9/11, admitted to the Times that the families' decision to share these memories and messages with the public was not easy. But she believed, ultimately, that "it was the right decision."
Photos, letters, stuffed animals, flowers, clothing, and other personal items flood the room—as they did in Manhattan—at their new home in Albany.
It's a far bigger move than just 150 miles for the Family Room. Edie Lutnick's brother, Gary Lutnick, died in the catastrophe of 9/11. Ms. Lutnick's request is written on the State Museum's website: "By sharing our family room with you we share a piece of ourselves. We share our love for those we lost. We entrust you to share in their memory."