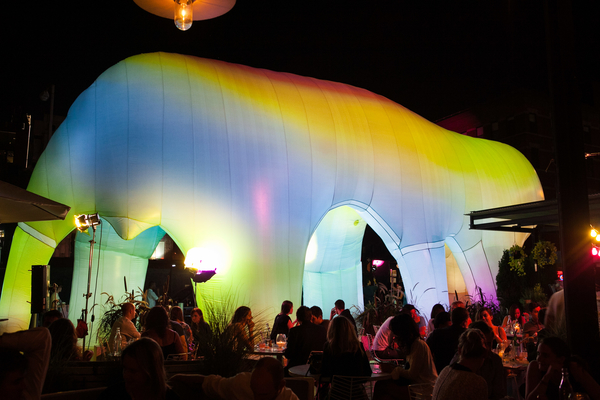 A few days ago, we were alerted to the news that Art Production Fund would be presenting a sculpture in front of The Standard, High Line, by FriendsWithYou. We were told it was called Light Cave. We were told that FriendsWithYou believe Light Cave was "meant to join New York's otherwise detached passersby in a metaphysical sense." We were told that FriendsWithYou believe Light Cave was a "cathedral of the spirit."
What could this magnificent thing be! In this first email from the middle of the week, they didn't send any pictures of Light Cave. They did tell us that it would alter the way we thought about the world and act as a stand in for a nonexistent God. A cathedral of the spirit! This thing must be, like, a Rothko Chapel for the Meatpacking District. A Sistine Chapel at the altar of bottle service bars. A full-blown miracle.
And then came Thursday night. We had done some ambling through the Chelsea streets chockablock with thousands of hangers-on gallery hopping alongside. This being Fashion Week, lest we forget, there were plenty of wobbly-legged models trying to navigate the way from the runway to the after-party, perhaps oblivious to this whole mess. After stopping by a few shows—Roxy Paine's creepily accurate recreations of TSA security checkpoints at Marianne Boesky Gallery, Rachel Lee Hovnanian's cereal boxes and Instagrammable babies at Leila Heller Gallery, the fruits of David Hockney's cute iPad fixation at Pace Gallery—we began the trip from the former chop shops of Chelsea to the former beef warehouses of the Meatpacking District, on our way to 55 Gansevoort, which was showing a piece by Adam Marnie. As we turned onto Washington Street, there ahead was The Standard, that harsh slab of temporary domiciles atop concrete stilts.
And there, engulfing the entrance, were billowing sorbet-colored bubbles glowing against the night, and a curvy balloon to save those supplicants who pass through it on the way to a night's stay—Light Cave. It reminded us of a moonbounce.