Walk into any of J.Crew's 451 stores and you'll be greeted by mannequins dressed in colorful flocked satin skirts, dainty knits over brightly colored shirts topped off with glittering jewels—a quirky-cute ensemble that is ever so perfectly mismatched. Take one look at the J.Crew Instagram feed and you'll see images of cool kids posing at the beach in summer, around cozy fireplaces or windy woodlands in the fall, clad in mixed print ensembles doing things like drinking craft beer or flying kites. (There's even a feed devoted to its popular gingham shirt). This expertly curated vision is a far cry from the roll-neck sweaters and matching sweater sets, reminiscent of 1990s J.Crew, associated with suburban shopping malls. This is all the vision of Jenna Lyons, the company's executive creative director, now credited with transforming the retailer into a legitimate fashion brand.
Ms. Lyons joined J.Crew in 1990 straight from Parsons The New School for Design. She climbed the rungs under chief executive officer Mickey Drexler and grew to become the face of the brand and a symbol of its success. Ms. Lyons' coming and going, her relationships and sartorial choices are tirelessly documented in the press, and from her horn-rimmed glasses down to her sequin harem pants, she is in many ways responsible for the $3 billion-plus global enterprise that is J.Crew. Her vision as a retail guru is coveted by every other High Street brand. A colleague was once in a meeting with J.Crew's biggest rival company's creative team, while they sat round looking at the JC blogs, one of them almost in tears, the brand director at boiling point over this rival brand's lack of magic. 
Now, J.Crew's competitors, the other quintessential American mall stores, are launching fashion-forward collaborations and innovative advertising campaigns in an effort to compete. Some brands are trying hard to establish their own Jenna Lyons and placing fashionable designers at the creative helm. This, however, is a high reach. It is one thing to seek out someone with design chops but Ms. Lyons is the whole shebang. A guest-starring role on Girls as Lena Dunham's fierce magazine editor boss only cemented Ms. Lyons' cool cred. However, if retailers learned anything from Rachel Zoe's waning eponymous label, it's that celebrity doesn't necessarily cut it at retail. Stylist to the stars Ms. Zoe's successful reality TV series suggested a fashion range was the next logical business step. Yet the actual designs, glammed-up versions of 1970s-inspired, billowy shapes and long-line jackets just did not resonate with real people. The Jenna Lyons effect goes beyond a popular face, it comes down to product and a point-of-view, hell, a way of life that is authentic, bold, and most importantly, fashionable.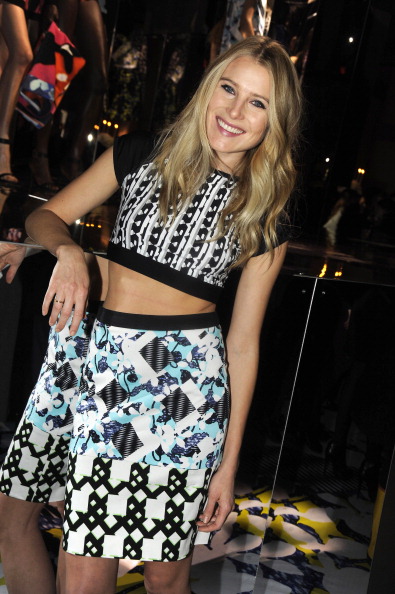 Under new management Cole Haan recently tapped "it girl" and model Dree Hemingway as its new women's global brand ambassador. She'll make her debut in the Fall 2014 advertising campaign. Additionally, a collaboration with popular menswear designer Todd Snyder will result in a new brand named for him. The first of this series will launch next spring. The brand is hoping Mr. Snyder can add a fresh, youthful voice to its offerings. And in a strategic wholesale alignment, Cole Haan announced that it will sell special pieces on mrporter.com, a global high-end online retail destination for menswear.
"We're unshackled now and decided that to grow globally, we need to reinvigorate our handbag business and bring in amazing product design talent," said chief marketing officer David Maddocks, after Cole Haan was sold by Nike to new owners Apax Partners. "Everyone would like to be more youthful and more fashionable. I think we are known for classics, but you'll see more fashion come from our brand."
Club Monaco is another American retailer doing all it can to reach J.Crew's heights. Like Cole Haan it will also debut a special collection this fall on Mr. Porter, just one step the brand is taking to target a fashion-savvy consumer. Walk into its newly designed Fifth Avenue flagship and you'll see it isn't the Club Monaco of yesterday. The shop is now a lifestyle destination, complete with capsule collections by designers like Marcia Patmos and Allen Edmonds, as well as an outpost of the Strand bookstore and Williamsburg's Toby's Estate Coffee. There's also a curated assortment of vintage homeware and apparel and a new accessories and jewelry collection by independent designers called The Pieces. Club Monaco recently launched its collection boutique on Bleecker Street, consisting of elevated apparel such as dresses, pea coats and bomber jackets in shearling, silk and Italian leather. "By recreating our retail environment as lifestyle destinations, we've found a new way to engage our consumers and further evolve the Club Monaco brand," said Caroline Belhumeur, senior vice president of women's design.
 After creative director Simon Kneen stepped down in 2013 (after tapping Narciso Rodriguez as an advisor to elevate its fashion offerings), Banana Republic's nervous management hired womenswear designer Marissa Webb in the same role after not very successful collaborations with the late L'Wren Scott and Roland Mouret. Ms. Webb trained under Ms. Lyons at J.Crew, graduating to womenswear director after 11 years at the company. She left in 2011 and is best known as designer of her own label of chic, modern separates that retail at Barneys and Intermix. Who better to take on the might of J.Crew? Banana Republic insiders are staying schtum on Ms. Webb's background. "We continually look for ways to remain relevant and continually offer a fresh and fashion-forward perspective for our customers," said Catherine Sadler, the brand's global chief marketing officer. 
According to Cole Haan's Mr. Maddocks, the need to rejuvenate his brand emanates from a variety of factors, including the widespread discovery of fashion and trends thanks, in part, to the Internet. "The way people think about fashion is far more democratic because information is more democratic," he said. "J.Crew's genius was in looking around the corner and saying, 'Yeah, we can play there, too,' and all brands have to be aware of that, but it doesn't mean you can be something you're not." ν