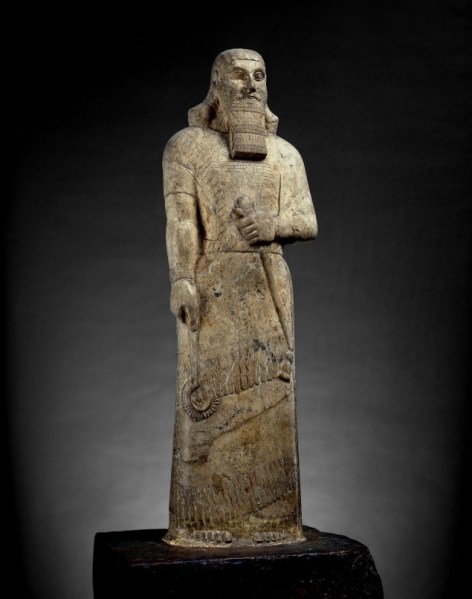 Next week marks the first major event of the fall museum-exhibition Olympics, as the Metropolitan Museum of Art opens  "Assyria to Iberia at the Dawn of the Classical Age" on Sept. 22.  Treasure after treasure tumbles out of this show of the ancient and arcane, as if someone had opened a door in a palace (as is indeed sometimes the case) and history fell out.
It's a bloody history. The show begins at the end of the second millennium BC, the dawn of the so-called Iron Age, an era marked by near-constant battles for territory, expansionism and empire-building in The Middle East and Mediterranean  The multi-room exhibition – filled with huge maps — traces the trade routes, relationships and ascendacy of the Homeric-era Phoenicians, the Assyrians, various dynasties and rulers, their rise and fall.
A caveat: This is a scholar's show — not so much shiny Tutankhamen-type blockbuster as impressive and sometimes weighty textbook. (A commanding-looking navy-blue banner above the Met's central entrance telegraphs the seriousness of it all). The loans that fill the show, items from 41 museums in 14 countries, are so varied and so valuable that the State Department weighed in, ruling the loans as "of cultural significance," presumably to ease their import. But those museum visitors not up on the specific trade movements of the Phoenecian Navy (and really, who is?) would be well-advised to grab the so-called acoustiguide to understand the significance of the 200+ carvings, jewelry and statuary shown here.
Still, for those for whom "moved to Babylonia" is a line from a Steve Martin song, the show is a must, explaining names and events taught in school but dimly remembered: Nebuchadnezzar, the 612 B.C. sack of Nineveh, the pillars of Hercules, etc.
The show makes good, and sparing, use, of high-tech bells and whistles. There's a compelling walkthrough of a Iranian palace, and a film, complete with atmospheric water-bubble noises, of the excavations of ancient artifacts from shipwrecks along the Spanish coast (a highlight of the show). But what really matters here is the epic objects and the story they tell, especially at a time went so much heritage material in the Middle East is under imminent and heartbreaking threat.
The visitor who heads to the Met this week can also see the small but choice Pre-Raphaelites show, for those who wait until Sept. 30, an exhibition of Thomas Hart Benton murals will be on view.