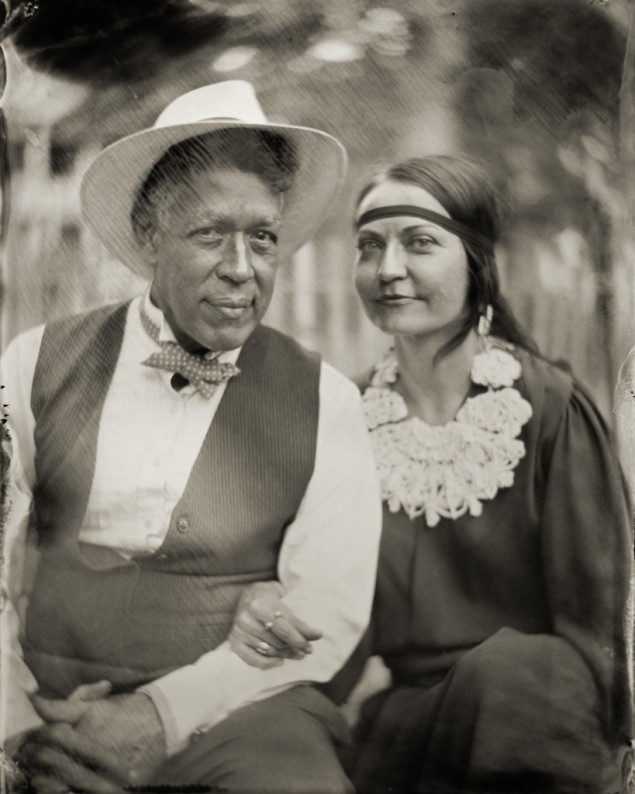 Sitting in a folded chair against a white backdrop, in front of a giant old camera and draped photographer at Photoville on Saturday, The Observer posed to have a tintype taken. The Penumbra Foundation, a New York nonprofit dedicated to alternative photography education, had set up a temporary tintype studio and processing lab underneath a tent and in between shipping containers at the city's large annual photography festival.
Originally founded as the Center for Alternative Photography 13 years ago, the Penumbra foundation (named for the astronomical phenomenon) is now housed in an 11,000-square-foot space on East 30th Street. First a for-profit, it made the switch to non-profit 3 years ago. It's new home includes alternative photography dark rooms, a commercial photo lab, north-light facing studio (that they rent out), membership program, gallery spaces, and classroom and event space for workshops and its extensive lecture series.
"It [The Penumbra Foundation] really is the only place like it in the country," proclaimed Geoffrey Berliner, executive director. "A few others do it, but not to the level of expertise we do," he added, referring to tintypes. He feels that tintypes and other alternative photographic practices are part of a larger resurgence happening today in handcrafted object production.
Tintype—an instant process for producing unique, singular photographs using hand-poured chemicals on enameled metal—is a highlight of Penumbra's programming, which it has sampled for the public at recent events like Photoville and the Jazz Age Lawn Party on Governor's Island, where it also ran a tintype booth. The regular price for a studio tintype session is $95, but at public events the foundation charges a reduced price of $55.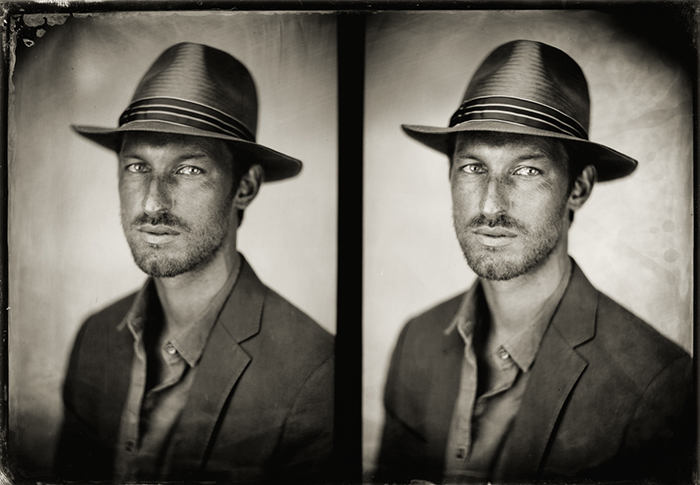 There aren't too many tintypists in the world today, approximately 200-550 Mr. Berliner estimates, but that number seems to be on the rise. He takes the temperature every year at the Association of International Photography Art Dealers Photography Show, where he says he sees more and more alternative analog work on view, like the work of Joni Sternbach who works in tintype, is represented by Rick Wester Fine Art, and sits on Penumbra's advisory board.
Another member of the board is photographer Victoria Will. At Sundance last winter she took tintypes of notable celebrities passing through. Unknowingly, she took the last portrait of the late actor Philip Seymour Hoffman in tintype, a medium much like Polaroid where there is no negative and every image becomes a unique, non-reproducible object.
And though Instagram, by contrast, is keeping interest in digital photography steady worldwide, Mr. Berliner feels there's still something missing for those serious about the medium. "Digital is dumbing down photography because everything looks the same. [Young photographers] They realize that you have to find a way to differentiate yourself from everyone else out there." It's also becoming harder to get specialized film such as Polaroid, driving photographers to adopt other processes to fill the gap, and to start groups like The Impossible Project in order to get the film they need.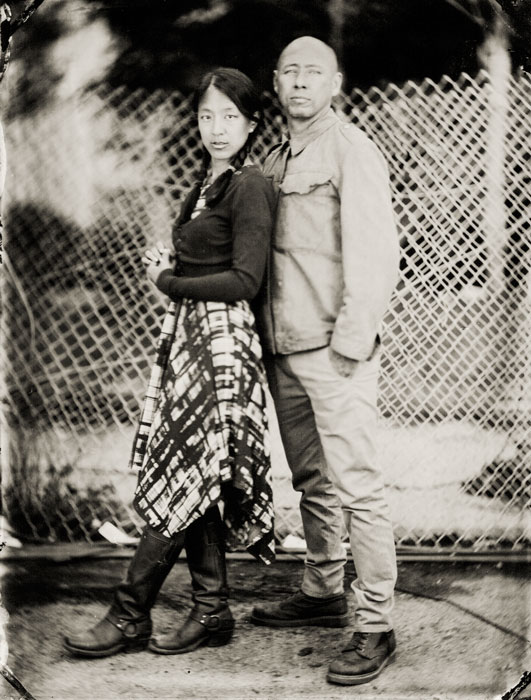 But at Penumbra, analog and tintype is thriving. They recently hired Erica Criss as program development manager, and have reported its membership numbers doubled to "several hundred" since. It hopes to develop a BFA/MFA and certificate program for analog processes and digitize their library of 19th and 20th century photography manuals.
With the wind kicking up dust in between sessions, and the sun baking the open lot, The Observer tried to stand as still as possible in anticipation of the photographer's instantaneous exposure. Done with a simple flick of the wrist, he flashed an exposed lens and covered it just as quickly. About 15 minutes later the processed tintype was dry and ready to be taken home—it'll last for the next 200 years, and then some. Can't say that about our Instagram feed.