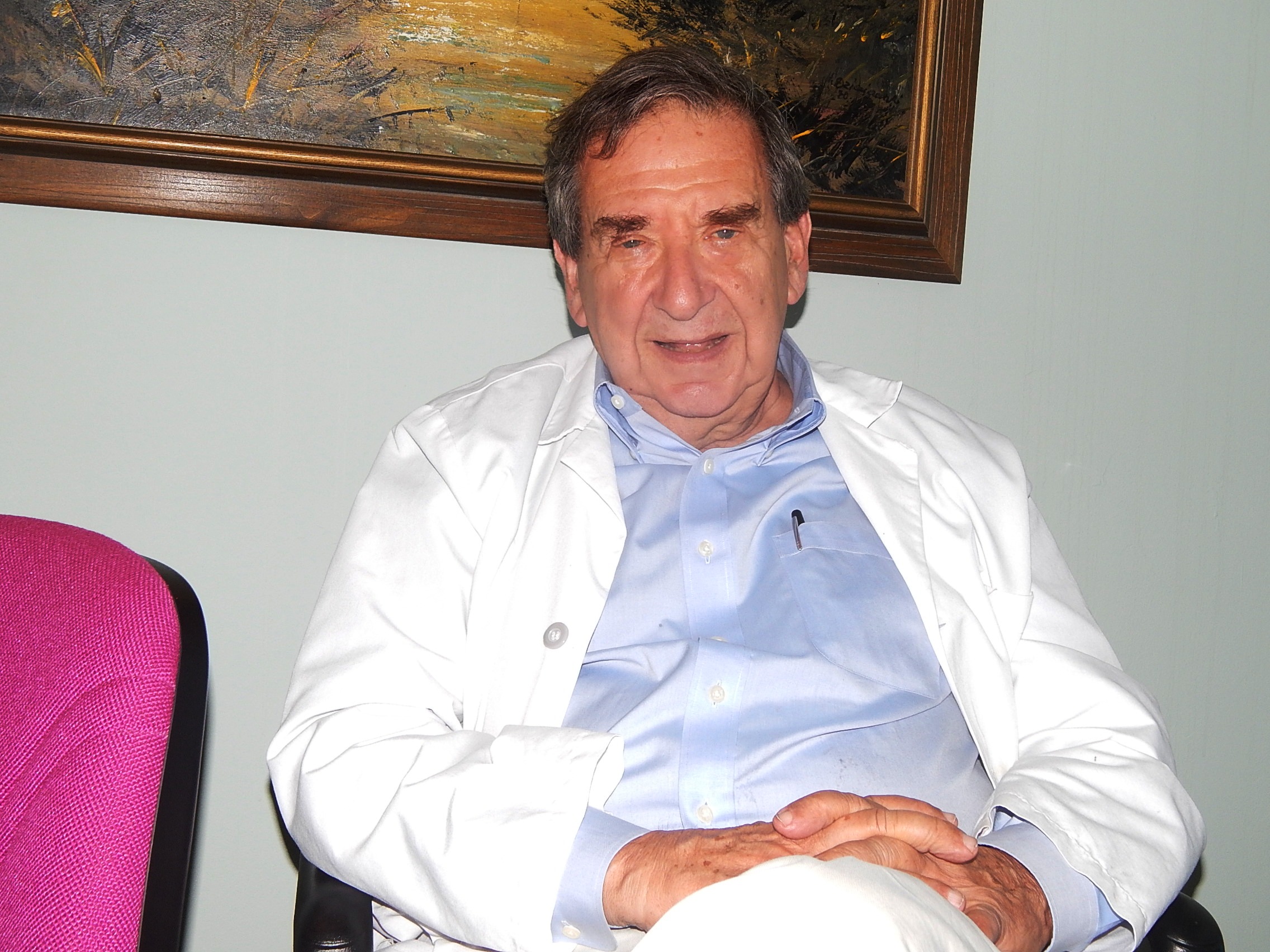 FORT LEE – State Sen. Gerald Cardinale (R-39) remembers then-Bergen County Democratic Organization Chairman Joe Ferriero jabbing a finger at him and telling him, "The reason network television costs so much, Gerry, is because it works!"
Cardinale says Democrats threw $2 million into trying to defeat him in 2007 – half of that in the last week.
"I won by better than 5,000 votes, but it still cut my usual margin in half," said the veteran Republican senator, 80, a dentist by trade, sitting in his office a short way from the George Washington Bridge.
Cardinale tells that story now in relation to the Bergen County Executive's race, where incumbent Republican Kathe Donovan is trying to fend off Democrat James Tedesco, a freeholder from Paramus.
"If Democrats go on broadcast television, who knows what can happen," Cardinale said. "You can sell almost any promise."
Democrats tend to out-raise the GOP, he added.
Right now, both sides are in fundraising mode, but Cardinale – alert to a late sneak attack based on his own experience – points out, "You won't know how much they spent until after the election."
"I think Kathe has accomplished a number of good things," he said of the Republican incumbent. "She has a record of keeping the expenditures to a minimum and thereby keeping property taxes at a minimum. The general image of Kathe is that she's doing a good job. Of course, [President Barack] Obama has an impact – let's face it – on every race down to dogcatcher."
Democrats are trying to hand the George Washington Bridge scandal around Donovan, a former Port Authority head.
"If I really knew all the ins and outs I could answer the question more effectively," Cardinale told PolitickerNJ when asked about what happened a year ago down the street at the bridge when a text message from Gov. Chris Christie Chief of Staff Bridget Kelly told Port Authority operative David WIldstein "time for some traffic problems in Fort Lee."
"I don't know much about it other than what's been in print," the senator added. "I like the mayor of Fort Lee. He used to be a Republican. I don't know why [Mayor Mark] Sokolich did or did not endorse. It's hard for a member of one party to endorse someone in another party. The crazies in your own party will hold it against you the rest of your life."
Turning again to this election season, Cardinale acknowledged that U.S. Sen. Cory Booker (D-NJ) – leading his Republican opponent Jeff Bell by 13 points – is a tough out.
"He has the image of a moderate, not a wild man," said the senator.
Has he met Bell?
"I met him – when he ran against Clifford Case in 1978," Cardinale recalled. "It was the one time I voted for Case – the time he lost. I supported him in that primary. I met Jeff Bell at a clean-up-the-debt event after the election and told him I was sorry I didn't vote for him in the primary. This was after the general election. He talked about going to work for a think tank. I also remember he had a lot of sharp pencils."
That election was three years before Cardinale went to the state senate.
On the same night Republicans are celebrating Gov. Chris Christie's birthday party, PolitickerNJ asked the veteran senator if he supports Christie for president.
"I'm biased obviously," he said. "Others think a more sophisticated moderate tone is needed. I think what we need in the presidency is a no-nonsense, down-to-earth no BS style. We need someone who's going to take the bull by the horns. Chris Christie's got the instincts of the leader I'd like to see on that stage."
Conservative Republicans have bashed Christie early on his Supreme Court nominees.
Cardinale said in the eyes of those party activists, "I'm a RINO," and noted Christie's facility to work with Democrats, whose starting point, in the Republican senator's judgment, is to take money out of the suburbs to return to their urban coffers.
In this environment, he gives Christie credit.
Born and raised in Brooklyn, Cardinale moved into this office in 1963, four years after first arriving in Fort Lee.
A lifelong Republican (as a child he was a Wendell Willkie backer against FDR; and was so heartbroken by Barry Goldwater's 1964 loss that he removed himself from political matters for three years) he won his first race for mayor of Demarest by 27 votes. He ran for an assembly seat in 1977 and lost, then won in 1979.
He ran unsuccessfully for governor in the 1980s.
"I learned a lot about New Jersey," he recalled. "I learned about what it's like to be on a back road in Salem County at 1 a.m. when you have to get up for a 6 a.m. breakfast in Bergen County. I learned to sleep in the car. I learned that New Jersey is too small for airplane travel, and simultaneously a place where you might need three and half to four hours to get somewhere."
In the senate, Cardinale fondly remembers working with the late Senator Frank X. Graves, with whom he successfully partnered to author a bill enabling New Jersey residents to use deadly force to protect themselves in their homes.
The pair also teamed up for an unsuccessful self-service gas bill.
"I'm surprised Graves never made it to the governor's office," Cardinale said. "He was a personable guy, but he had the public's interest uppermost."
Then Senate President Carmen Orechio killed the self-service gas bill at the time, Cardinale said.
The senator's favorite presidential contest outcome occurred in 2000, when George W. Bush defeated Al Gore.
"I remember telling [Senator] John Bennett, 'I think he can pull it out,' and John said, 'He needs an entire state,' and I told him, 'I think he can turn around Florida,' which he did."
In the coming months, Cardinale wants to work again to reform the Council on Affordable Housing, whose demands he describes as a "big burden on the free enterprise system."
He looks forward to his work in the senate.
"I was blessed with good health," Cardinale said, before returning to his patients in this office where he has worked since 1963. "I sometimes see people in the street and I see them as old, and then I find out they're younger than I am."