Can you believe it's already the Real Housewives of Melbourne season finale? I sure can. After all, there are only so many hours I can watch Andrea kvetch about her $40,000 synthetic tennis court before I seriously begin contemplating forcibly removing my eyeballs from my head. 
This week's episode kicks off with Jackie and Ben auditioning burlesque dancers for their La Mascara launch party. Four dancers are trying out, but only one will earn the highly coveted honor of getting to entertain the couple's drunken guests. "You almost have to envision you're a drink everyone wants to drink," Jackie tells the performers before they take the stage.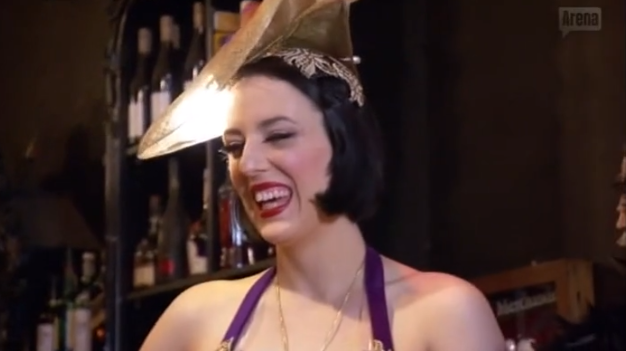 I'm barely five minutes into the episode, but already, somehow, this is happening: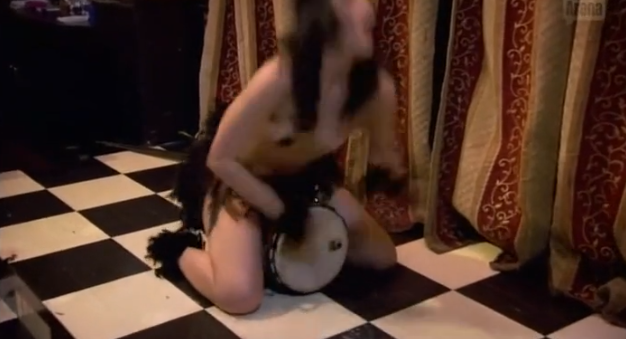 Jackie and Ben love all the performers so much, they decide to hire them all.
And now for something completely different: the planning for Gina's cancer party! Despite Gina and Janet's heated argument at the end of last week's episode, Gina calls up Janet to invite her to the charity event. Janet says they've been friends for such a long time, and she's "so over this crap," and she'll definitely be attending.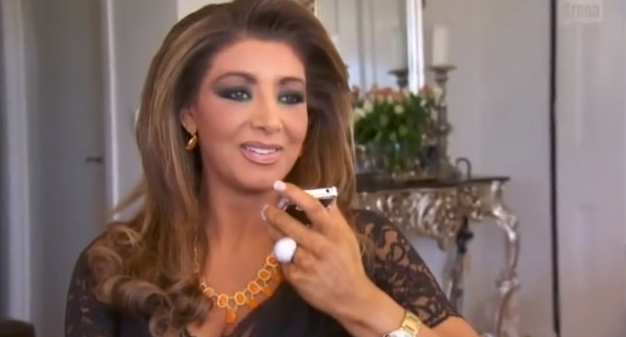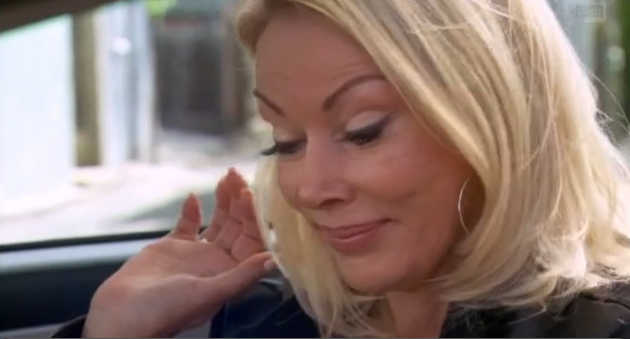 Meanwhile, Lydia goes for lunch with Andrea, who I really think should consider purchasing a smaller hat.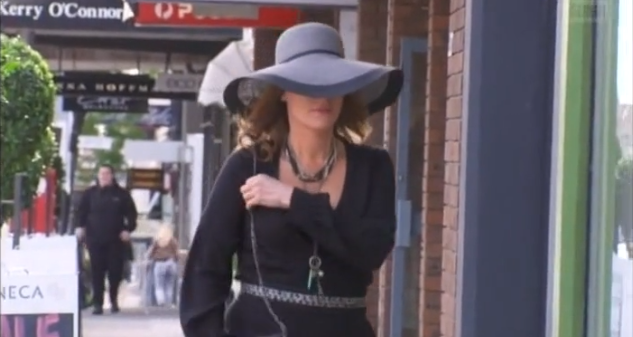 At lunch, Lydia gets a call from Gina, who's checking to see if Lydia is coming to her cancer party. Lydia says she can't go, because her mom invited her to something the same night, and she totally forgot about it, but her mom just reminded her and blah blah blah it's obvious that she just really doesn't want to go. Lydia asks Gina if Andrea's invited to the event, and Gina says no — she'll be talking about personal stuff, i.e. surviving cancer, and she doesn't want any "sour grapes" there. Andrea, who is literally the worst, does the classic "I-don't-care-so-I'm-gonna-powder-my-nose" thing that Gina TOTALLY invented, btw.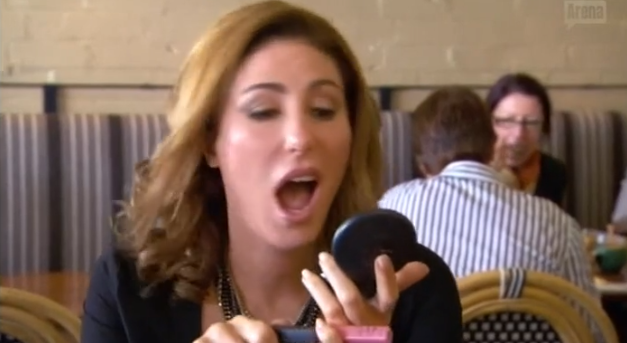 Lydia, whose only real purpose seems to be facilitating arguments between the other cast members, informs Andrea that Gina wants to meet up with her and work out their problems. Andrea says she won't be able to move on until Gina apologizes for all the harm she's caused that godforsaken tennis court her.
You know what I positively adore? Scenes with Andrea in them. Like this one, where Andrea is doing a photo shoot for the cover of her book and is literally the worst model I've ever seen — and yes, I watched every episode of Canada's Next Top Model. Andrea says she wants moms to know "you can be organized, controlled, aspirational, and glamorous. I want working mums to know that you can have it all." Yeah, as long as you're ultra rich and morally okay with forcing your unsuspecting nannies into miserable servitude.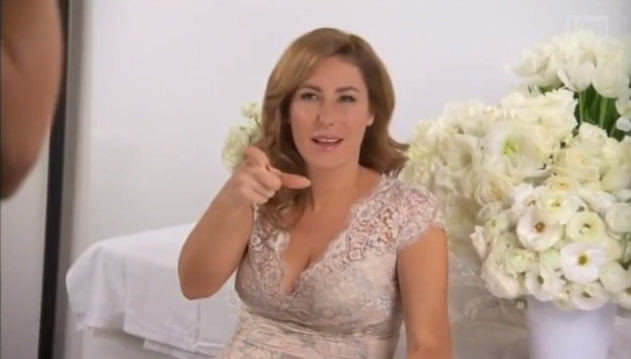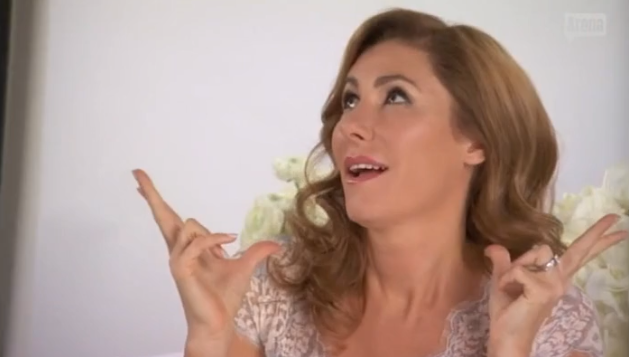 Next, it's time for Gina's cancer charity event. The party looks really beautiful, but for some reason the whole thing is shot in a really awkward soft focus, and it kind of makes it look like Gina died and this is all just a really sad flashback.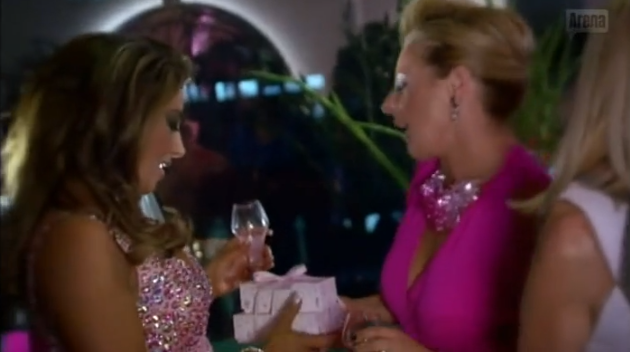 Toward the end of the party, Gina gets up to make a speech in front her guests. Because there's so much sadness surrounding cancer, Gina has decided to write a book about being a cancer survivor. It's "not to achieve a best seller," she says, "but I really sincerely from my heart would like to give something to people who are going through that journey." It would have been a really nice moment, but for some reason, Gina proceeds to announce that by the way, she's about to debut her own Gina Liano soap line. Uh, what?
Jackie, understandably, is unimpressed. "What else is going to be next?" she asks the camera. "Good luck to her, but you're not Kim Kardashian."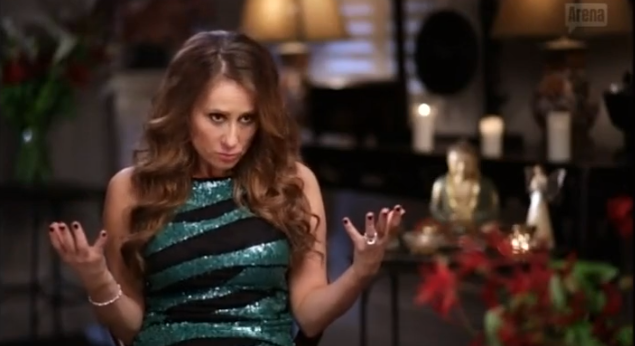 In the next scene, Chyka pulls a total Switzerland and invites Gina out for drinks, because she's worried Gina has nobody to talk to. They talk about whether Gina should apologize to Andrea, and Janet's two-faced behavior, and more stuff about "Chinese Whispers" (!), but honestly, all we can think about is how Chyka's hair looks straight out of There's Something About Mary.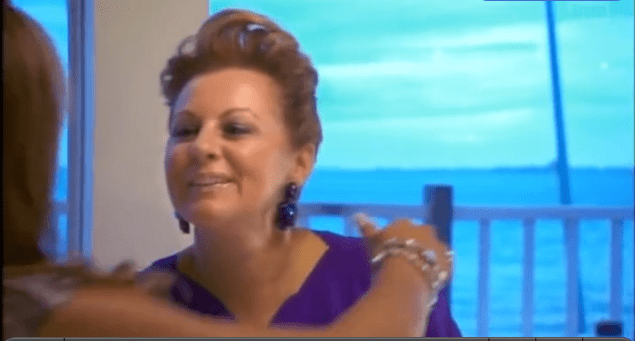 Meanwhile, Jackie and Ben are doing last-minute preparations for the La Mascara launch party. Ben, honestly the husband of the year, has been spray painting a bunch of masquerade-esque masks for hours on end. Jackie is worried about the amount of fumes he's inhaling, but instead of helping him with the workload, she comes up with this fantastic treatment strategy: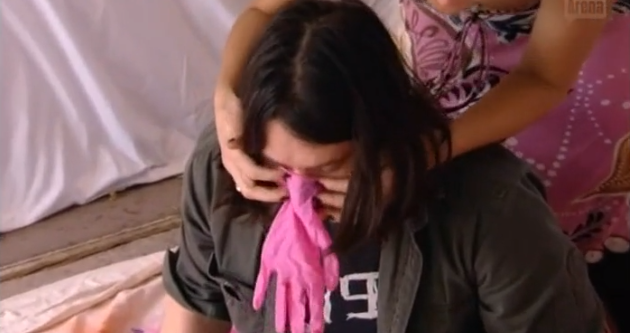 Oh good heavens. Remember how Lydia told Andrea that Gina wanted to get together with her? It's happening. The two meet at a restaurant, and it isn't long before they're in a full-scale verbal brawl. "It's been upsetting me that you called me that slang word for female external genitalia," Andrea says, proving, shockingly, that it was possible for her to be even lamer than I already believed her to be. She pulls out a literal checklist of all the things she wants Gina to apologize for. Uh, screw you Andrea!
What happens next is the greatest dialogue that has ever transpired on the Real Housewives of Melbourne, or perhaps in the entire history of television.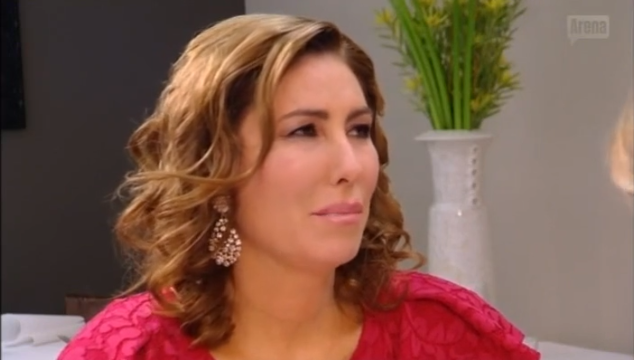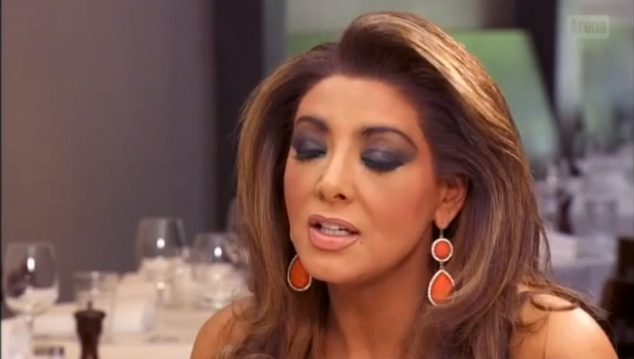 #TEAMGINA FOR THE WIN, EVERYBODY! Unable to cope with her crushing defeat, Andrea resorts to some more passive aggressive nose powdering: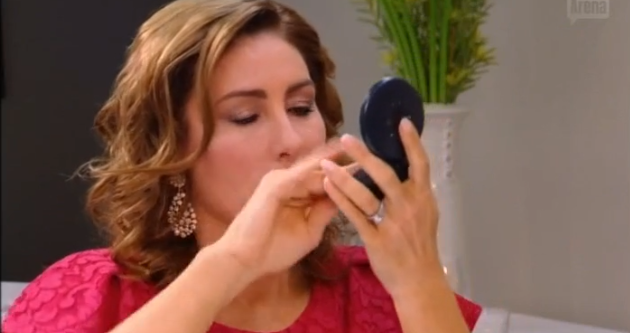 Soon after, Gina gets up and heads out the door.
Whew, that was intense. You know what I could go for right now? A alcohol-themed fiesta with half-naked burlesque dancers, hosted by a psychic and watched over by angels. Good thing it's time for the La Mascara launch party! First things first, I think we all need to take a moment to acknowledge how adorable Jackie's mom, Svetlana, is. Um, how come Svetlana hasn't figured more prominently into this season's plot? I demand a re-shoot of the entire series.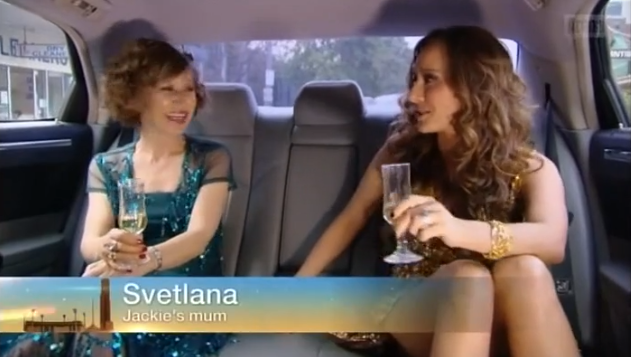 Andrea and Lydia take a limo to the party, wherein they wash each other's vaginas talk about Gina, obviously. Lydia says she isn't going to let her beef with Gina overshadow Jackie and Ben's accomplishment, but when Gina shows up at the party (seemingly on time?) Andrea and Lydia give her the cold shoulder. So much for that!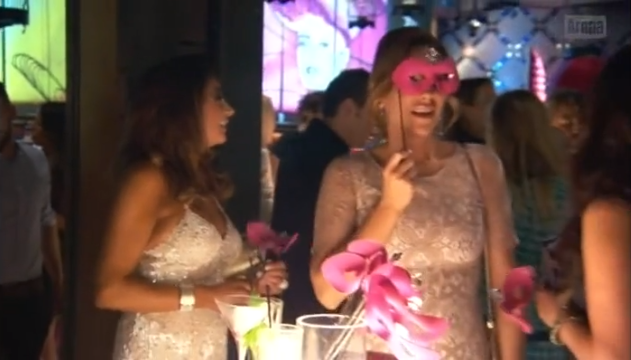 But the passive aggression can't last forever — this season still needs another group fight scene before the cameras can officially stop rolling. Over in some secluded corner of the venue, Gina and Chyka discuss Janet's role in creating the drama amongst the housewives. Moments later, definitely not at the encouragement of the directors, Andrea, Lydia, Jackie and Janet show up to join the convo. What ensues is a tired, annoying rehashing of every argument that's happened over the course of the season, and lots of aggressive finger pointing.
At one point, in her quest to expose Janet's wrongdoing, Gina reminds Lydia how Janet once said she was stupid. Lydia feels the need to point out, again, that she can't possibly be stupid, because she sometimes flies a jet to an island to buy cheese. What is the point of Lydia being on this show, again?
Anyway, Janet ultimately takes responsibility for starting a lot of this season's gossip. But like the true boss that she is, she's just like, "Whatevs."
Andrea spends her last moments on camera reiterating that she wants numerous apologies from Gina — one for each time she's offender her. I sooooo don't care.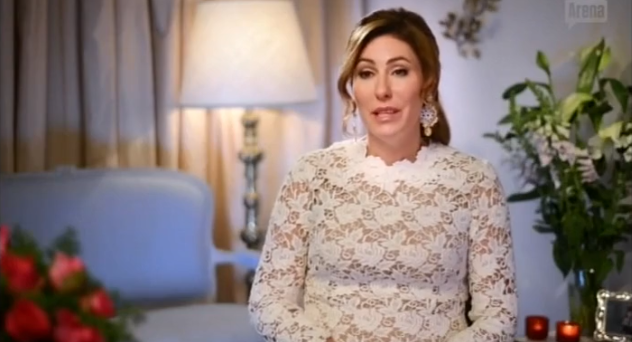 Last but definitely, definitely not least, Gina wraps things up by announcing she still wants everyone to apologize to her. Nobody obliges, but hey, there are still the reunion episodes!