On this week's episode of the Real Housewives of Melbourne, Chyka has planned for the ladies to take a trip to a veeery exclusive resort in a place called Mission Beach. Even though the show's six cast members will literally be the only people at the resort, Jackie and Lydia have to buy new outfits for the trip, obviously. They try on their outfits, and Jackie declares, "Lydia looked like a Grecian goddess, and I looked like a stick with big tits."
Andrea's also preparing for the trip. She's in her bedroom packing, while her daughter sits and watches. Does anyone else feel like this show is 50% people packing for stuff, and 50% people hating on Gina? Anyway, somehow Andrea ends up telling her daughter about how she was surgically removed from her uterus, and it's weird.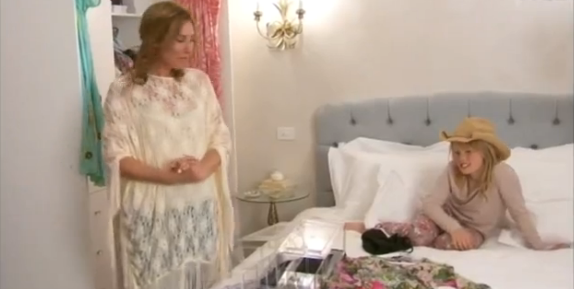 It's time to leave for the trip — via helicopter, because this is a FANCY trip — and Gina, surprise surprise, is late. Janet's so mad, she refuses to ride in Gina's helicopter. Don't rich people problems sound fun? Anyway, Gina finally arrives, and though she knows Andrea and Janet are mad at her, she hopes it won't be an issue on the trip. K GOOD LUCK WITH THAT GINA.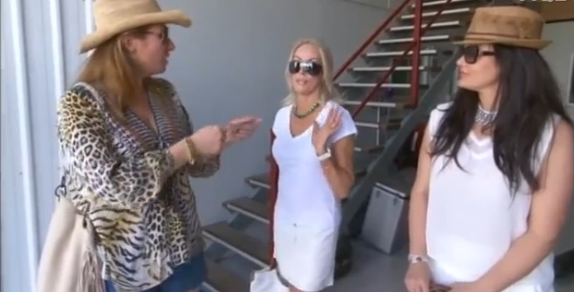 Gina and Jackie, who recently resolved their issues, bond even more in the helicopter. Gina tells Jackie about her Italian relatives, and Jackie tells Gina she'd be hot without make-up. Sounds like the start of a beautiful relationship!
Once they're at the resort, the girls change into their best outfits for a night of cocktails by the pool. Janet, who's oddly bent on getting wasted, tells everyone they're all going to go for a midnight swim. We never get to see this midnight swim, but ten bucks says Andrea sat out. Anyway, during cocktails, Chyka observes that everyone but Jackie has a dog, and therefore they should have a "dog party" so their dogs can get to know each other. Lydia says that her dog doesn't like red meat, so there better be chicken pie at the party. Is this show dramatic, or what?!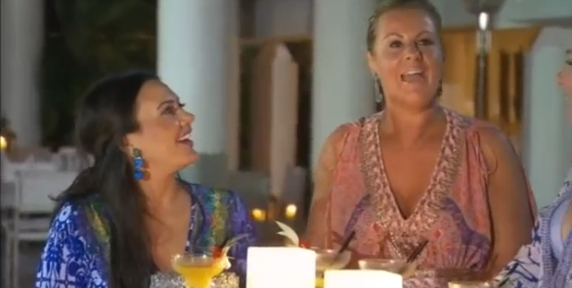 The next day, Lydia, Andrea, and Jackie go for a walk to talk about — who else? — Gina. Apparently, Janet's become so mad at Gina's she's told the other ladies all the nasty things Gina's said about them. Jackie encourages Lydia and Andrea to confront Gina at dinner that night. Dinner sounds like it'll be pretty intense, but honestly, we can't get over Andrea's curly hair! We're not the biggest Andrea fans, but we have to admit, gurl looks cute.
Back at the pool, newfound BFFs Gina and Jackie hang out on some fancy-looking recliners. Gina tells the camera and she and Jackie get along so well because they both have a very strong, European, female personality — whatever that is.
Meanwhile, Janet and Chyka are having their own private conversation, and shit gets REAL. Janet tells Chyka how her youngest son, Jake, was in a fire and sustained third degree burns on 70 percent of his body, and had only had a 35 percent survival rate (spoiler alert: he's fine now). Chyka cries a lot during the story, and says "it makes you realize what's important." Like fighting with Gina, basically.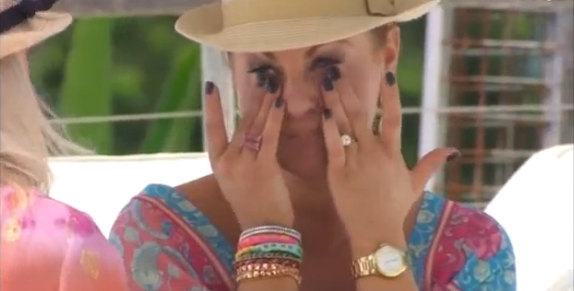 You know who has her priorities straight? Lydia. Unable to wait until dinner, she pulls Gina aside to start telling her things she should change about herself. The first item on the list? Gina's long distance ex-boyfriend, who she still apparently calls every day. Because it's totally Lydia's business, Lydia tells Gina she should stop talking to the guy on the phone, so she can better open herself up to new romantic possibilities. Gina retorts that she doesn't need a man to complete her, like some women. Snap.
At dinner, the real drama goes down. Janet waits until everyone's done eating before she explodes, telling Gina she's sick of her constant lateness. Then Andrea joins the attack, revealing that Janet told her all the mean things Gina said about the rest of the women. She also addresses that mysterious email, wherein Gina threatened to sue somebody, and cc'd Andrea and Lydia. Gina doesn't give a hoot about their grievances, and refuses to apologize for anything.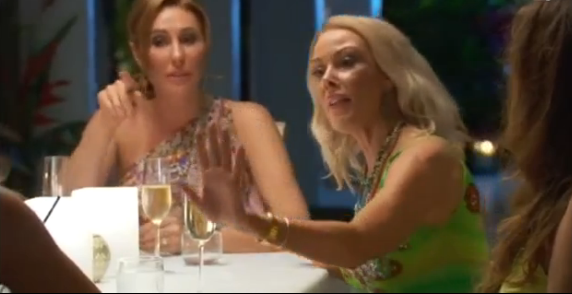 The confrontation progresses to a point where Gina is sitting there silently, and the rest of the women are yelling mindlessly on top of one another. At times, we catch phrases like "stilettos on my $40,000 synthetic tennis court" and "make-up all over the bathroom," but it's mostly loud, indecipherable nonsense. Chyka, ever the voice of reason, eventually tells everyone it's time to move on.
The next morning, Gina calls her mom and informs her she's coming home early because the trip has been "worse than eating cat food." Isn't that the best line ever? Anyway, Gina makes an early departure from Mission Beach dressed like this: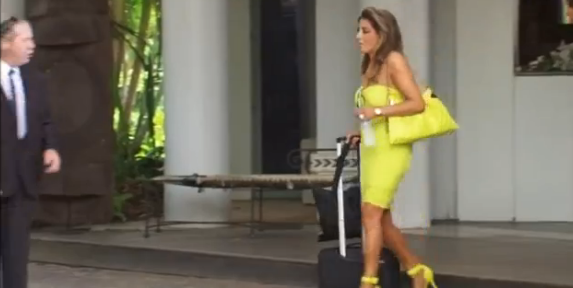 Chyka, meanwhile, tells the other women it wasn't fair how they all attacked Gina the night before. Uh oh, Chyka — looks like you might be next! Lydia is tired of Chyka being "Switzerland," and calls her out for being too diplomatic.
Before that truly intriguing argument can get any further, Andrea tells the ladies they're all invited to the grand opening of Liberty Belle, the skin clinic she's opening with her husband. "Gina is invited, but she may not accept," Andrea says. She also says she's ready to "move on." YEAH, OKAY ANDREA. Then the women dig into the most massive pile of seafood we've ever seen in our lives, and for a moment, everything is right in the world. Or at least in Australia.