"You're not the master of your destiny," muses Thomas Drouet. A 31-year-old Frenchman by way of Monaco, Drouet lives in an ambiguous and uncertain world, that of a hitting partner on the professional tennis tour, whose vagaries he understands all too well after seven nightmarish months in the employment of former Australian No. 1 Bernard Tomic, which resulted in Drouet in being assaulted and hospitalized by Tomic's father.
"Nightmare is an understatement," he says. "But I learned to work under permanent stress, so any job I take now is easier."
To the casual observer of practice sessions at this year's US Open, hitting partners tend to be invisible, invariably perceived as little more than bag carriers. Their real role is usually more complicated.
Many act as travelling coaches, scouting opponents, discussing tactics and working as part of a small team, which has become in-vogue for players like Andy Murray, who prefer to receive advice from a variety of sources.
"I've always done my homework," says Joe Sirianni, a laid-back Aussie who's worked with Ana Ivanovic and Eugenie Bouchard. "You analyze the next opponent, bring that information back on court and hope they use it. It's generally things like, 'Watch for the wide serve on big points. Stay away from the forehand as much as possible, remember that she's weaker on the backhand return.'"   
Having done the research, it's often the job of the hitting partner to emulate the next opponent as much as possible ahead of that match. The best are versatile, flicking between the topspin of a South American clay-courter to the heavy slice and dexterity of the tour's craftier competitors.
Such skill requires high-level talent, of course. Most hitting partners once dreamed of competing on the big stage themselves. Drouet spent several years competing on the tour, slugging it out in the twilight zones of professional tennis. Some simply reach their limit, but many more lack the financial clout needed to fulfil their promise.
Andy Fitzpatrick has spent the past year working for Sloane Stephens, but as a junior was considered one of the most talented players in Britain. After years of travelling to obscure tournaments in Africa and Asia, covering expenses by couch-surfing and the odd gig as an underwear model, he found himself at age 24, with a career best ranking of 461, considering his options.
He almost quit tennis altogether, but a stint practicing with Roger Federer impressed onlookers enough to land him the job with Stephens.
"To reach a higher level than I did, you need massive backing," he says. "As a hitting partner I can play, get a regular income, which I've never had, and keep my level up while being exposed to top-tier tennis."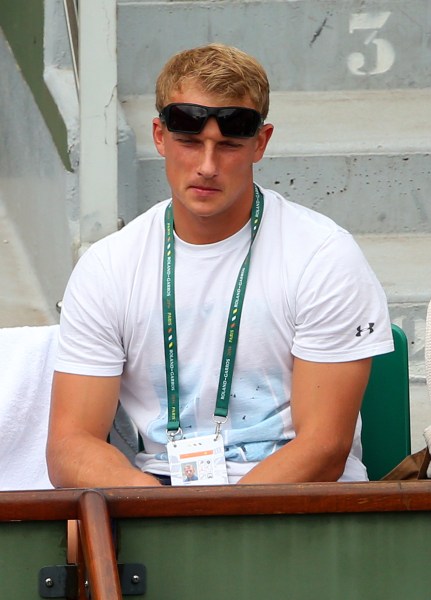 Fitzpatrick now enjoys five-star hotels and tickets to A-list parties, but this glitzy alternative career is available to only a few of the thousands of talented journeymen on tour. Becoming a hitting partner takes contacts and networking ability, and Fitzpatrick and Sirianni were able to get introductions to some of the sport's leading names.
But while the lifestyle may be cosier than tennis' backwaters, it offers little security, with no long-term contracts. A hitting partner's employment exists solely at the whim of the player. After Stephens lost in the first round of Wimbledon, Fitzpatrick suddenly found himself cut loose at the start of the summer hardcourt swing, before being picked up by Urszula Radwanska.
Those who work for the very best can sleep a little easier. Sascha Bajin, or "Big Sascha" as he's known on tour, has worked for Serena Williams since 2007. Even during Williams' lengthy layoff from 2010-2011 while she recovered from a life-threatening pulmonary embolism and stomach hematoma, she preferred to retain Bajin on full salary rather than hire him out to rivals.
Bajin is far from a conventional hitting partner, describing his job as part coach, part sounding board, part babysitter, part shoulder to cry on and part bodyguard. (It should be noted that Williams can afford to pay more than most of her peers, and also provides a longer list of demands.)
"How much you do depends on how much the player trusts you and how disciplined you are," says Drouet, whose resume also includes names like Marion Bartoli and Jo-Wilfried Tsonga. "Some hitting partners don't really care and just turn up to hit balls, but I never saw myself as just a bag carrier. I've always wanted to ultimately be a coach, so I'm always looking for opportunities to help my player."
Indeed, Drouet has already established his own academy for promising juniors. Bajin, for his part, expects to land another job when Williams retires, but as a male player with experience on the women's circuit, he's in the sweet spot, where the demand for hitting partners exists.
Over the past decade the power and athleticism of women's tennis has skyrocketed, so much so that the best female players are capable of matching the men when just hitting up and down from the baseline. As a result, top players are all but forced to train with men to keep pace with the increasingly ferocious power of their rivals.
"When we hit, I'm playing at normal speed from the back of the court," Sirianni says. "When I was younger I hit with (Anna) Kournikova, and she was a good player, but she didn't hit the ball like Ivanovic and Bouchard. The girls are a lot stronger, a lot quicker these days. You only notice the difference to the guys when you add the serve and movement into the equation. On the men's tour, the players have more variation, [while] the girls are more one-dimensional, but that's the girl's game. They can all play all the shots, but compared to the guys, they don't tend to use them."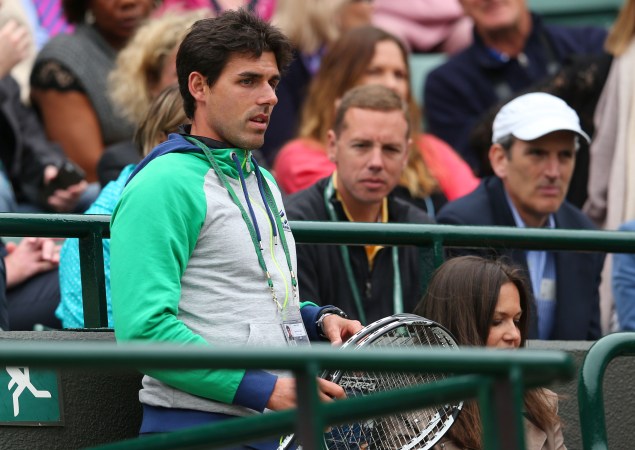 As for the emotional element of the job, hitting partners say, most find themselves becoming part-time shrinks, with their most defining work done away from the court.
"You've got to keep your player happy," Sirianni says. "Try to keep them smiling, in a good frame of mind, good work ethic, being intense on court. You want them completely focused on the task at hand. Communication is key, and you've got to try and gel and learn how to work together."
After seven years, Bajin is now finely tuned to Williams' fluctuating emotions, judging whether he needs to relax her or pump her up ahead of a key match. But the real test comes after a tough defeat.
"Everyone is different," Sirianni says. "Some players like to talk about it directly after the match or the same night, but with some you just need to give them their own space and let them sleep on it. Of course, there's going to be tears, especially big moments, big tournaments. If she's up in a match, then eventually loses, that's tough and that's hard, you've just got to try and stay positive."
Not necessarily an easy task when your job may be on the line, but the most successful players are able to put egos aside.   
"Players can split with you at any moment," Drouet says. "But working with Tsonga was a good experience. He's very generous — you almost become part of his family. I love his sentiment. He tells his team, 'We win together, we lose together, and when we work, we suffer together.' This attitude helps the player when times get tough on the tour, your whole team is around you and that can make a whole lot of difference."