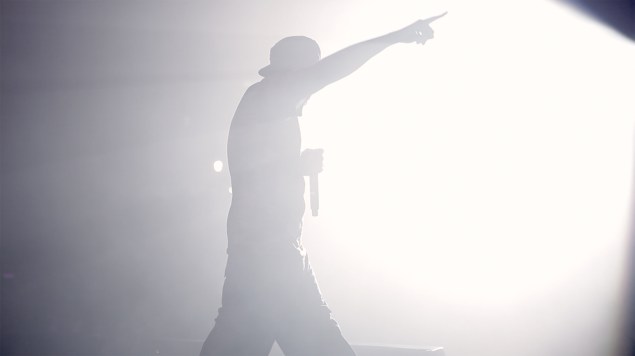 "Yo, talk to me in the car," he said.
I had been an intern at The Source magazine's grungy offices in Soho for a few months, writing half the front of the book, when I tried to introduce myself to its publisher, Dave Mays. I had a pressing question one evening, and he was the only person above my no-pay grade still in the offices.
He was looking at me in his half-distracted, imperious manner, then he made me more nervous when he said, "Come on."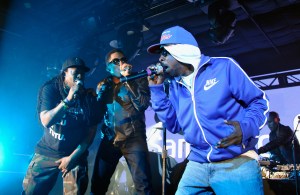 On Broadway, a few steps south of Houston, we dove into a shimmering new BMW, its engine on purr. The car smelled of brand new everything, leather seats, sound system, and the dashboard looked as complex as Scottie's in Star Trek. In the passenger seat sat none other than Lyor Cohen, Russell Simmons' long-time business partner at DefJam Records, the mightiest hip-hop record label in history (and at the time). He turned around, made eye contact, said wassup, then went back to showering undivided attention on our driver, Q-Tip. Tip was the frontman of A Tribe Called Quest, a quartet from Queens whose blend of classic jazz samples, New York sports references, and romantic adventure would make them one of the most beloved and influential groups of all time, the key touchstone for reigning stars of today like Pharrell.
It was fall '93. Tribe was on top of the hip-hop world, having released two exquisite albums, People's Instinctive Travels and The Paths of Rhythm and The Low End Theory, and their highly anticipated third album, Midnight Marauders, was the talk of the town. Midnight was to be the album where they successfully married their impeccable cred and soulful artistry with massive commercial success. That night, Q-Tip couldn't stop talking about the eye-popping features of his eye-popping new car while playing songs from the new album at a volume that prevented anyone from hearing a word he said.
At this point, no one knew my name, nor seemed to care. We were ambling down Broadway swathed in the delicious pleasure of listening to music months in advance of the public, making us the envy of pop culture, members of the coolest club in the world. At our destination, an album release party at a now defunct Mexican restaurant on the border between Soho and Tribeca, Mays gave me his 'don't do or say anything embarrassing or else' look. We parted ways. Mays, Tip, and Cohen went to a secret party within the insiders-only party, and I partied with my fellow peons, interns, assistants, and junior record label players still grateful and shocked that we were actually in the commercial and intellectual belly of hip-hop. Whatever question I had for the publisher was forgotten, its answer forever irrelevant in the beautiful now.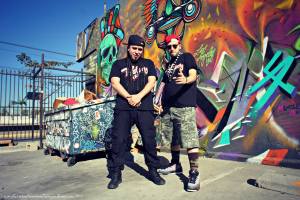 This weekend, on Sept. 19 and 20, The Source magazine, the greatest hip-hop culture magazine ever, will celebrate its 25th anniversary with a series of discussions, performances, and films at BAM. Long gone are the days when P. Diddy and Jay-Z roamed its halls to bully editors into giving them the cover for their latest opus. Older still are the days when the magazine's album reviews mattered so much that a displeased rap
star would angrily and theatrically burn a copy of the magazine on stage.
It's now owned by a group of investors and comes out only on a bi-monthly basis. It's still based in the city (until recently, in the same building as the Observer), but its album ratings—1 microphone for trash; 5 "mics" for classic, desert island material—are no longer more coveted by rappers than new cars. The fact that the magazine exists in print at all is a small miracle, since most music magazines, even hip-hop music magazines in an era where most pop music is hip-hop music, barely exist at all, and if they do, it's in the ether, a place where musicians and journalists will never share a car ride or a joint.
Even by the time I got to The Source, its best editorial days were just about behind it, because the best intellectual days of hip-hop music were fading fast as rap generated its first chart-topping and multimillion selling albums. Like all-star songs arguing against self-destruction in the black community, cover-worthy stories exploring misogyny and inexplicably casual violence against women—image-google "Dr. Dre with gun to his head, Source magazine"—the role of a new strain of Islam in rap music, and protests against police brutality against black men had been done and were never coming back (though the problems all too obviously persist).
Soon, the founding Ivy League- and historically black college-trained editors and writers known as the Mind Squad would leave the magazine in a fall-out with the publisher. Brilliant writers like Bonz Malone, Kierna Mayo, and Cheo Hodari Coker, whose prose rivaled the best rappers of the era, would take their talents to Hollywood and other media planes. The generation that followed them would do their best to follow their tradition, but we often ended up arguing with each other across rival, slicker magazines instead of challenging rappers to be the best versions of themselves, their communities, and us. Rappers stopped listening to us too, because there were seductive new kids in the club.
On February, 8th, 1999, Time magazine, then still America's magazine, instead of the grandfather whose bills People magazine mostly pays, put the great New Jersey singer and rapper Lauryn Hill on its cover and declared that the US, and by extension, the world, had become "a Hip-hop Nation." The subtitle of the package was about how "after 20 years" hip-hop had "changed America." In Time's America, hip-hop was born the year of the first big cross-over rap hit, the Sugar Hill Gang's "Rapper's Delight." To Source editors, rap was born years earlier in the Caribbean, like many of us, before a technological and cross-discipline boost in the Bronx introduced it to the rest of the world.
Whatever you say, Time. Around that time, The Source conquered young America. We were putting out Source issues the size of telephone books. Advertisers who wanted to reach the cool kids paid handsomely to be in our pages. Source editors could afford to drive their own BMWs and stay at five-star hotels on trips to LA to interview and play hoops with Snoop Dogg. Literary New York noticed. Star editor Tracy Sherwood, then at the Atria imprint of Simon & Schuster, gave my man, Source editor-in-chief Selwyn Seyfu Hinds, a nice book deal for his wonderful memoir, Gunshots in My Cook-Up: Bits and Bites from a Hip-Hop Caribbean Life. Graydon Carter invited me to his office for a chat. Legendary Time Inc. editor John Huey offered me a job at Fortune. In 2000, The Source received the first and only National Magazine Award nomination in its history.
A year later, more or less, the Internet destroyed the music industry and, soon, the magazine industry. More cool kids than ever were listening to hip-hop, but few wanted to pay for music anymore. And reading racy prose about the myriad strands of the murky culture from which fresh hip-hop emerged lost primacy. Gossip proved enough. The hard-won trust The Source magazine earned from A Tribe Called Quest and sundry other great rap and R&B artists to hear and assess their albums months before the general public was replaced by something dirty called "leaks." Even before the advent of social media, the new millennium offered moneyed hip-hop stars ways to promote their music and mystique without facing uncomfortable questions from journalists like The Source staff who grew up with them in their neighborhoods. They moved to New Jersey.
Source alumni scattered around the world, leaving our downtown Brooklyn hub for LA, Miami, Europe. We hung on to the culture business for dear life as technological gentrification withered advertising pages in our favorite magazines, reducing The Source, for example, to roughly the size of the newsletter it began life as in a Harvard dorm in 1989. Q-Tip went on to godfather many of the younger, smarter new rappers and sometimes DJed at rarified parties. Kanye became the only rapper worth arguing about. No Source-head blinked in Nov. 2013 when Vanity Fair finally put Jay-Z on its cover, declaring him "the new chairman of the board: from the streets of Brooklyn to American Icon."
The Source magazine told that story first, like, 15 years ago. It even lived it.
Dimitry Elias Léger's novel God Loves Haiti is available for pre-order online and will be in stores on January 6.