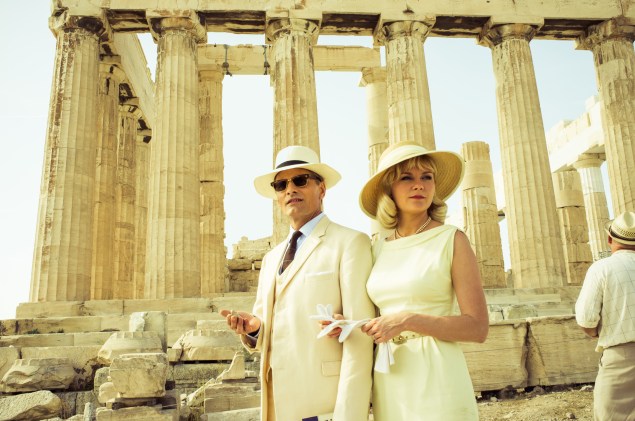 Carefully directed and gorgeous to look at, with haunting performances and maximum suspense, The Two Faces of January is an exemplary thriller about murder and sex in exotic locales, adapted from a hair-raising Patricia Highsmith novel that makes the transition from page to screen with pulsating ease. Color it mesmerizing.
---

THE TWO FACES OF JANUARY ★★★ 1/2
(3.5 Stars)

Written and directed by:
Hossein Amini

Starring:
Viggo Mortensen, Kirsten Dunst and Oscar Isaac

Running time:
96 min.

---
Hossein Amini, the award-winning writer of Drive and Wings of Desire, makes a fine directorial debut, owing a lot to the style of Alfred Hitchcock and the psychological visual flair of The Talented Mr. Ripley as he charts an erotic journey across Europe involving three unpredictable people—played by Viggo Mortensen, Kirsten Dunst and Oscar Isaac—who focus your concentration from start to finish. Mr. Isaac, who left me cold in the overrated Inside Llewyn Davis, is much better here, all cleaned up as a handsome Greek-speaking tour guide from Trenton, N.J., named Rydal Keener, eking out a living by showing tourists through Athens in 1962. From the minute he spots elegant American financier Chester MacFarland (Mr. Mortensen, looking splendid in a white summer suit right out of a Graham Greene spy novel) and his beautiful, much younger wife Colette (Ms. Dunst at her most appealing), Rydal sees a way to raise the ante from skimming American exchange students out of their travelers checks to higher stakes. He's attracted to them both, but after the Parthenon and the flea market, the trio moves on to the sexy night life in the shadow of the Acropolis, and Rydal suspects there is more to the two suave, sophisticated worldly travelers than meets the eye.
Mr. Mortensen, unrecognizable with his slick, well-groomed efficiency and wavy red hairpiece, turns out to be a wanted swindler on the run after filching the savings from rich investors, and his wife is his partner in crime. When Rydal returns a bracelet she misplaced, he walks into the middle of a violent confrontation between the husband and a debt collector for one of his most dangerous clients. Now willingly embroiled in the couple's problems and accidentally complicit in a murder, the gullible lad arranges fake passports and sneaks the couple out of the country to Crete on a crude bus, accompanying them to Turkey, where the pursuit comes to a boil in the bleaching sun. Thrown together by circumstances beyond their control, three strangers thereby become a threesome, in more ways than one.
Riddled with anxiety, suspicion and jealousy, the bodies mount until they are two, and The Two Faces of January (a title that does not entirely make sense) ends with a chase through the souks and back alleys of Istanbul where no white linen suit should go. Nothing ends quite the way you expect, and a few plot points are left more ambiguous than necessary, but there's a new thrill around every corner, lavishly photographed with ample sandy, creamy beiges the color and texture of an ancient ruin. It's a high-wire act for Mr. Mortensen, whose gray-streaked hair and aging makeup look like the face on a bank note. Watching him in psychological freefall is one of the year's most satisfying pleasures.