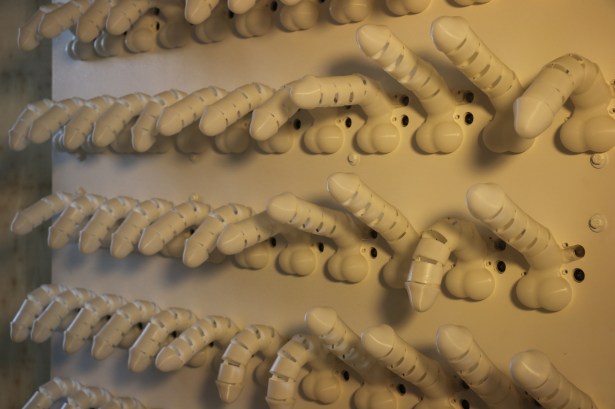 At the World Marker Faire this weekend, kids learned to solder and pick locks, a giant animatronic giraffe named Russell roamed the crowd, and tattooed hackers in cowboy hats battled aerial drones in a nerd edition of Thunderdome. But the show's best kept secret was hidden far away from the family-friendly fun in a far flung corner of the faire.
In a conspicuous tent that emanated giggles, camera shutter clicks and mechanical buzzing, was a giant wall of animatronic, 3D-printed dicks dancing to Tchaikovsky.
[youtube https://www.youtube.com/watch?v=Ir0pzhw1WrU]
The maker mastermind behind The Penis Wall was Peiqi Su, a student at NYU Tisch's Interactive Telecommunications Program (ITP), who built the wall as her master's thesis.
"I asked my professors, 'Could this be my thesis, seriously?' and they said, 'Why not? Do it!'" Ms. Su told Betabeat at a small table in front of her tent, where she showed her various prototypes to a gawking crowd.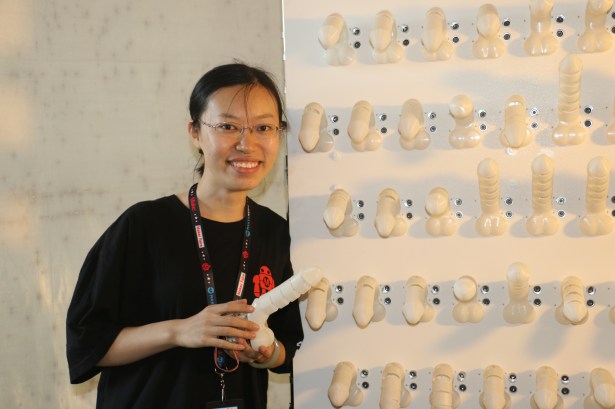 The wall has three modes. The first is the interactive mode, where motion sensors detect movement in front of the wall and the dicks grow more or less turgid as you wave your hand in front of them — clearly the oddest form of foreplay we'd ever seen.
The second method of dick animation is "Stock Market Mode," which assigns each phallus a listing on the S&P 100 index. Ms. Su couldn't get live New York Stock Excange data, so the wall will instead animate 6 years of fiscal history, in which you can watch the slow rebounding of the post-crash American economy as told by whirring, interconnected dicks.
This mode gave the wall the honorary nickname of "The NASDICK" by Maker Faire organizers, who were understandably hesitant to send reporters in the direction of the tent.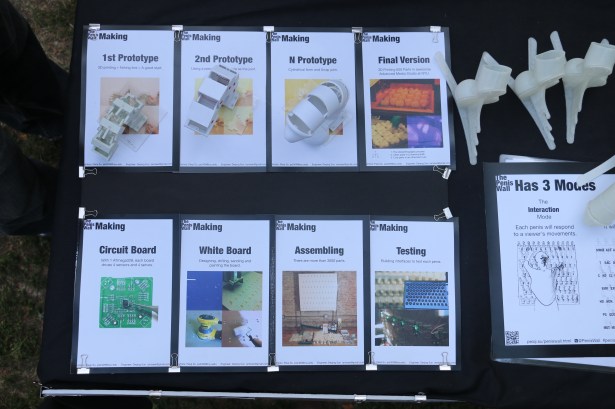 The final mode causes the penises to dance along with music. In the demonstration tent, the penises bobbed along to "Dance of the Sugar Plum Fairy" from Tchaikovsky's "The Nutcracker," a selection that is layers-deep with disturbing innuendo.
Our most pressing question for Ms. Su was the one she deals with the most: Why, why, why on earth did she do this!?
"I wanted people to feel happy," Ms. Su said. "When I had this idea, I showed it to my friends — no matter if they were women or men, they loved it!"
Now that her thesis is complete, Ms. Su will become the ITP post-doc resident, where she'll assist the NYU community in building what we hope is a slew of penis-related experiments.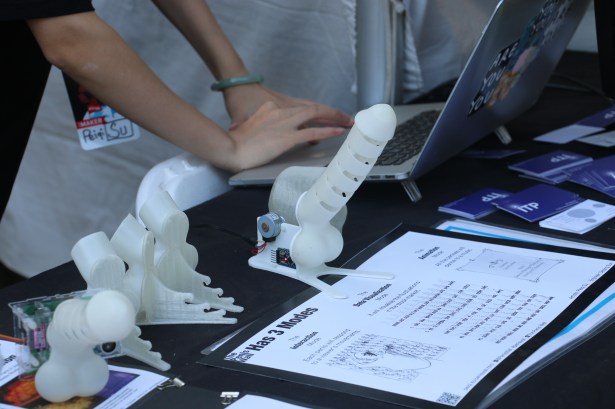 When we left the tent and met the light of day again, we ended up half-stunned at a display of hydroponic hanging gardens. The guy manning the booth there was the first human interaction for most people coming out of the dick tent.
"All day, it's been a lot of weird smiles," he said.